Static Control: Industry Champion
Static Control: Industry Champion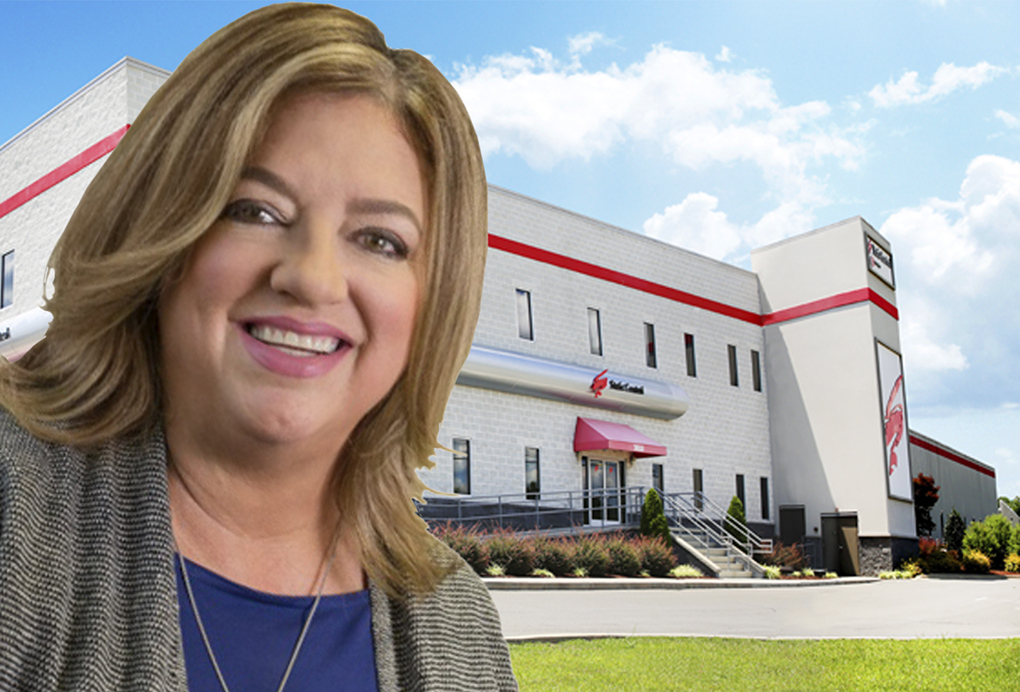 Static Control Components, Inc. (SCC) has been an industry leader in the cartridge remanufacturing industry since it was founded 35 years ago. As the primary supplier of cartridge components to the remanufacturing industry, SCC was deeply invested in the protection and growth of the industry.
And invest it did.
It has been instrumental in setting industry precedents in the technological and legal arenas. It was the first to directly take on an OEM in court, and many of its sacrifices kept the industry moving forward and were vital to its survival.
Strong Foundations Withstand OEM Threats
Ed Swartz was at the helm of the institution for the first 20 years, flanked by his two sons Bill and Michael. Ed was a smart, strong force of nature and a shrewd businessman. Between 1996 and 2005, SCC grew unit sales of OPC drums from less than 5,000 per year to more than 10 million per year (according to industry analyst Actionable Intelligence). This made SCC the largest industry player by far.
As a result of SCC's premier position in the cartridge remanufacturing industry, founder Ed Swartz devoted himself to caring for his company and its customers. But Ed also had concern for non-customer remanufacturers and even his competitors through his support of the industry overall. SCC strongly supported the industry's publications, tradeshows, and regional events. In the mid-90s, cartridge remanufacturers formed regional trade associations. SCC supported them all, large and small.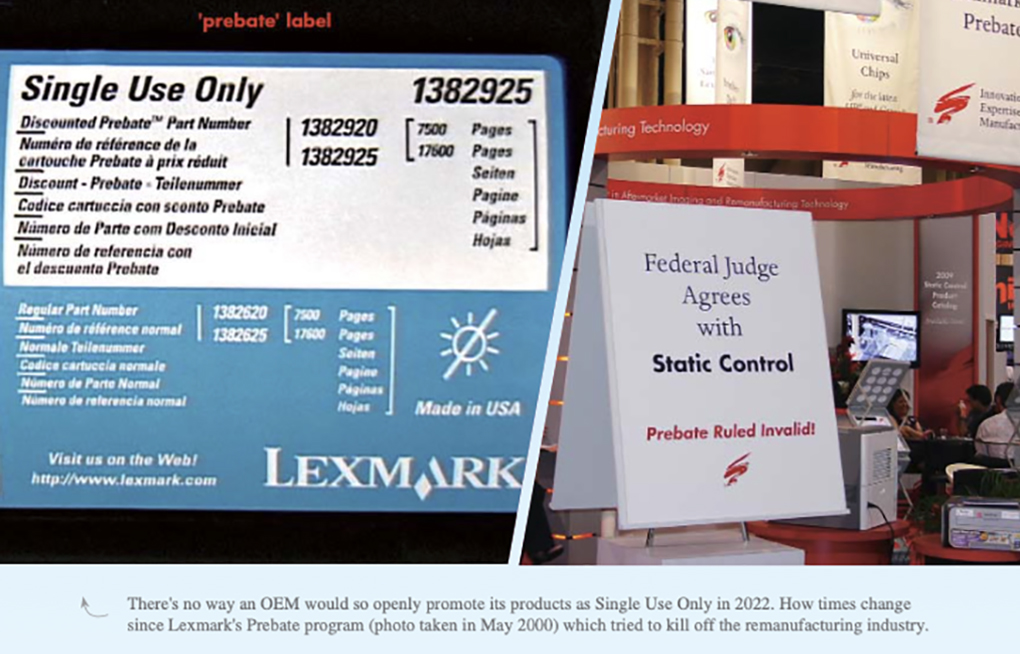 During that time period, the largest threat to the industry was posed by the printer OEMs. HP, Canon, Epson, and Lexmark were huge multinational corporations with big budgets, and they saw cartridge remanufacturers as a threat to their lucrative supplies market. To help secure the aftermarket place's safety, and to protect its own technological achievements, SCC's legal department started filing patents on the products it designed.
This helped assure the doctrine that allows for cartridge remanufacturing—the right to repair—was strengthened.
In particular, SCC's replacement mag rollers and PCRs required intellectual property protection. SCC wanted to tell the world, particularly the OEMs, that their devices did not infringe OEM patents. This came in handy a decade later when Canon would assert that they patented the whole process of remanufacturing.
In May 1997, Lexmark initiated its "Prebate" program, in which they persuaded the customer to buy a lesser-priced cartridge (the savings are the "prebate") in exchange for a promise to return the cartridge only to Lexmark and not to allow it to be remanufactured. Lexmark asserted that its patents were the underpinning for the validity of this so-called contract between consumers and Lexmark. Most retailers chose not to carry the more expensive non-prebate cartridge and most consumers were unaware at the time of purchase of the commitment they had made to Lexmark.
Although Lexmark cartridges comprised a small percentage of the marketplace, they were easier to remanufacture. The Prebate program, however, presented a perversion of intellectual property rights and contract law as a way to create a type of tying arrangement—an antitrust violation. The growing, but still fledgling, cartridge remanufacturing industry was suddenly under attack.
SCC immediately took part in and heavily endowed, the grassroots efforts undertaken by the industry's associations to call out Lexmark. Remanufacturers in almost every developed country, and in all 50 states of the US, were galvanized to approach their elected officials and demand action against this anti-competitive, anti-environmental program.
Lobbying efforts were organized in the U.S. in several states. At each event, an SCC employee was available to help educate government officials. In New York and Texas, lobbyists were hired, and SCC underwrote their costs. Pro-remanufacturing legislation, and anti-restriction procurement measures, were passed in a dozen states. Many of these laws remain today.
Supporting Professionalism and Innovation
In 2000, to assure that the cartridge remanufacturing industry had a trade association to protect it, the International Imaging Technology Council (Int'l ITC) was formed. SCC made the largest financial commitment to the new organization to get it launched. SCC remains an "Inner Circle" member of the Int'l ITC to this day.
At this time, microchips were introduced to the cartridge industry. Although Xerox was the first to put chips on cartridges, Lexmark used chips made by Dallas Semiconductor to enforce the Prebate contract. Suddenly, if the printer detected a remanufactured cartridge, it would stop printing and display the message "invalid refill." A solution to the chip had to be found.
Pacific Office Solutions was the first aftermarket company to develop a chip for the remanufacturing industry in 2002. Ed Swartz decided SCC should develop its own chip solutions. SCC developed one that emulated the Dallas chip. Once again, SCC invested a princely sum into research and new product development.
"The initial firmware controlling the Dallas chip was not very sophisticated," said Skip London, former legal counsel for SCC. "But a few months after the printer was introduced, new firmware was introduced and locked out aftermarket chips." The chip dilemma took SCC, and the industry, into a new, complex arena. In August 2002, one of SCC's competitors wrote an article, published in Recharger Magazine, claiming that it would take thousands of years to crack the code in the chips. The next month, SCC cracked that code and introduced its first chip solution.
Lexmark Declares War
More trouble from Lexmark was brewing that year. In December 2002, Lexmark filed for copyrights on its chips. On New Year's Eve, Lexmark filed suit against SCC claiming copyright infringement and violations of the Digital Millennium Copyright Act (DMCA). Lexmark also sought an injunction precluding SCC from manufacturing any more chips. "Five days later, we were in a Lexington, Kentucky courtroom," London said. At that hearing, SCC lost on some copyright issues, so it was out of the Lexmark chip business from January until October, when the Sixth Circuit Court of Appeals ruled that the injunction was improperly granted.
SCC eventually prevailed on the issues of infringement and DMCA violation. Subsequently, Lexmark sued SCC over its Prebate provisions claiming patent infringement. SCC counterclaimed on antitrust grounds. That battle waged on until June 2007, when the trial finally occurred. The jury found in favor of SCC, but the court also found in favor of Lexmark on some claims. An appeal ended with the jury verdict intact, but also a dismissal of some of SCC's anticompetitive claims. In 2011, the U.S. Supreme Court reinstated SCC's claims. In an ironic twist, Ninestar Corporation (previously Apex Technology Company, Ltd.) acquired SCC in 2015, and was part of a consortium that purchased Lexmark in 2017. SCC and Lexmark eventually settled the case.
The David-and-Goliath battle between SCC and Lexmark was epic and costly. According to London, SCC expended US$30 million dollars in the action. And SCC did not stop its efforts to stop Prebate at the Sixth Circuit. It filed a complaint with the European Union in 2002 and with the U.S. International Trade Commission (I.T.C.) regulatory claiming Lexmark was creating a monopoly with Prebate. Both of those efforts failed.
"SCC was the first company to take on Lexmark over Prebate in court," said Beth McKee, SCC's General Counsel.
Her predecessor concurs. "It was really an industry lawsuit," London said. "If Prebate were validated, all OEMs would be crazy not to follow suit."
Eventually, according to London, Lexmark decided they wanted a better case to pursue the validation of the Prebate patent license. The Sixth Circuit had not been particularly hospitable to their cause.
So, Lexmark sued Impression Products to set up an appeal to the Federal Circuit Court of Appeals, a particularly friendly venue for those seeking to protect intellectual property rights. "SCC helped Impression Products prepare for that case," London said. "We also helped fund the U.S. Supreme Court appeal and win."
Canon Suits Up
Then Canon came knocking. In 2006, Canon sued several parties over the infringement of its gears. These early lawsuits over its gears didn't include SCC as a defendant. "The early patents were easy to design around," London said. "Canon would then write new claims to cover SCC's workarounds. We invented a version that retracts into the drum. Canon then invented the dongle gear, with claims that its 'new' patent covered SCC's retractable dongle gear."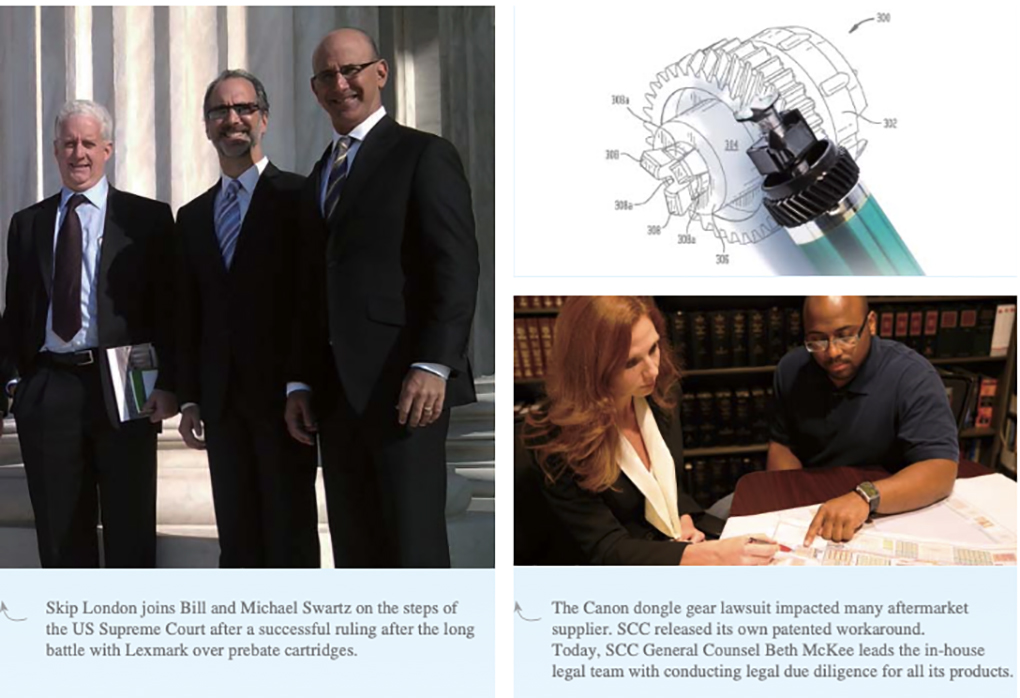 In 2018, Canon named SCC in a lawsuit over the dongle gear in civil court and an action with the U.S. I.T.C. SCC did not back down, as many defendants had. Instead, it once again went to court to get the claim language interpreted. And once again, SCC prevailed. The U.S. I.T.C. found that Canon's patent claim language did not cover SCC's workaround. It was yet another big win for the industry, with SCC at the forefront of a long and expensive battle.
There were also smaller battles along the way, according to London. The entire industry feared what actions HP might take. "HP would file patents, and we'd design around them," London said. "HP had a choice to sue, but they chose not to sue because some of our workarounds were ingenious but also ridiculous. For example, they patented their accurate ink gauge contained in the chip. We designed an inaccurate ink gauge, and they thought that was ridiculous but didn't sue us."
These border skirmishes with HP—and other OEMs—allowed the industry to move forward with new technological advances without heavy legal expenses, while SCC remained the OEMs' number one target. "Crafting law was important to SCC," McKee said. "And it still is."
Recently, McKee and SCC led the charge to raise the standards for all remanufacturers in the EU when she successfully attacked the proposed voluntary agreement. The agreement would have benefited some remanufacturers to the exclusion of others, an outcome that SCC saw as anticompetitive and unfair. The EU Commissioners agreed.
Aggressive Attacks
All these efforts by SCC defeated creative and aggressive attacks on the entire industry. Through the impressive shepherding of SCC's legal team, and the commitment of its owners, the right to repair doctrine was strengthened and efforts to impair that right were subverted.
The other accomplishment that SCC struggled to achieve didn't come from an opposing OEM or consortium.
It came from Mother Nature. On Saturday, April 16, 2011, a tornado swept through Sanford, North Carolina. While no one lost their lives, thankfully, it did serious damage to SCC's headquarters and nearby warehouses. The manufacturing plants were spared, but the damage was extensive. Some of SCC's chips ended up 50 miles away, and people were calling for days alerting SCC that their property was everywhere, including the SCC headquarters' flag, which ended up in another county.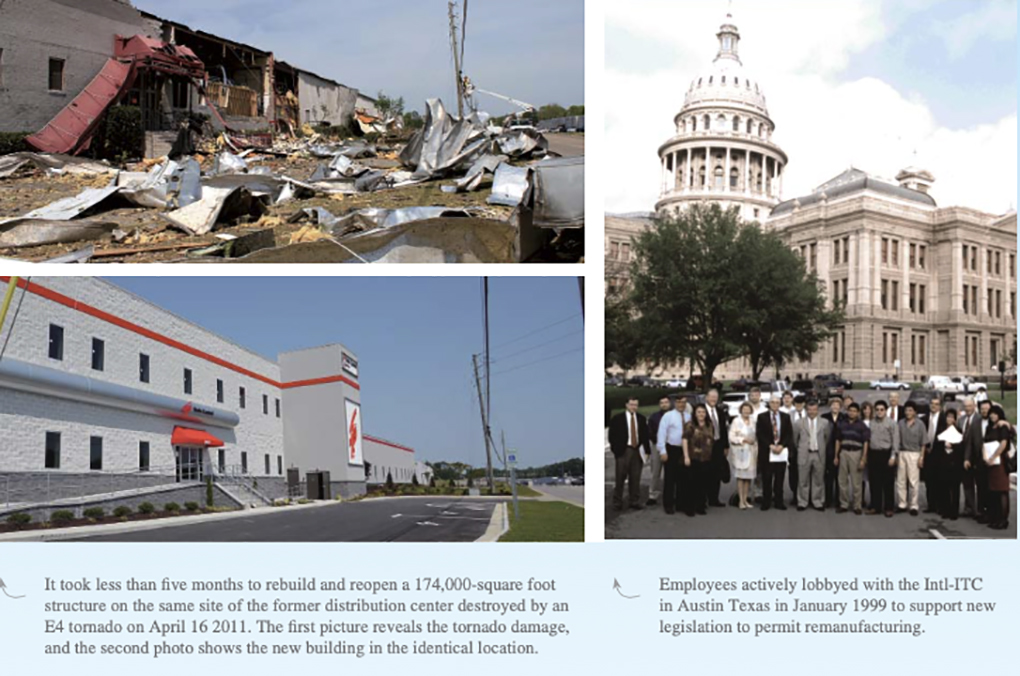 On the day of the tornado, the management team immediately met at Ed Swartz's home to discuss the future of SCC. "What do we do? That was the question everyone was asking," London said. Bill and Michael Swartz, along with former operations manager Dale Lewis convinced Ed to rebuild. Bill really stepped up and got active with the recovery. He got into the warehouse with a structural engineer, where we couldn't go, and cleared out the warehouse. Bill lined up an alternate distribution center and we were back up and running in seven to ten days."
Immediately after the tornado, SCC employees started showing up to work on that Sunday. According to Ed Swartz, all the employees left their homes that Sunday to help rebuild SCC. The SCC family is tight and proud, and they all pitched in to rebuild their company and their community. The new headquarters built thereafter was a testimony to that family. Sanford did not lose one of its largest employers and the industry did not lose its largest supplier, and champion.
It is that familial rapport that is now at the center of SCC, according to McKee. "We are focusing on the Static family," she said. "We host an employee event every month, like Taco Tuesday and holiday parties.
Since the pandemic, we are focused more on health and wellness. And we are devoted to more diversity." SCC remains a mainstay in Sanford. It supports philanthropies, like the NC Zoo and the local Toys for Tots charity at Christmas.
After the pandemic, managers came in with donuts, water bottles and a personal "thank you" note from then-CEO Ken Lalley for the employees for those who were in the office and logistics center every day making sure SCC serviced its customers. Then the managers created a similar event to welcome back the remote office workers, also with a personal note from Lalley. During the pandemic, employees who tested positive were taken care of as their co-workers dropped off meals at their doorsteps. Now with everyone back in the office, the SCC staff enjoys those monthly events again.
Recently, they enjoyed a cookout with hamburgers and hot dogs, along with a cornhole tournament, much to the delight of employees. "We are looking for and finding fun and exciting ways for people to feel valued and appreciated," McKee said. "We are a family."
For 35 years, the SCC family has protected its business, its industry, and its community.
"Over the years, SCC has protected freedom of choice for the industry, touted its environmental benefits and provided solutions for its customers," McKee said.
McKee is part of the Executive Management Committee that is leading Static Control through its next transition. This team is led by Vice President of International Sales Juan Carlos Bonell, and includes Chief Financial Officer Neil Head and Chief Operations Officer Morry Mao.
Ed Swartz, Bill Swartz, and Ken Lalley devoted their careers to the advancement of the cartridge remanufacturing industry. And with a cumulative 60 years of service at Static, the members of the executive management committee have done likewise. Another 35 years of this caliber of leadership would be greatly appreciated. ■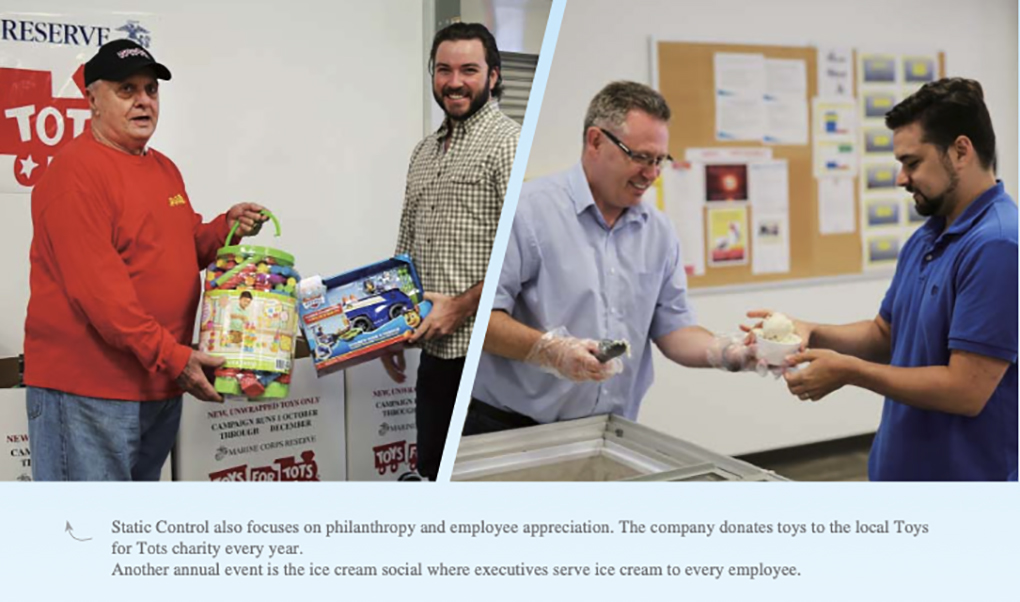 ---
Related:
To celebrate Static Control's 35th anniversary:
---
Tricia Judge has served as the executive director of the International Imaging Technology Council—a not-for-profit trade association serving imaging supplies remanufacturers and dealers, for 25 years. Judge was the executive editor of Recharger magazine. A lawyer for 35 years, Judge also has litigation experience. Judge's work has been published in Recharger and several other industry magazines. She has won critical acclaim for her writing and industry advocacy. She has assisted in the preparation of six friend-of-the-court briefs. Judge has presented the position of the industry to the International Trade Commission. She can be contacted by email at: tricia@I-itc.org  Judge has been the Senior Consulting Editor of RT Imaging World magazine and speaks at regional RT VIP Summits and RemaxWorld Expo in China.
Her feature articles include:
Her Judge's Ruling opinion blogs:
Static Control: Industry Champion
Comments:
You can add your ideas and thoughts on this article, "Static Control: Industry Champion," below or directly with Tricia Judge by email.
https://o1.rtcdn.net/uploads/2022/10/Tricia-Judge-StaticControl.jpg
692
1020
Tricia Judge
https://o1.rtcdn.net/uploads/2020/07/RT-logo-old-big-old-jiazi-3.png
Tricia Judge
2022-12-08 10:50:29
2023-02-21 13:21:55
Static Control: Industry Champion