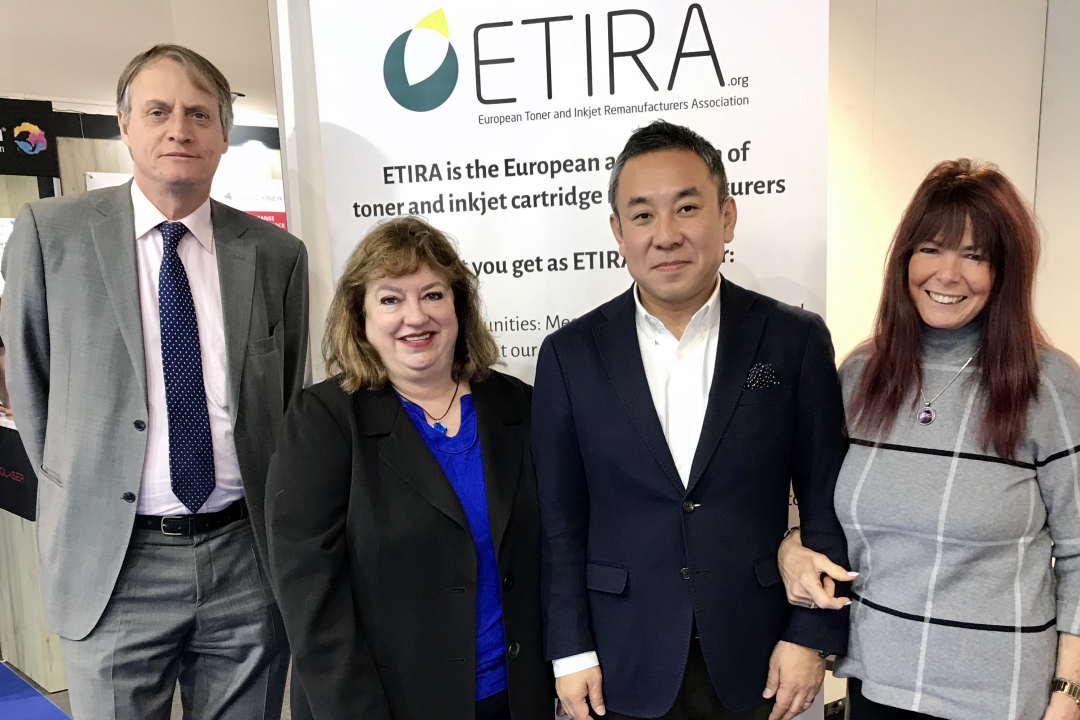 How Trade Associations Help Protect the Environment
Leaders of the four largest imaging supplies' industry trade associations met up in Frankfurt during PaperWorld 2020 to discuss a complaint strategy against HP, Inc. with the Green Electronics Council over HP's new "killer chip" firmware.
Vincent Van Dijk (pictured far left) from the European Toner and Ink Remanufacturers Association's (ETIRA) joined Tricia Judge (Int'l Imaging Technology Council – Int'l ITC), Masato Emori (Association of Japanese Cartridge Remanufacturers – AJCR) and Laura Heywood (United Kingdom Cartridge Remanufacturing Association – UKCRA) also addressed the sale of single-use cartridges ("SUCs").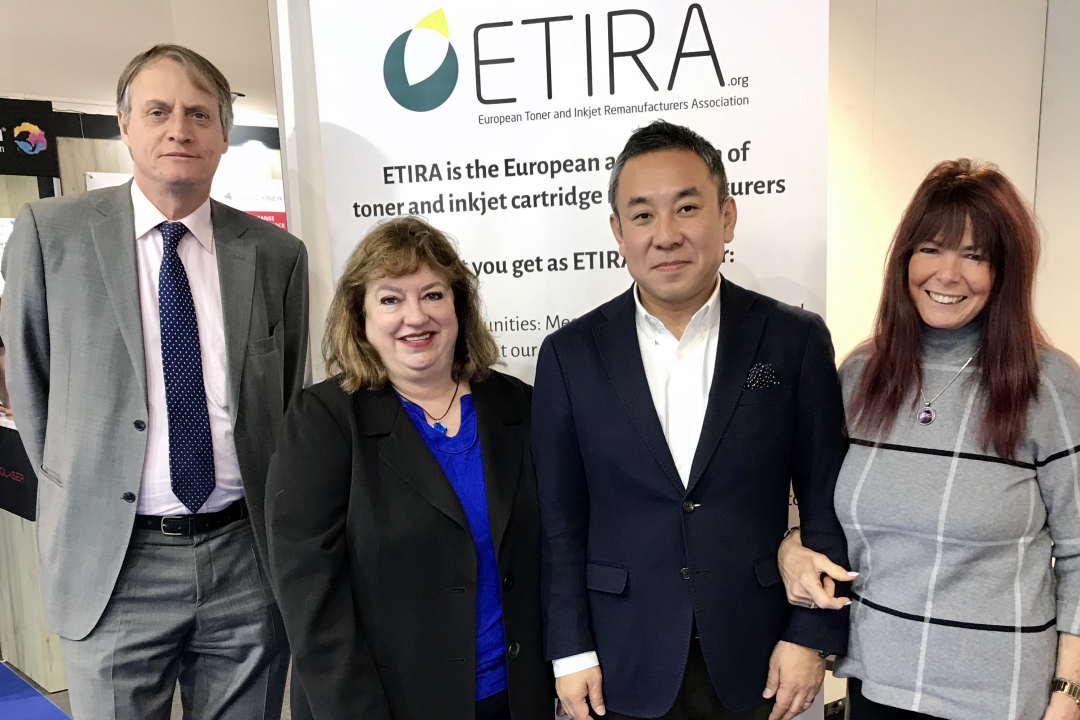 UKCRA
For more than 25 years, the U.K. Cartridge Remanufacturers Association (UKCRA) has been at the vanguard by challenging and appealing to lawmakers. It continues to provide them with evidence and undisputed facts about the advantages of cartridge remanufacturing for a more circular economy. The OEMs are impeding the functioning of a number of cartridge models in their printers and this is an issue that is being currently addressed with the U.K. government department on eco-design.
It is the fundamental right of choice for consumers that is being threatened by printer manufacturers to use whatever type of product they wish to use in their printers. Whatever their choice, it should not be hindered by design features that impede reuse or block their functioning with lockout devices such as clever chips.
The UKCRA participated as a stakeholder to include design for reuse in international standards (such as the WEEE Directive and the International Standard IEEE 1680.2). Along with the Int'l Imaging Technology Council (Int'l ITC), UKCRA recently formally complained to the U.S. Green Electronics Council that upholds the IEEE standard regarding certain required criteria on the reusability and functioning of non-original cartridges in printers.
The UKCRA has continually provided evidence and undisputed facts about the advantages of cartridge remanufacturing and reuse in the circular economy and participated in conferences and meetings with government representatives encouraging them to lead by example and put "remanufactured" (and reuse) as the higher priority over mere "recycling," – and as a priority over cost in procurement tenders.
Lawmakers are seeking ways to reduce carbon emissions, and concepts that employ sustainability and reuse are largely preferred over the lesser environmental-friendly recycling. Why recycle (separate components and then crush or shred) a printer cartridge, which can be reused multiple times? Or why meltdown a cartridge when that form of recycling needlessly uses up energy. Why add to the mountain of recycled plastics that have few uses? Not when a perfectly viable commodity such as a remanufactured toner or refilled inkjet cartridge exists, and its industry already currently generates jobs and productivity around the world.
Experts project that it will take ten years to cut carbon emissions in half, and even then, they believe that such a reduction will not be enough. Even if it were, the technical solutions to achieve a 50 percent reduction have not yet been invented! Reusing the cartridge through remanufacturing is the best alternative.
Greta Thunberg bravely challenged lawmakers at the U.N. annual General Assembly condemning the talk of "eternal economic growth" adding "while entire eco-systems are collapsing" and spoke of government and lawmakers' betrayals, with "leaders nowhere in sight."
It is important that we continue challenging lawmakers to do better, and to accomplish this through our representative trade associations, ETIRA, the Int'l ITC and UKCRA. It is important to continue to be active in supporting them and to work together towards the future sustainability of our planet.
I-ITC
This year, along with the United Kingdom Cartridge Remanufacturers Association, the I-ITC filed a complaint against HP, Inc. with the Green Electronics Council over HP's new "killer chip" firmware. The Int'l ITC is challenging their claims to meet environmental criteria set out by the federal EPEAT Registry, which requires allowing non-OEM cartridges. Their firmware and chips do exactly the opposite and are causing remanufacturers to lose business.
Customers are unhappy too. We are working alongside these consumers and legal professionals to review potential legal action.
It's been a busy year, full of big news and skirmishes. Without a trade association to speak for our community and its environmental impact, standing up to HP, or Lexmark, or any large threat, would be difficult.
We manage to do a lot with a little, such as with our email newsletters. We have been promoting our industry and its challenges in articles, webinars and throughout social media. We've delivered our environmental messages to buyers from the National Office Products Alliance (NOPA) channel.
The association also held its first meeting in years, in Chicago in July. It was quite an event with the executives of most of the largest remanufacturers in attendance. We discussed our plans to move forward, especially to tout our strong environmental message.
The OEMs remain our oldest and boldest threat. HP's new firmware is proof of that. And China's production must be monitored for unacceptable products as well. Due to our partnership with NOPA this year, we have shared these concerns, with examples, to hundreds of imaging and office supplies dealers.
Int'l ITC administers the STMC quality testing program that sets apart legitimate remanufacturers from drill-and-fill internet exploiters or poor-quality, foreign-made products. In the U.S., China and around the globe, this is seen as a definitive stamp of a quality cartridge. This year, we investigated more companies abusing the STMC logo by a factor of ten. Dozens of cease-and-desist notices were sent, and several penalties were assessed by the Int'l ITC.
Int'l ITC supports and promotes Reman Day! As a founding member of the Council that brought this event to life, we saw consumers and business customers respond to our event and information. This will be the third time that the remanufacturing industries, from airplanes to inkjet cartridges, will come together to promote their members and products.
Everyone from Clover Technologies to small, local cartridge remanufacturers took part in this event. And the Int'l ITC Executive Director Tricia Judge spent the day on Capitol Hill in Washington D.C. talking to U.S. leaders about this important industry.
Beyond the flag-waving is a real coalition that is pushing both the public and private sector to buy more remanufactured products and putting real qualitative science behind those efforts. The Int'l ITC is there to help.
ETIRA
In the European Union (EU), 2019 was a turning point in environmental policies. In December, the new EU Commission presented its Green Deal policy initiative. And their ambition is high: the EU wants to be the world's first carbon-neutral continent by 2050! Of course, reaching that target is going to be to very tough: it requires a full new mindset of all Europeans.
The Green Deal built on the 2018 Circular Economy proposals that already favoured the reuse of products. And that is where cartridges come in: reusing your cartridge as a cartridge during multiple cycles ticks all the right boxes: it's environment-friendly, less expensive than OEM, and if you include the environmental costs, even less expensive than the new clones from Asia! Moreover, remanufacturing cartridges brings jobs and profits back to the EU!
In line with the new focus, the ETIRA organization was adjusted to face a new era. In June 2019, "Environmental Warrior" Javier Martinez was appointed as its president, heading a new team of directors, each with his own area of expertise. We kicked off 2020 at a new office, and with a new logo. This "ETIRA 2.0" is ready to face the market challenges head-on!
And challenges there are true: our industry is being squeezed between tough OEM market behaviour and cheap single-use clones from Asia. Downward pressure on prices makes the business very difficult, and the European cartridge remanufacturing industry can, therefore, remanufacture only eight to 15 percent of all OEM cartridges put on the market. Yet, if all the aforementioned market barriers were removed, that number could be 75 to 90 percent!
That is why ETIRA lobbies the EU to support the reuse of cartridges. And in 2020 this work is paying off. We will soon see new EU-recommended criteria for public procurement programs that want to buy "green." Thanks to our lobby, these criteria will give preference to reman cartridges! And the famous EU OEM Voluntary Agreement is also being reviewed: this set of environmental criteria, those printer manufacturers have had to impose on themselves to avoid being hit with EU legislation, is now being adjusted to take better account of cartridge reuse. And if they will not budge, the EU may well force them to! This should end OEM anti-reman practices such as clever chips, unfriendly cartridge designs, overnight firmware updates that lockout remans, etc.
We also call for an EU ecolabel for remanufactured cartridges. But our main call is for the EU to act against single-use, non-OEM newbuild cartridges ("SUC"s). These products from Asia have no end-of-life solution, and many do not comply with EU health and safety rules. Many are simply dumped on EU soil at below-production cost prices, with no regard for the pollution they create. This must stop.
ETIRA 2.0 also means more PR and raising awareness about cartridge reuse. With our LinkedIn and Facebook pages, we connect with the end-users and show them why remans are the only way to stop single-use plastics.
In 2020, there are many hurdles for cartridge remanufacturers, but the new ETIRA is there to help members overcome them. Join us, and support reuse!
ETIRA, the European Toner and Inkjet Remanufacturers' Association represents remanufacturers of OEM cartridges and related service-providers across the EU since 2003. We are officially based in Brussels, and have approx. 40 members. Full details on www.etira.org.
Association of Japan Cartridge Re-manufacturers
The Association of Japanese Cartridge Remanufacturers (AJCR) is powerfully promoting its authorized standards and logo, E&Q (for Ecology and Quality) for the cartridge remanufacturing industry in Japan.
The AJCR is in its third generation of authorizing and auditing E&Q certified remanufacturers and their remanufactured toner cartridges. For many years, the directors of the AJCR have spent a tremendous amount of time to establish the E&Q standards in order to differentiate Japanese genuine remanufactured cartridges from new-build cartridges coming from overseas.
AJCR members are promoting E&Q and now a lot of the country's end users, government agencies and administrative offices have started recognizing the E&Q and it has become one of the key qualifications for purchasers of remanufactured toner cartridges (the AJCR and its members also actively employ STMC standards). The E&Q is solely used for genuine remanufactured toner cartridges passing the strict standards.
This has led to a successful situation for all the remanufacturers and the remanufacturing industry in Japan. In 2018, the AJCR was awarded a Life Cycle Assessment Encouragement Award on the same stage with Canon. Life Cycle Assessment (LCA) is a measurement tool to determine CO2 emissions, which are thought to be the cause of global warming or climate change.
AJCR's aggressive activity supports environmental protection and the AJCR will continue working towards a bright future for the remanufacturing industry and the environment.
This article is also published in our latest 112 edition. Click here to download the whole PDF.
https://o1.rtcdn.net/uploads/2020/03/Trade.png
720
1080
Tricia Judge
https://o1.rtcdn.net/uploads/2020/07/RT-logo-old-big-old-jiazi-3.png
Tricia Judge
2020-03-19 16:06:59
2020-03-19 16:09:46
How Trade Associations Help Protect the Environment