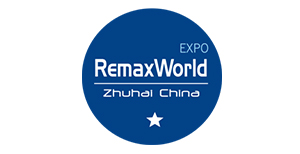 Three Day Summit and Expo:   OCTOBER 17–19, 2019
RemaxWorld—the world's largest trade show for the office equipment and supplies industry—has 450+ small, medium and well-known giants with NEW solutions and products on show.
The boom in China has seen scores of printer OEMs appear from almost nowhere with specialty, label, UV thermal, braille, dot matrix as well as inkjet and laser printers.
The event has been held annually since 2007 in the print supplies capital of the world—Zhuhai, China—providing global buyers and suppliers with an international, networking & cooperation platform.
In 2018, RemaxWorld Expo attracted more than 450 exhibitors and more than 14,000 visitors from 104 countries. Hundreds of small to medium size companies joined the expo alongside industry giants including Ninestar, Epson, Sinopec, Apex Microelectronics, Static Control, UniNet, Mito, Dinglong, SGT, Zhono, Jadi and Cartridge Web. With 30,000 m2 of exhibition space, the expo showcased diversifi ed products including printers and consumables, copiers and consumables, finished products and spare parts, imaging services and solutions and intelligent office solutions.
EXHIBIT PROFILE
Printers
Copiers
Print and Copier Supplies
3D Printers and Supplies
Specialty Printers and Supplies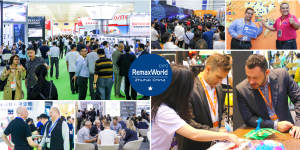 LOCATION
Zhuhai International Convention and Exhibition Centre
No. 1663, Yinwan Road, Wan Chai, Zhuhai, Guangdong, China
Located at the Zhuhai Shizimen CBD, Zhuhai only 10 minutes by car from Gongbei check-point bordering Macau and about 45 minutes by bus or VIP car from Hong Kong via the newly opened sea bridge.
SUPPORTING HOTELS
More information will be posted here in July with links to special room rates for visitors
Sheraton Zhuhai (next door to the Expo venue)
1663 Yin Wan Road, Wanzai, Xiang Zhou District, Zhuhai  519000 China
Phone: +86 756 299 6688
InterContinental Zhuhai (free shuttle bus connections with the Expo)
1 Qinglv S Rd, Xiangzhou Qu, Zhuhai Shi, China, 519020
Phone: +86 756 888 9999
Click to check more hotels and Shuttle Bus Timetable.
KEY REASONS TO VISIT
Find the latest industry solutions all in one place
Expected 450+ high-quality exhibitors will take part in the event this year. You can see new products and technologies, find solutions from the leading vendors of office equipment & supplies, office stationery, intelligent office solutions and 3D products at the "one-stop shop."
Pick up new tricks for your business
Talk to industry experts at RemaxWorld Summit to arm yourself with practical information on action-oriented solutions you can implement for your business. Walk the show floor, learn about the latest trends, engage face-to-face with suppliers, and gain new tips on how to boost your business.
Create genuine business contacts
At RemaxWorld, network and share ideas with the business community and build on your list of relevant contacts.
Take a look at the supplier factories
The print supplies capital of the world—Zhuhai, China—contains hundreds of supplies enterprises and factories, which makes it convenient to have a first-hand visit and investigation of prospective suppliers.
Save time on your business trip
Save your time and expense by visiting Canton Fair, Hong Kong Electronic Fair, and Mega Show in the same trip in the Guangdong and Hong Kong precincts.
RT VIP CLUB Conditions to become a RT VIP Club Member
First-time visitor of RemaxWorld Expo 2019
4-years-or-more-visitor of RemaxWorld Expo
RT VIP Club Members Benefits at RemaxWorld Expo 2019
Go into the Free Accommodation Lucky Draw of RemaxWorld Expo 2019
Go into the Free Ticket (original price $199) Lucky Draw to attend RemaxWorld Summit 2019
Enjoy the Fast Expo-Entry Lane
Free Entry to the VIP Room inside the Expo (high-speed Wi-Fi, coffee, tea and snacks)
Invitation to attend the RT Media Global Industry Awards Ceremony 2019 (4:00PM October 17)
And also:
Free VIP entry to any global or regional RT events
Free tickets to attend RT VIP events
Receive the latest industry news from RT e-newsletter for free
Free Promotion opportunities for your companies, brands and products through RT's integrated channel network (websites, e-newsletters, inTouch TV and social media)
CONTACT US
To visit, please contact: 
Charlene Chen
Tel: +86-756-3959281
Email: Charlene. Chen@RTMworld.com
Joy He
Tel: +86-756-3959281
Email: Joy.He@RTMworld.com
To exhibit or sponsor, please contact: Victoria Zhao
Tel: +86-756-3919263
Email: Victoria.Zhao@RTMworld.com
For media cooperation, please contact: Amber Guan
Tel: +86-756-3959286
Email: Amber.Guan@RTMworld.com
https://o1.rtcdn.net/uploads/2019/05/RE.jpg
154
300
Amber Guan
https://o1.rtcdn.net/uploads/2019/01/RT-logo.png?x-oss-process=image/quality,q_50/resize,m_fill,w_300,h_292
Amber Guan
2019-01-08 09:13:49
2019-10-11 11:08:46
RemaxWorld Expo 2019