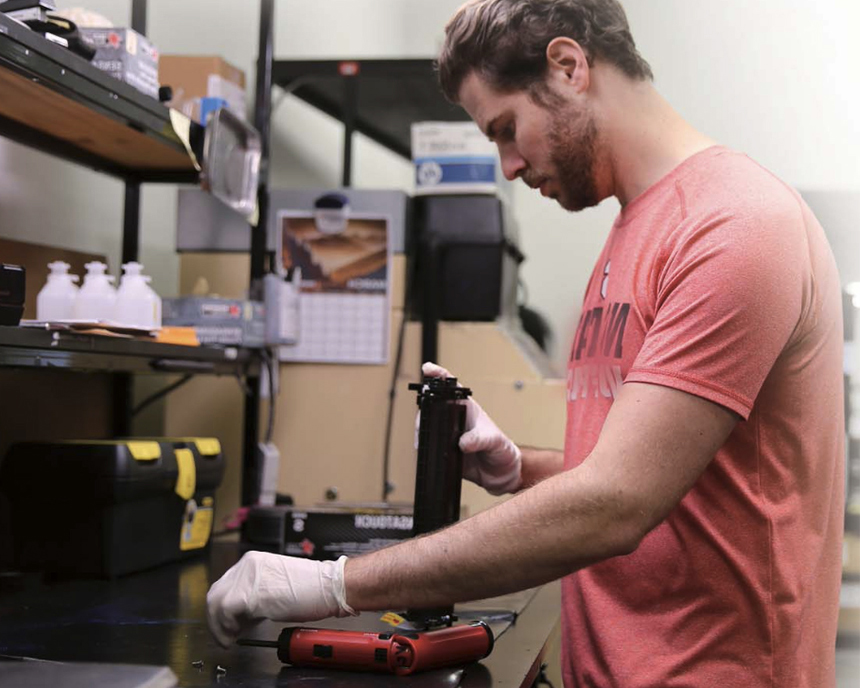 Static Control's Relentless Pursuit of Innovation
Static Control's Relentless Pursuit of Innovation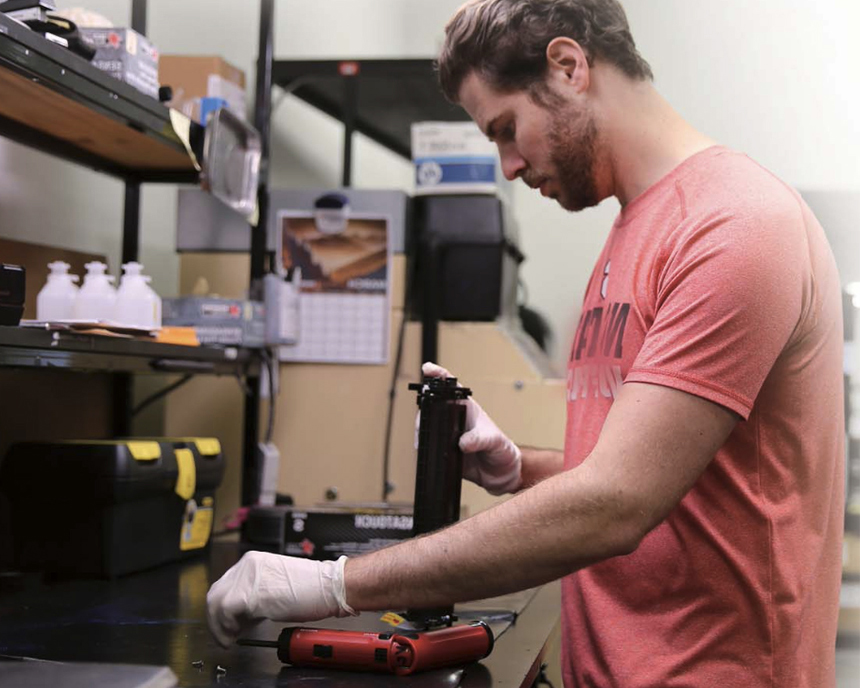 Static Control has been a leader in innovation for the imaging aftermarket for 35 years. During that time, the company
disassembled hundreds of thousands of cartridges from every printer manufacturer, all to ensure the company mastered the inner workings of toner and inkjet cartridges better than anyone else.
This knowledge was essential in creating components and cartridges that delivered the reliability and premium performance that customers now expect from Static Control.
System Matched
Throughout the years, the technology inside toner cartridges became far more advanced, and developing components that worked together to deliver premium performance was a challenge. Creating components in isolation of each other meant they would work for a little while, but inevitably began to wear down and cause print defects. However, Static Control's team quickly learned the recipe for success – to design the components as a system to work together during the printing process.
Electrophotography is the science inside most toner cartridges. Each component played a vital role in the seven-step process of electrophotography. For example, the toner had to be the correct charge to work best with the OPC drum, the PCR had to give the correct charge to the OPC drum, the doctor blade was manufactured to the exact specifications to work best with the roller, and so on.
Static Control launched its first system-matched component set in 1996 for cartridges used in the HP 5Si printer. Since that time, hundreds of systems and thousands of components have been released to help remanufacture cartridges around the globe. Today, these system solutions are installed in Static Control's own premium line of cartridges.
The 9K Splitter
In May 2001, HP released the LaserJet 9000 printer series. At the time, it was the company's fastest laser printer with a print speed of 50 pages per minute. The C8543X cartridge the printer used was also unique. Unlike its predecessors, this cartridge was laser welded together, making it impossible to open for remanufacturing without causing critical damage to the cartridge.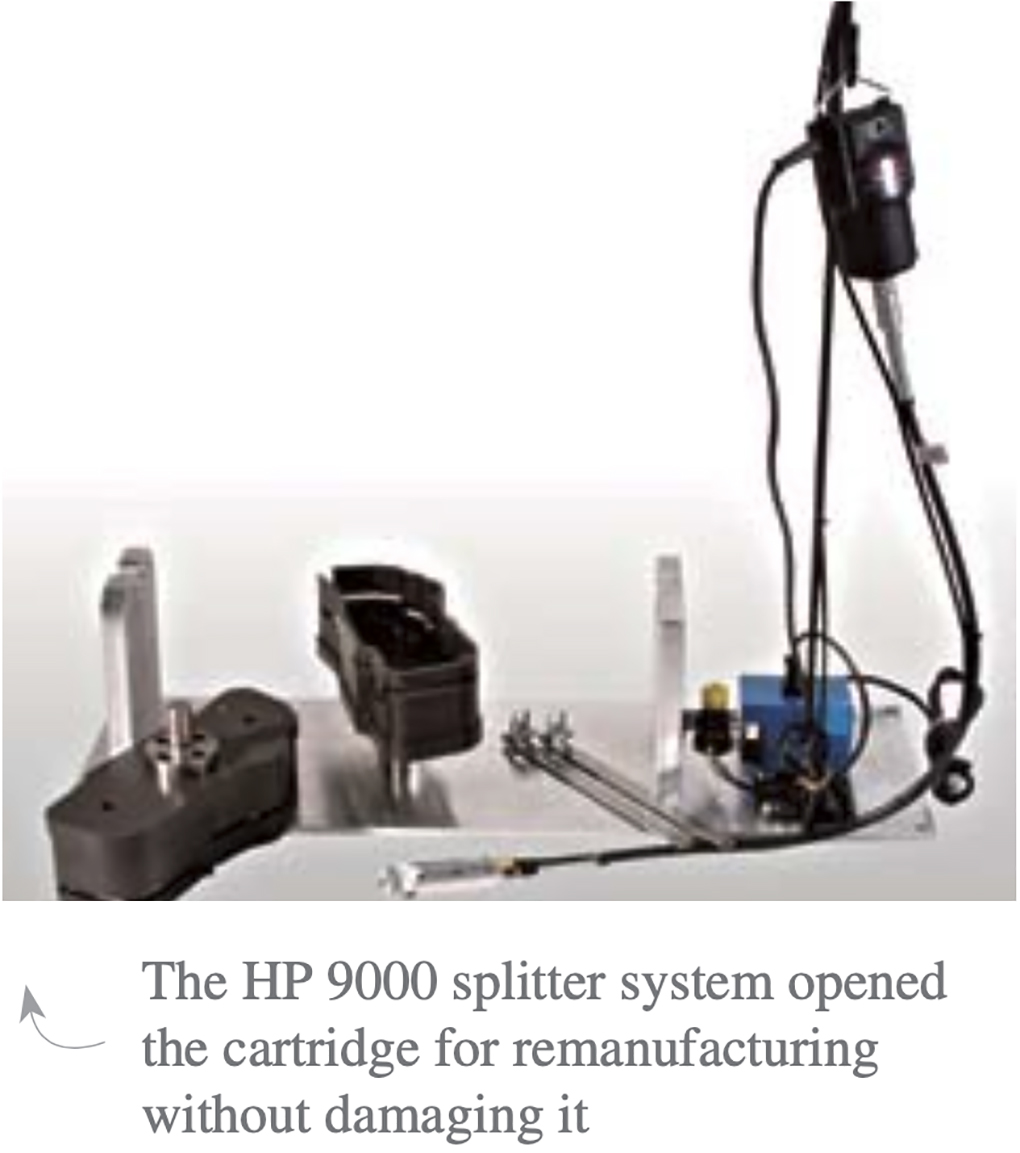 After an intensive development effort, Static Control released a proprietary splitting system that allowed remanufacturers to efficiently open the cartridge without cutting through any important contacts. This innovation created a new revenue stream for remanufacturers around the globe and in addition to the splitter, Static Control went on to develop and manufacture an entire replacement imaging system.
The HP 9000 printer continues to be a workhorse more than 20 years after its release and cartridge demand for the C8543X still remains worldwide. As Static Control has continually updated manufacturing operations for efficiency, it has designed and built a state-of-the-art robotic splitting system.
SCC's robotic splitting system draws on the knowledge developed through our original product from years ago but incorporates modern advancements to improve capabilities. It is faster. SCC's manual system from 2001 took approximately 20-25 minutes to open a single cartridge; the automated version in factories today can split two cartridges in four minutes!
Static Control is always improving processes and systems to provide the best products to its customers. This allows Static Control to continue to provide the best replacement C8543X available to the aftermarket.
Chips, the Brain of the Cartridge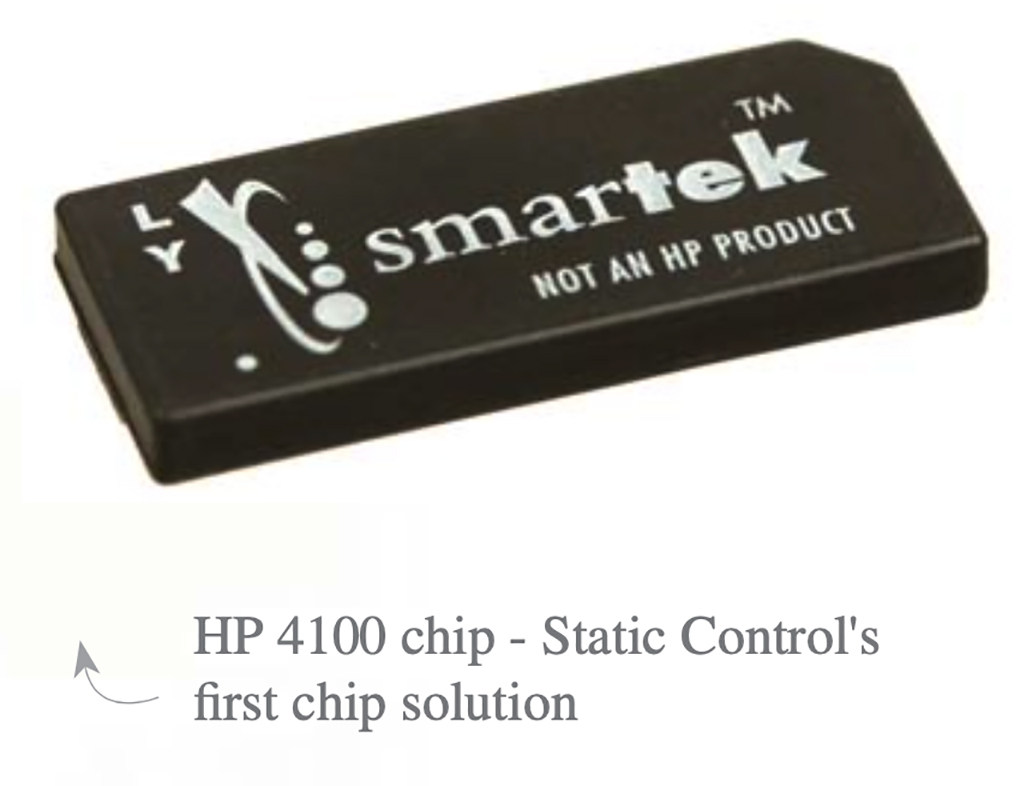 One of the company's most significant achievements has been its work in chip development. Static Control was the first aftermarket supplier to offer replacement chips, and quickly became a powerhouse in the industry. In 2004, it released its patented universal chip, allowing for one chip to be used in multiple cartridge SKUs.
In 2011, Static Control released an aftermarket chip for the Lexmark T650. This highly encrypted chip was embedded with many different layers of security and took significant effort to reverse engineer a functional aftermarket chip.
Even today, the company prides itself on offering the most firmware-resistant chip to the aftermarket. OEMs are known to push out firmware updates that can lock out aftermarket solutions, and Static Control proactively tries to stay ahead. Even when an issue arises, a solution is discovered quickly, and local reprogramming can occur.
Important Products
Here are some of the most important product releases over the last 35 years that helped remanufacturers grow their business.
Cartridges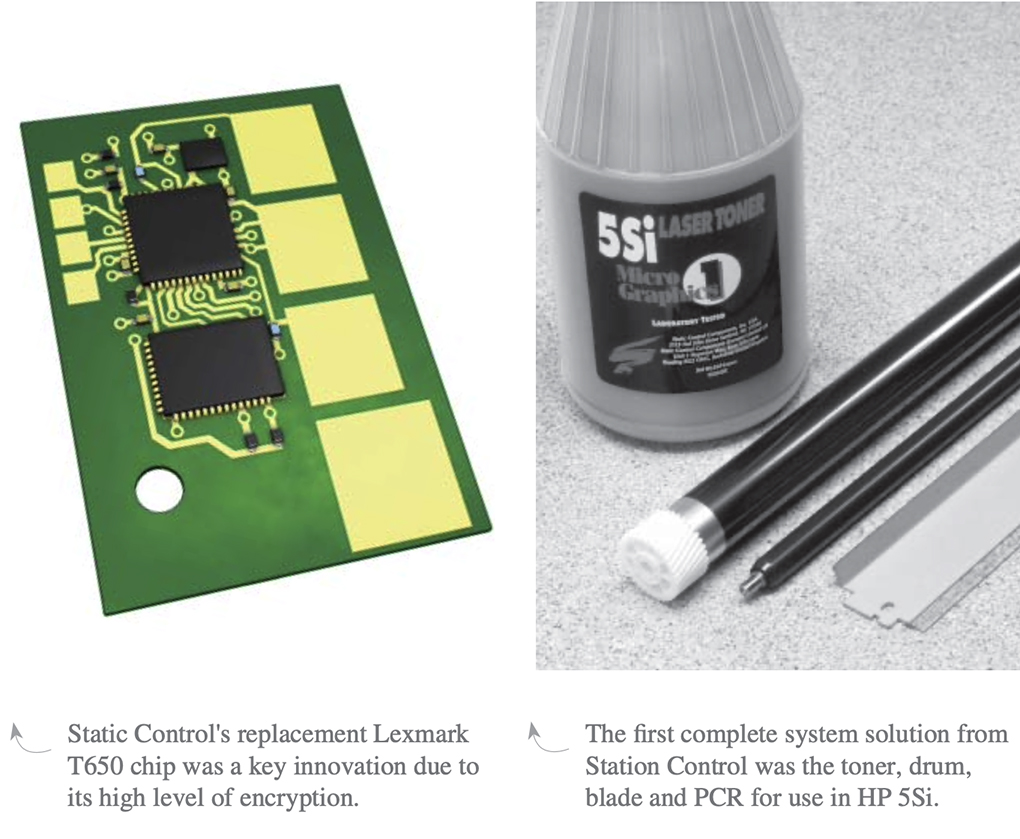 Static Control is still providing innovative solutions to the aftermarket today. Static Control cartridges are superior in performance to other aftermarket offerings for several reasons. In addition to OEM-comparable performance in both image density and page yield, SCC's products are quality-focused and have no equal in the imaging aftermarket.
Static Control cartridges are designed and perfected by an experienced team of Static Control engineers. Every Static Control cartridge is manufactured with its exclusive imaging systems inside. Once the unique bill of materials has been established, its state-of-the-art manufacturing operations build the cartridges to Static Control's exact specifications. The highest quality raw materials that are dedicated solely for use in Static Control cartridges are delivered to the factory. Production runs are under constant supervision from a Static Control SQE (Supplier Quality Engineer). These engineers are responsible for ongoing quality control throughout cartridge production.
Lastly, Static Control's quality criteria are the highest in the aftermarket industry. Products are post-tested to ensure the
best quality cartridges are provided to our customers.
The Future
Static Control will continue to provide the imaging aftermarket with the best solutions, built with knowledge and premium quality in mind. Its 35 years of experience and component know-how are leading the company to project for the future. Its expertise in the electrophotography process will ensure that its system solutions of toner, drum, roller and chip, along with all the other components, will continue to be the backbone of both its premium cartridges and component product catalog.
Static Control is the only full-range supplier of both OEM-comparable cartridges and components to the imaging aftermarket and looks forward to serving customers worldwide with the latest technical innovations to come for the next 35 years and on. ■
---
This article, "Static Control's Relentless Pursuit of Innovation," appeared on pages 4-7 of RT ImagingWorld Magazine which can be downloaded and read for free.
Related:
To celebrate Static Control's 35th anniversary:
Comment:
Please add your comments below about this feature article, "Static Control's Relentless Pursuit of Innovation."
https://o1.rtcdn.net/uploads/2022/10/Chris-Nicols-Workshop.jpg
688
860
Chris Nichols
https://o1.rtcdn.net/uploads/2020/07/RT-logo-old-big-old-jiazi-3.png
Chris Nichols
2022-10-13 09:09:49
2022-11-11 16:03:31
Static Control's Relentless Pursuit of Innovation