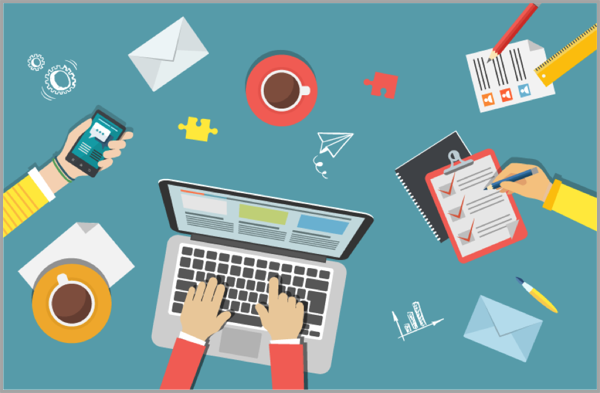 Content marketing is just what it seems: it is about marketing your content. Your content can be articles, blogs, social media posts, videos, and more. Choosing content marketing as a strategic marketing approach gives you an edge over the competition. You are not blatantly promoting yourself, but instead subtly generating an interest in your products. People like that nowadays, not the in-your-face approach to promotion.
What is Content?
Content can be text, images, videos, and more. Often we use the terms "articles" and "content" synonymously, but content is not just limited to the text we publish. In content marketing, we address far more than the text.
Types of Content Marketing
We have social media marketing where we work to increase brand awareness and incite customer engagement.
On your website, you have a blog where you publish posts every week or month, and that's another type of content marketing.
The latest trend of using videos to put across your message online is yet another type of content marketing.
And then there are case studies, infographics, presentations, and more that are all different types of content marketing. You have to choose the ones that are relevant to your industry and are proven to be able to entice your target audience.
Content Marketing Strategy
First, know your audience. Once you define your target audience and know their behavior (like which social media channels they are on, what kind of posts they seem to prefer, and so on), that's when you start planning your content marketing strategy. Do this too when analyzing your competition.
The key is to choose the right combination of platforms for your content marketing and then reap the benefits.
What You Need for Content Marketing
Good content. Either you generate this content or hire someone to do it for you. But the content should be good, if not great.
A strong example of good content can be an article titled "How to Make your Printer live Longer" or "Ten Tips to Make your Printer Last Longer." In this article, you will give the tips to make a printer last longer, while mentioning (subtly) how your product can help in doing so. Add a good attractive and relevant image to support your text, and voila! You have a great article to publish as part of your content marketing strategy.
Let's talk more about how content marketing can build your business in my next column. Stay tuned!
About Ankitaa Gohain Dalmia
Ankitaa is the founder & digital marketing strategist at AnksImage. By using the right mix of website design, SEO, social media, content writing, and brand management tactics, Ankitaa drives successful digital marketing campaigns for businesses employing her expertise, thereby helping businesses increase their brand presence online, and increase website traffic. Email her at agd@anksimage.com
https://o1.rtcdn.net/uploads/2017/08/Writing-image-2-for-content-marketing-that-converts.png
393
600
Ankitaa Gohain Dalmia
https://o1.rtcdn.net/uploads/2019/01/RT-logo.png?x-oss-process=image/quality,q_50/resize,m_fill,w_300,h_292
Ankitaa Gohain Dalmia
2017-08-30 08:41:47
2019-05-19 21:35:00
What is Content Marketing?