Another Day with More Canon Takedowns on Amazon
Another Day with More Canon Takedowns on Amazon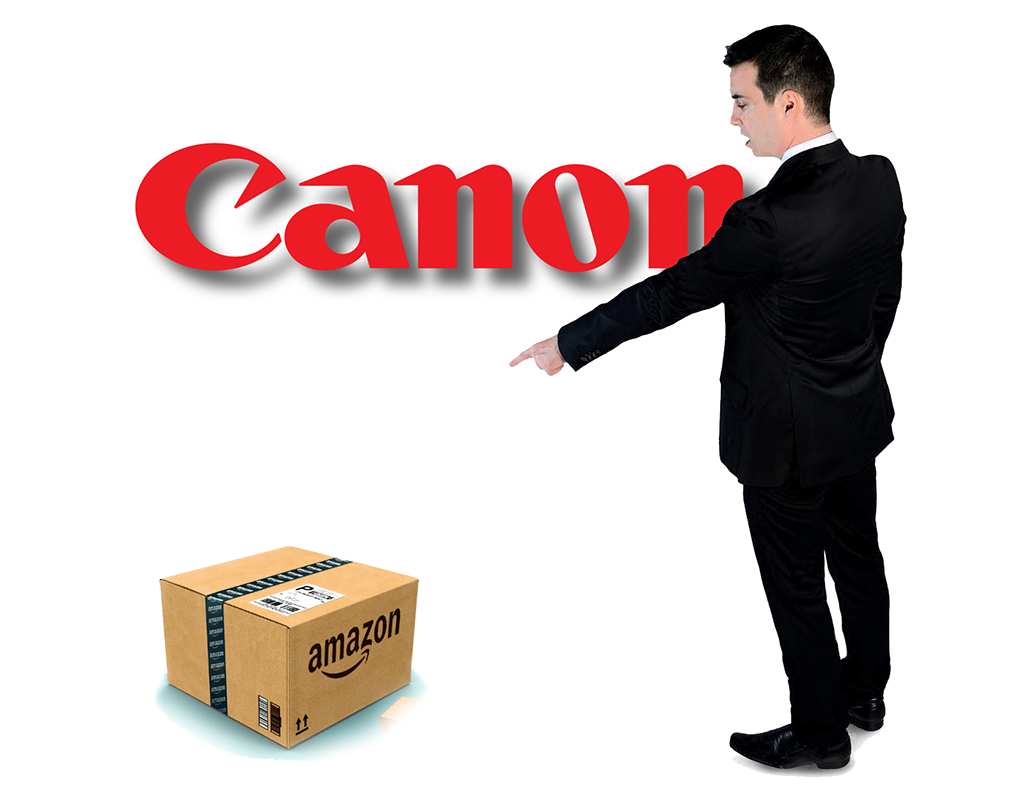 In three separate filings with Amazon on the same day (April 22, 2021), Canon has requested the removal of what it clearly sees are infringing printer cartridges in Australia, America, Germany, the UK, Italy and Spain.
According to Canon in each case, Amazon took down the respective products. At the same time, Canon publishes a disclaimer on its website, in each case that the filing of infringement reports with Amazon "does not comprise any official finding of validity or infringement of a patent. The decision to take down a product is at the discretion of Amazon and is based on information provided by Canon."
Vendors have every right to object to the takedown in each case.
Canon requests removal of toner cartridges offered by InkTonerSales from Amazon Australia
Canon's filing with Amazon Australia is based on the alleged infringement of claim 160 of Canon's Australian Patent Number AU2014208277 regarding the cartridge model CF226A offered by InkTonerSales under the ASIN (Amazon Standard Identification Number) B07W13XZ3L. This product provides a non-OEM coupling member, a non-OEM drum as well as a non-OEM housing.
Canon requests removal of toner cartridge offered by BDBD-TC from Amazon.com
Canon filed an infringement report with Amazon.com seeking the removal of certain toner cartridges sold by BDBD-TC. Its report alleged certain model CE310A, CE311A, CE312A and CE313A toner cartridges sold by BDBD-TC infringed Canon's U.S. Patent No. 8,688,008. BDBD-TC's listings have Amazon Standard Identification Numbers ("ASINs") B08JFT7PZ1, B08JG3BM8J, B08JG6P8RJ, B08JGPTP74, B08JG97Z7T, B08JPXMJF4, B08JPMC8RX, B08G1NLCH6, B08G1L6KMW, B08G1LWM3F, B08G1LVLK2, B08G1KTGCM, B08G1LTK6Q, B08G1J59BW, B08G1M8S4L, B08G1LYLZW and B08G1M7SNY.
Canon requests removal of toner cartridges offered by Yulinshihengshanquxingpingriyongbaihuodian via Amazon
Canon's filing, against the company that most would not be able to read or say out aloud, was targeted at European Amazon sites including Amazon.de, Amazon.co.uk, Amazon.it and Amazon.es based on the alleged use of claims 1 and 2 of the German, UK, Italian and Spanish portions of Canon's European Patent EP 1 977 289 ("EP '289") regarding certain models of toner cartridges offered by Yulinshihengshanquxingpingriyongbaihuodian under the following ASINs (Amazon Standard Identification Numbers):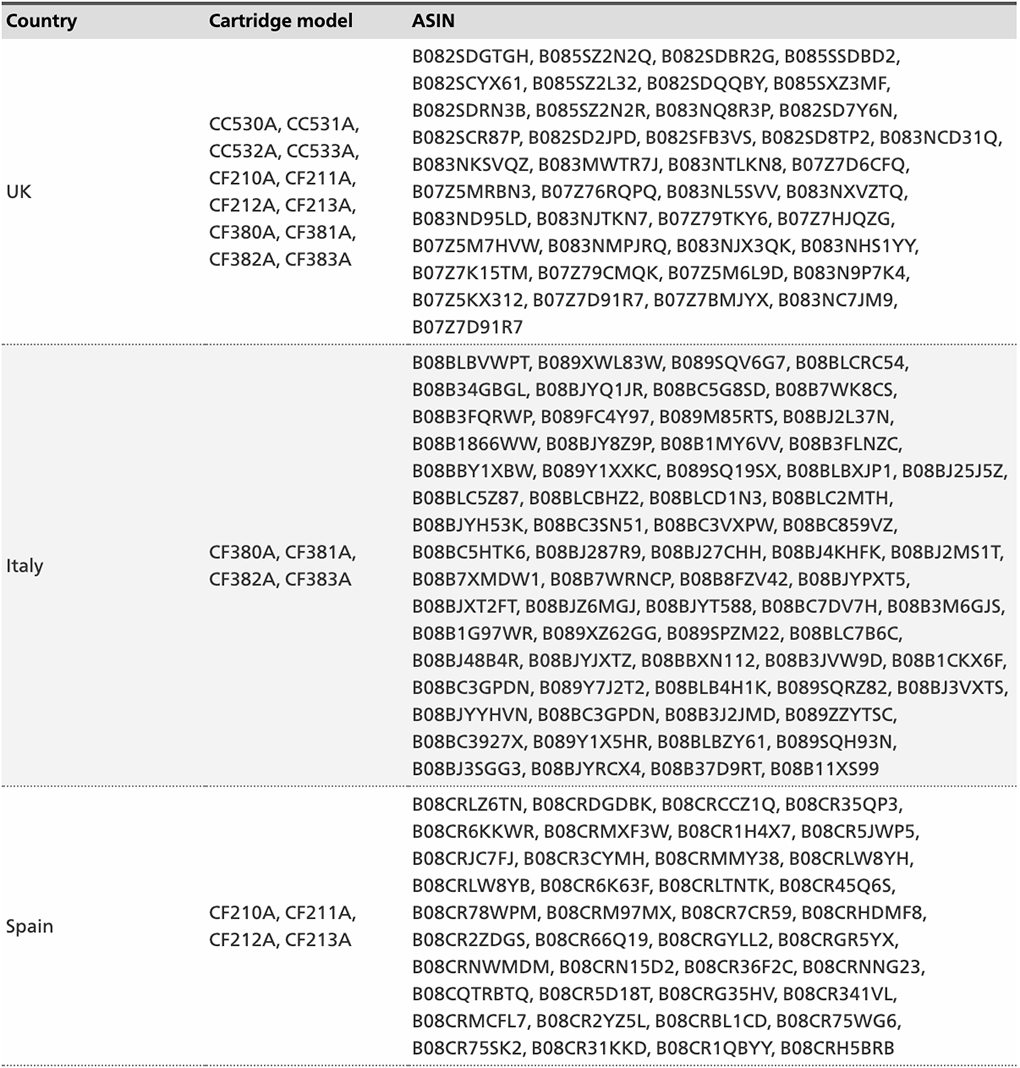 ---
Related:
April 13, 2021: Canon Continues to File Infringement Reports with Amazon
April 8, 2021: More Toner Cartridges Requested to be Removed Again
April 7, 2021: Canon Makes New Removal Requests to Amazon
March 25, 2021: Canon Files More Infringement Reports to Amazon In March
March 17, 2021: Canon Filed More Infringement Reports to Amazon
March 3, 2021: Canon Continues Amazon Removal Request in March
February 24, 2021: Canon Requests More Cartridges Removed from Amazon
February 19, 2021: Canon Requests Amazon to Delist More Cartridges in Europe
February 11, 2021: Canon Orders More Takedowns in Canada and Germany
February 2, 2021: Canon Requests More Delistings
January 25, 2021: Canon Requests More Toner Cartridges Removed
January 20, 2021: Canon Continues Fighting Infringement on Amazon
January 14, 2021: Canon Requests More Cartridges Removed from Amazon
January 7, 2021: Canon Filed More Report Infringement Forms with Amazon
Comment:
Please add your comments below about this news story, "Another Day with More Canon Takedowns on Amazon."
https://o1.rtcdn.net/uploads/2021/04/Canon-Amazon-Takedown.jpg
787
1020
David Gibbons
https://o1.rtcdn.net/uploads/2020/07/RT-logo-old-big-old-jiazi-3.png
David Gibbons
2021-04-25 12:20:31
2021-04-25 12:21:18
Another Day with More Canon Takedowns on Amazon