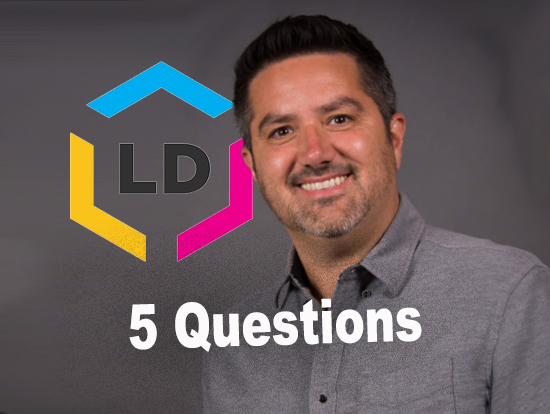 Building an Exemplary Customer Experience
Building an Exemplary Customer Experience
Award-winning LD Products' founding CEO Aaron Leon (pictured) answers 6 Questions put to him by RT's David Gibbons.
In October 2019, LD Products was presented with the Quality Leader Award during the RemaxWorld Expo in Zhuhai, China. A panel of sixteen independent judges overwhelmingly supported those who had nominated the Californian-based company which has become the largest aftermarket consumables reseller on the internet in the world.
Congratulations, Aaron Leon. What was the citation on the trophy and certification?
Let me read it to you… "The Quality Leader Award for 2019 is presented to LD Products for achieving consistent OEM-level quality, and the lowest industry defect rates, as determined by rigorous independent testing on its premium-quality, new-build cartridge range. LD also sets stringent criteria in its selection of suppliers."
You founded LD Products in 1999. How did you get it started?
I was studying finance at the University of Southern California at the time. I saw flyers around the campus advertising printer cartridges for sale. I recognized that printer consumables were an ideal product to sell online. Believing I could do a better job of marketing, customer service and delivery, I began my own business. We've grown every year since and today we operate out of two facilities in California and Pennsylvania, with a third distribution center planned for Texas.
You run the largest aftermarket consumables reseller on the internet? Really?
Our target customers are primarily end-users and small businesses that purchase office products transactionally over the internet. We inventory around 6,000 SKUs and on an average day, we ship approximately 7,500 individual orders, which amounts to around 40,000 inkjet and toner cartridges per day. In the past, we used to sell mainly remanufactured consumables, but over the last ten years, that has shifted towards more new-build compatible products as quality has improved and prices have fallen.
What do you see happening in the global market? Key customer, OEM, aftermarket trends?
There seems to be a lot of fear, uncertainty and doubt around new-build compatibles, with many competitors disparaging perfectly legal products by using the term "clone." While LD sells millions of remanufactured cartridges a year, we want to offer our customers the best product at the best price and often those cartridges are legally reverse-engineered, new-build compatible cartridges. The days of all compatibles being low-quality products with infringement concerns are well behind us. If you want to offer your customers a robust product line of thousands of different cartridges, it's going to be a mix of remanufactured, compatibles and OEMs because ultimately, the customers decide with their wallet.
What are your observations about the battle for market share between remanufactured and new-build products?
As I said at the RT Media Summit in October, end users generally don't know the difference between inkjet or laser printers, let alone the difference between remanufactured or new-build cartridges.
A lot of laser printer technology is decades old and the basic patents that support that technology have expired. Unless there is a quantum leap in new technology, the industry will continue to evolve around small changes from engine to engine and those types of changes are easier for new-build manufacturers to overcome. New cartridges are released all of the time that is 99 percent the same as a previous generation, with the only difference being an end cap, fin or chip. The OEMs make it easy for new-build manufacturers to quickly adjust and have a new compatible offering right away. That being said, if a printer comes to market that is built new from the ground up or something about the toner or technology is revolutionary, it could take a few years for new-build components to be good enough for our customers and remans often make the most sense. At the end of the day, we want to sell high-quality cartridges that print well, don't infringe and save customers' money. As such, the cartridge model, printer and the technology involved all play a role in determining which cartridge type we go to market with.
How can the aftermarket gain more market share, particularly in markets where OEMs are using various strategies including price wars?
LD is rapidly gaining market share with our channel partners division by offering an exceptionally high-quality product. Earlier this year, BLI Labs gave our Goldline cartridges a glowing report and that contributed to the reason for the Quality Leader Award we won in October at RemaxWorld Expo and Summit.Twenty-five percent of customers are fine with the current range of traditional aftermarket cartridges and all the suppliers, distributors and retailers are competing on price for a piece of that pie. The other 75 percent don't buy aftermarket because they haven't been happy with the quality in the past or are still uneducated about their benefits. These customers are an untapped market and our Goldline cartridges create a new opportunity to change the narrative. With Goldline, we are trying to offer a true OEM alternative product to customers where printing is mission-critical.
Why do you think you and your company have been successful in a tough industry where some are struggling? What are your points of strength?
From the very beginning, we've created a brand. With our branding and packaging, we want to make it feel like you're buying a premium product—just because it's inexpensive doesn't mean its low quality. All of our decisions are made to benefit the customer first and that's what drives us. Our call-center hours, warehouse locations, product quality, purchasing decisions, shipping cut off times, time in transit—every detail—are not about what is most convenient for LD. It's all about what will lead to exemplary customer experience. Quite frankly, that pays huge dividends.Companies that are looking to make a quick buck with no after-sale support are after just that, a quick buck. From what I've seen over the last twenty years, that is not a sustainable business model.
---
Related:
https://o1.rtcdn.net/uploads/2019/12/Aaron-Leon-5-Questions-LD-Products.jpg
414
550
David Gibbons
https://o1.rtcdn.net/uploads/2020/07/RT-logo-old-big-old-jiazi-3.png
David Gibbons
2019-12-25 14:28:20
2020-04-26 16:01:57
Building an Exemplary Customer Experience