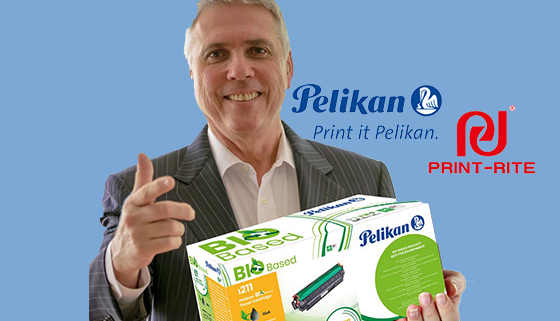 Pelikan Bio Cartridges Shortlisted in the PrintIT Awards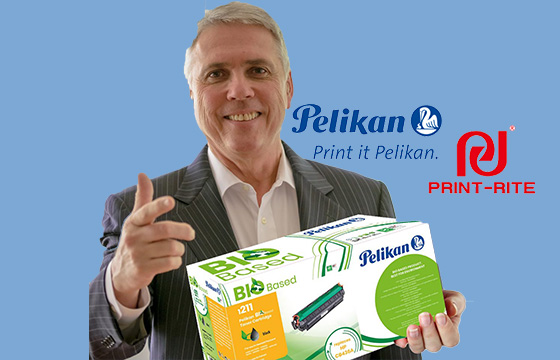 According to PRPS, the Pelikan Bio-based laser printer cartridges are shortlisted in the PrintIT award for sustainability alongside other top brands such as Lexmark, Epson, Toshiba Tec and HP Inc.
The PrintIT awards were created to recognise & celebrate the UK PRINT/MFP Technology industry and celebrate the achievements of this technology sector with a comprehensive programme of awards, covering all aspects of the industry.
Steve Weedon (PRPS, CEO) commented "The Bio-Based cartridge is made from reusable bio plastics with a Biobased toner made of 48% organic materials, all of which is certified by the TUV accreditation. Because of the bio-based ingredients in the toner the print density is improved and there is no sacrifice at all in terms of print output performance. The Pelikan branded Bio-Based cartridges will also be positioned 25% less than the OEMs so there is no price premium either. These cartridges offer a real win for everyone and most importantly for the environment. The benefits are incredible; first, we have a bio-based certification from TUV, confirming a saving of 20% minimum CO2 footprint. A minimum standard to become TUV accredited. PRPS are at 48% for the Bio-based toner and 57% for the bio-based plastics.
"The Pelikan branded Bio-Based cartridge's plastic is made of PLA and ABS thermoplastics. We use organic materials like a coffee grind, soya, sugars, starch, plants and wood. As a thermoplastic, it has the characteristic that at a low temperature the cartridge plastic can be returned to a usable thermoplastic amorphous liquid that can be reused. And during that process no toxic gasses are given off, unlike the nitride and sulphide given off from HIPS plastics used by everyone else," Weedon continued.
"These cartridges are simply better than anything else on the market for those discerning customers wanting to use eco-friendly imaging consumables. They are manufactured from a very high percentage of bio-based material which means far fewer fossil fuels and petroleum derivatives are utilised and that means lower C02 emissions. Every Pelikan branded cartridge is a Patent-Safe compatible and compliant with UK, EU and US standards. If in the worst case, the cartridge ends up in a landfill the bio plastic will start to decompose after 90 – 180 days at 60°F and 90% humidity compared to an OEM cartridge made from HIPS plastic which would stay in a landfill without any degradation for literally hundreds of years. And on top of all those benefits, there is no price premium and the quality is superb. That is why these cartridges are a game-changer," Weedon added.
PRPS claims that the Bio-Based range is just a small part of the innovation within the company with regards to sustainability and providing Eco-Friendly product ranges.
It is said that PRPS' objective is for Pelikan branded imaging consumables to grow globally in markets that have not been focused on before. Recently the company announced its intention to market its products in Russia, Mid East, South Africa and Cyprus.
The "Pelikan" business model offers a new and very different approach that increases reseller margins allowing them to make more cash profit and also get rewarded with bonuses, rebates and, "Reward Points" as they grow.
"This is an OEM approach now mirrored by PRPS using the iconic Pelikan branded range of imaging consumables. Resellers are searching for ways to stop discounting the price to make a sale and start to increase margins and profits, this unique approach to non-OEM sales is generating renewed optimism and excitement in a very tough Reseller aftermarket environment," said Weedon.
For more information, please contact Stevew@printrite-eu.com or visit www.pelikan-printing.com/biobased.
* PRPS is referring to Print-Rite Pelikan Solution, a subsidiary of Print-Rite which is based in Germany.
---
Related:
Comment:
Please leave your comments below for the story " Pelikan Bio Cartridges Shortlisted in the PrintIT Awards."
https://o1.rtcdn.net/uploads/2021/09/Print-Rite-Pelikan-final.jpg
360
560
Maggie Wang
https://o1.rtcdn.net/uploads/2020/07/RT-logo-old-big-old-jiazi-3.png
Maggie Wang
2021-09-29 15:52:26
2021-09-29 15:55:43
Pelikan Bio Cartridges Shortlisted in the PrintIT Awards