HPs Despicable Firmware Update Tricks Continue
HPs Despicable Firmware Update Tricks Continue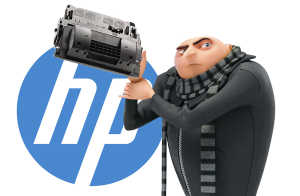 On July 13, 2020, HP once again pushed out a new firmware upgrade causing its customers' printers to stop working if an aftermarket cartridge is installed.
RT Media broke the news about HP's previous 2020 printer firmware updates on March 19 and again on May 9 thanks to its readers reporting their concerns in various parts of the world, including Europe, the USA, Latin America, Africa and China.
Following these successive series of printer firmware updates, HP released yet another firmware update (2021B) in June for the HP DeskJet/Ink Advantage 26 series of printers. These devices use HP 65/304/803/680/664/123 series inkjet consumables. In the same manner, apart from system improvements in the update, aftermarket or third-party consumables are locked out and only original consumables can be used.
HP has now pushed new firmware updates to different printer products in March, May, June and July this year. Update methods include embedded chips in original consumables, newly upgraded consumables, being pushed wirelessly using the printer's WiFi connectivity and releases on HP's official website.
RT Media has been advised HP sells original consumables with upgraded printer functions to customers without formal notice or instructions on the packaging. Once an update is triggered by the cartridge in the printer, any and all aftermarket consumable products, purchased by the customer, will be useless. Consumers are expected to passively accept the updated status of the printer. It is true that the firmware updates improve the printer's functionality in many other ways, but the user is also left with a very poor experience when it comes to the use of locked-out supplies.
HP's July 13 firmware updates 2024, 2025, 2026 allegedly affect printers using the HP95X, 90X, 63 and 65 series of cartridges in various regions of the world. On this occasion, it is alleged the firmware updates are triggered through WiFi connections with the printer after being approved by the user. Where aftermarket or third-party cartridges are being used, the printer simply stops working. A printer error message "cartridge problem" is displayed.
Firmware updates are also available on HP's official website. RT Media has been made aware, thanks to another source, these online updates were made available on July 14, the day after the WiFi updates were reported.
2020 Track Record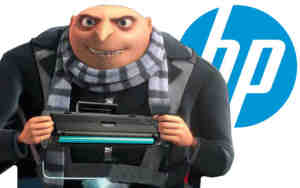 So far this year, in the middle of the global pandemic where millions of workers have been locked down at home, HP has chosen to issue firmware updates almost every month, each of which includes a "lockout" function against aftermarket or third-party cartridges:
March 19, 2020: RT Media broke the news of the firmware update conducted by HP on some of its popular inkjet printers. The online firmware update, if accepted by end-users, immediately locked consumers out from having a choice when it comes to the ink they purchase and use in their printers. The products affected included HP953XL and HP903XL inkjet cartridges. "This is a low blow, particularly now when social distancing measures are being enforced and many office workers are working from home," says Darren Turner from My Total Office Solutions in Rossendale, north-western England. "Many consumers are going to find their printers will just not work." The founding CEO of the largest US-based online site for aftermarket print supplies in the world added his concerns. "We are seeing the same thing here in the US," says Aaron Leon, founding CEO of LD Products. "I think it is deplorable that HP is doing this right now while millions of children are doing school work from home.  If they were using aftermarket cartridges in their printers, they now can't print out their work."
May 9, 2020:  RT Media again broke the news that HP had found a "new" way to update the firmware of their printers in order to lock out third-party or aftermarket toner cartridges. Once the genuine HP cartridge is installed in the printer it communicates with that printer and updates the firmware of the printer without the consumer necessarily knowing. As a result, third-party supplies would no longer work in that printer. The consumer is forced to continue purchasing and using the more expensive HP original cartridge. "HP launched a new range of W1106A/106A cartridges," a whistleblower in Italy told RT Media. "These cartridges are embedded with a chip that can trigger a firmware update of the laser printer without the need of the internet."
Does HP Care About Consumer Hostility or the Aftermarket Reaction?
HP has admitted it caused a problem for millions of office workers, students, teachers and other forced to work at home during the current coronavirus crisis.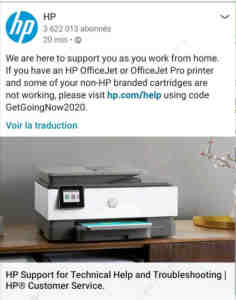 Following its global firmware update in March that effectively shut down any printer that was using third-party inks, the largest printer OEM in the world apologised. A message on the HP website said, "HP OfficeJet 6900, 7700, 8210, 8700 Printers – 'Cartridge Problem' Error When Using a Non-HP Cartridge: This document is for HP OfficeJet 6950, 6962, OfficeJet Pro 6900, 6970, 7720, 7730, 7740, 8210, 8710, 8720, 8730, and 8740 printers. We are here to take care of your printing needs. Please call +1-877-219-5008 for support. Keyword: getgoingnow2020 The phone number is for those primarily in the USA.
On a LinkedIn post, Vanessa Yanez, the World Wide Head of Print Communications at HP, wrote "Hello, I work for HP. This is a situation that shouldn't have happened and we are addressing it. If you have an HP OfficeJet or OfficeJet Pro printer and some of your non-HP branded cartridges are not working, please contact us here https://bit.ly/2QBdxiA."
HP has pointed out it does have a right to issue firmware updates and has no obligation to make its printers compatible with aftermarket or third-party cartridges.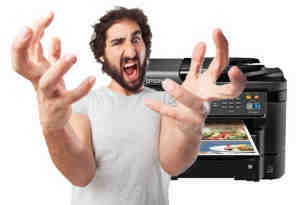 HP is not the only OEM to try locking out the use of aftermarket or third-party consumables. Epson was served with a new round of class-action lawsuits on May 13, 2020, over its firmware updates. William Mondigo and Richard Famiglietti, Felix Rabinovich, Jesse Gordon, Gregory Szot, Martin Dignard, and Michael Kovach filed a class-action complaint at the U.S. District Court for the Central District of California. Each is complaining Epson's "anti-competitive, unfair, fraudulent, and oppressive and illegal conduct" has disabled their printers from using aftermarket inks. Each uses a different Epson model printer but all are frustrated with the situation. They claim they checked the product packaging before they purchased the printers and that nowhere did Epson state it would prevent customers from using aftermarket ink cartridges.
Staff at Actionable Intelligence report they "have never seen a court issue an injunction that would prevent an OEM from rolling out firmware updates that lockout aftermarket consumables." In their view, "firmware updates will remain a potent tool in OEMs' arsenal aimed at retaining share of the replacement cartridge market and deterring end-users from buying aftermarket consumables."
In their opinion, Actionable Intelligence staff opine "like it or not, from a costs-benefits perspective, firmware updates that lock out third-party cartridges have proven more beneficial than costly to OEMs, at least so far." The site quotes HP's settlement that was approved in 2019 was for US$1.5 million to members of the class-action suit. "That's money rummaged from under the couch cushions to HP—HP's Supplies business brought them US$3.16 billion in fiscal 2019."
What Can Consumers Do?
Those involved in the research, development, production and distribution of non-infringing aftermarket chips say that replacement chips have become one of the most expensive components in third-party printer cartridge manufacturing and remanufacturing.
In the face of more frequent printer firmware updates, they urge distributors and retailers to educate their customers and end-users to independently avoid updating their printers. They can manually turn off this setting.
Others who have been angered and frustrated can, like Mondigo and Famiglietti, take class action suits out against the OEMs in their regions. If more users take action then the OEMs will be forced to look at their options to allow consumers the right to choose the consumable they wish to use in their printers.
---
References:
Comment:
If you have any comments to make about this story, "HPs Despicable Firmware Update Tricks Continue"
or the wider issue, please leave your comments below or join the conversation on LinkedIn.
https://o1.rtcdn.net/uploads/2018/07/Despicable-Me-HP-90X-toner-cartridge.jpg
741
1134
David Gibbons
https://o1.rtcdn.net/uploads/2020/07/RT-logo-old-big-old-jiazi-3.png
David Gibbons
2020-07-20 12:15:17
2020-12-29 12:55:46
HPs Despicable Firmware Update Tricks Continue