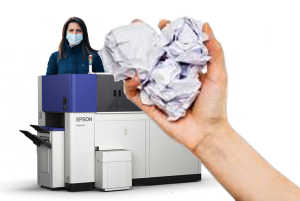 Epson Recycles Paper to Make Face Masks
Seiko Epson Corporation will use its office paper recycling technology to start making face masks by the end of May.
According to Japan Times, production will take place at two of its Japanese plants which will eliminate the need to outsource masks for its employees. The company based in Nagano Prefecture will also donate 100,000 medical-grade masks, originally intended for internal use, to hospitals.
It has also decided to donate 5,600 face shields, planned to be used by its employees in Japan and abroad, to the prefectural government to help ease medical supply shortages.
The company has not yet decided whether it will sell any of the masks it produces to general consumers.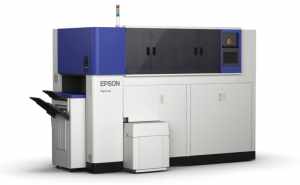 Epson is using the PaperLab recycling machine developed in 2017.  The large device (pictured) produces paper from used office paper without the need for any water.
Epson, claims the PaperLab was the world's first dry process compact office papermaking system. It's capable of producing new paper from securely destroyed waste paper using a dry process and can produce thousands of sheets of recycled paper a day. Epson also states its PaperLab is ideal for organisations that need to securely destroy confidential information as well as recycle paper in an environmentally friendly, eco-efficient and sustainable way.
The PaperLab is intended to satisfy those organisations wanting to print and then recycle all the paper they want. Epson is hoping that if the demand is high enough, it can develop PaperLabs of all sizes and see them used in factories, in offices and even in the home producing paper of various sizes, thickness and types, from office paper to business card and coloured paper.
---
Related:
Comment:
What do you think about this story, "Epson Recycles Paper to Make Face Masks?" Please add your comments below.
https://o1.rtcdn.net/uploads/2020/05/Epson-Paper-masks.jpg
683
1020
David Gibbons
https://o1.rtcdn.net/uploads/2019/01/RT-logo.png?x-oss-process=image/quality,q_50/resize,m_fill,w_300,h_292
David Gibbons
2020-05-17 19:17:36
2020-05-18 20:06:33
Epson Recycles Paper to Make Face Masks