Real Reasons Revealed for Canon vs Ninestar Lawsuit
Real Reasons Revealed for Canon vs Ninestar Lawsuit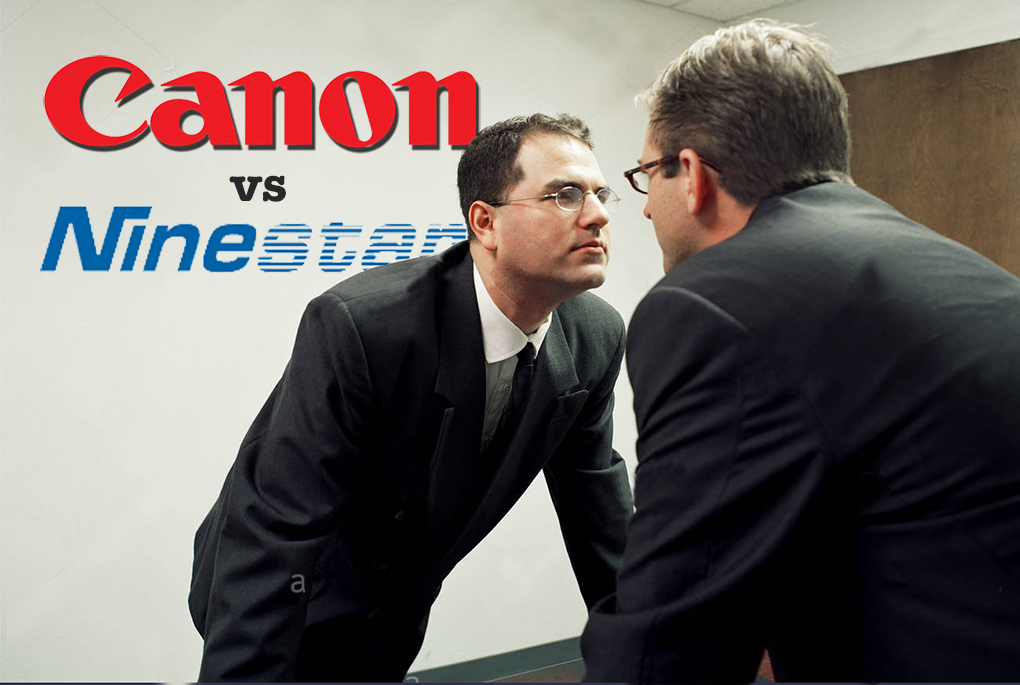 The date of September 17, 2020, was significant for Canon. The iconic imaging company chose this specific date to proclaim it would take the Ninestar Group to court over alleged infringements of its patents.
Canon Inc filed this fresh complaint in the U.S. District Court for the Central District of California against Ninestar Corporation, Ninestar Image Tech Limited, and Ninestar Technology Company, Ltd. (collectively, "Ninestar"), for infringement of Canon's U.S. Patent Nos. 9,851,688; 9,857,766; 10,620,582; 10,712,709; and 10,712,710.
It has become abundantly clear Canon used a "distraction tactic" to deflect any attention away from its decision to drop the appeal in a different case against the US International Trade Commission (USITC) but involving Ninestar and other aftermarket companies. Canon had until September 17, 2020, the very same date, to file its petition against the USITC with the Supreme Court. But it very quietly withdrew from that matter fearing it would not be able to advance its case.
In short:
On May 20, 2019, Canon lost its complaint (lodged in 2018) upon appeal against certain aftermarket companies before the USITC. The USITC supported its own earlier decision in the 337-TA-1106 investigation and determined again in favor of aftermarket companies which included Ninestar, Aster, LD Products, Print-Rite and the Supplies Guys.
On April 20, 2020, Canon lost again after it took another appeal against the USITC decision before the Federal Circuit which in turn handed down a unanimous decision backing the earlier 2019 USITC decision. The Federal Circuit also found certain aftermarket design around solutions did not infringe Canon's patents.
According to US-based Merritt Blakeslee, who has been practising in international trade law since 1991, Canon made it very clear it believed the USITC's interpretation of its patent claims to be overly narrow and it would consider "all available options."
"All available options" ran out of time on September 17, 2020. This means the USITC's decision over investigation 337-TA-1106, upheld by the Federal Circuit, was finalised and Canon is unable to pursue this particular complaint any further.
In order to save face, and to deflect attention away from its loss to the aftermarket, Canon gave notice, on the very same day, September 17, 2020, to pursue Ninestar for its alleged infringement over a range of entirely different patents held by Canon in the US.
Within 24 hours, Ninestar published an official response to Canon's legal accusation. You can read that statement provided by Ninestar's legal team to RT Media.
Curious Observations:
Canon has chosen to pursue its complaint against Ninestar for a workaround product released to the market two years ago:

Canon has the largest portfolio of patents covering its printer cartridge designs than any of the printer OEMs. HP has access to some of those patents in regards to laser printer cartridges that use toner.  The cartridges that contain Canon's asserted patents (9,851,688; 9,857,766; 10,620,582; 10,712,709; and 10,712,710) are the HP 126A and 350A series of color and black cartridges;
It is not very clear why Canon has selected to defend these particular patents. In its previous case, it initially identified 32 companies (and eventually 26) that were allegedly infringing its patents and was seeking a 337 investigation, a general exclusion order and cease and desist orders. In this particular case only Ninestar is identified;
Ninestar released its own patented solutions for the 126A and 350A series of cartridges in 2018. Ninestar asserts—out of respect for Canons' intellectual property and its large portfolio of patents—it researched and developed its own solutions that would not infringe Canon's patents. The aftermarket solutions were launched at Paperworld in Germany in January and at RemaxWorld Expo in Zhuhai China in October the same year;
To date, RT Media was not able to find any other aftermarket company that has provided a "patent-safe" solution for the 126A and 350A series of cartridges. In fact, buyers in the US have told RT Media they have intentionally purchased Ninestar's compatible cartridges because Ninestar had the only "patent-safe solution in the market that respected the intellectual property of the OEM." Those same buyers state they are also satisfied with the quality of the products.

Canon has chosen to defend patents on a very limited installed based in the United States:

according to data from IDC, the number of installed HP1025 printers that use the cartridge containing the patents in question is 47,413 in Canada and the United States. This represents a very small 0.3719% of the market.  The value of the installed base in question in North America is 0.0829% of the market;
The same IDC data also reveals that most of the sales of the installed base were in 2016 and 2017 with virtually zero new installations in 2018, 2019 and 2020;
It seems unusual that Canon is only now pursuing a complaint against Ninestar. The installed base in the USA is small and shrinking and Ninestar's non-infringing solution has been in the market for two years already;
The small number of installed printers reflects the reason why most aftermarket companies have not invested in the research and development to produce a workaround solution to provide choice for consumers;
Ninestar, on a number of occasions, has claimed it respects the intellectual property rights of others, including OEMs. This has been demonstrated with its significant investment into the research, development and production of non-infringing solutions. Despite the small numbers of installed printers, in this case, Ninestar claims it has continued to find an appropriate workaround solution.
---
Related:
Comment:
Please add your comments below about this story, "Real Reasons Revealed for Canon vs Ninestar Lawsuit" or join the conversation on LinkedIn.
https://o1.rtcdn.net/uploads/2020/09/Canon-vs-Ninestar-reasons.jpg
685
1020
David Gibbons
https://o1.rtcdn.net/uploads/2020/07/RT-logo-old-big-old-jiazi-3.png
David Gibbons
2020-09-24 13:04:13
2020-09-25 08:18:48
Real Reasons Revealed for Canon vs Ninestar Lawsuit