Epson Withdraws Lawsuit and Pays Court Costs
Epson Withdraws Lawsuit and Pays Court Costs Against GTC Ribbon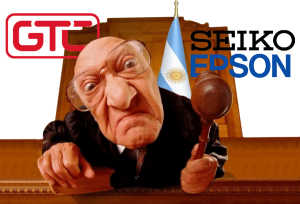 The Argentine company GTC Ribbon, a distributor of aftermarket products, claims Epson Argentina has withdrawn its patent claim against them. The Japanese firm is expected to pay all court costs.
According to GTC Ribbon, an Argentine federal judge upheld Seiko Epson's abandonment of its patents and the withdrawal of infringement lawsuits against GTC Ribbon. In turn, the judge ordered that the Japanese OEM must bear the legal costs, including the payment of fees for GTC Ribbon's lawyers and specialized experts.
This ends a longstanding patent infringement dispute related to a range of popular cartridges in Argentina for Epson printers.
Back in 2010, Seiko Epson had accused GTC Ribbon of infringing several of its patents, threatening it with actions for infringement under patent law, including civil and criminal penalties. The OEM managed to block the sales of these GTC cartridges in Argentina for several years.
GTC Ribbon was launched in 1989 and became one of the pioneering aftermarket firms in Argentina and throughout the region. It offered a wide variety of compatible supplies and consumables and has expanded its offering to computer peripherals and other electronic products.
Timeline of the dispute between Epson Seiko and GTC Ribbon
On February 22, 2010, GTC received a cease and desist letter from Seiko Epson Corporation, in which it was intimidated to immediately stop using a series of cartridges that it had commercialized in the market. The specific models that it considered infringing were identified in the letter. GTC was ordered to destroy them for having infringed invention patents number AR039182B1 and AR 041073B1. Actions were threatened for infringement of patent law, including civil and criminal penalties.
On March 4, 2010, GTC proceeded to destroy the New Jet brand ink cartridges it held in stock at that date in accordance with the notice received from Epson. It was done "under protest" because GTC did not recognize the validity of Seiko Epson's patents and because it considered there was no infringement of Epson's patents.
On March 9, 2010, Seiko Epson Corporation filed a mediation against GTC to recognize the validity of the patent and accept the violation of its rights. GTC denies the validity and denies having committed an infringement and for this reason, an agreement was not reached and mediation was shut down.
Seiko filed a lawsuit for patent infringement and damages. The trial was called "SEIKO EPSON CORPORATION v GTC RIBBON SA: CESSATION OF USE OF PATENTS, DAMAGES AND LOSSES" (File No. 4910/10), pending before the National Civil and Commercial Court of First Instance No. 1, Secretariat nº 2, located in Libertad 731 9th floor.
GTC responded to the lawsuit in October 2012, denying any type of infringement and in turn requested the invalidity of Seiko's patents. It offered a technical report from an Official Expert who shared the opinion the patent was invalid and there had been no infringement.
The trial result favored GTC mostly due to the technical opinion of the Official Expert appointed by the judge in October 2012. The conclusion was there was no doubt about the non-infringement of GTC's products and the invalidity of the Seiko patents which were said to lack novelty and inventiveness.
On December 11, 2017, GTC initiated a mediation process against Seiko Epson for the damages caused by its abusive behavior. (This included damages, predatory conduct, unfair competition, abuse of its dominant position, and abuse of rights). This stage was closed without an agreement on September 4, 2018.
On December 5, 2018, Seiko Epson renounced its patents with the National Institute of Intellectual Property and withdrew its claims against GTC.
In April 2019, the Judge declared Seiko Epson had lost its case and ordering the OEM to pay all the costs of the trial (court fees, lawyers and experts).
At the end of August 2020, GTC Ribbon announced Epson Argentina had definitively withdrawn its patent claim. The Japanese firm will have to pay court costs.
---
Related:
Comment:
Please add your comments below about this story, "Epson Withdraws Lawsuit and Pays Court Costs."
https://o1.rtcdn.net/uploads/2020/09/GTC-Seiko-Epson-Argentina.jpg
694
1020
Gustavo Molinatti
https://o1.rtcdn.net/uploads/2020/07/RT-logo-old-big-old-jiazi-3.png
Gustavo Molinatti
2020-09-04 16:14:57
2020-09-04 16:24:58
Epson Withdraws Lawsuit and Pays Court Costs