Apex Releases Replacement Chips for Kyocera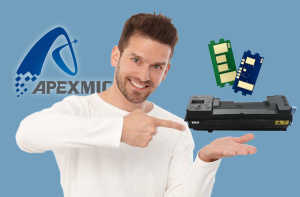 China-based Apex Microelectronics (Apex) has released replacement chips for use in printer cartridges in a range of Kyocera TASKalfa printers. In some cases, they are the first-to-market releases.
In May 2020, Kyocera released the TASKalfa 2020, 2320, 2021, 2221 and 2321 series of monochrome multifunction printers in China and Europe. These were updated versions of the TASKalfa 2010, 2210, 2011 and 2211 series. The new series is equipped with standard network printing and expandable fax functions. It is suitable for small and medium-sized working groups with less than 10 people and an average monthly print volume of about 4,000 pages.
Apex claims its replacement chips for Kyocera TK-4148, 4158 and 4168 (in China) and the TK-4145 (in Europe) perform consistently and are easy to install into cartridges that are being remanufactured.


On the same day, Apex also released a first-to-market chip solution for Kyocera ECOSYS p4140dn printers using TK-7310 and TK-7311 cartridges. These compact A3 black and white printers, released by Kyocera in May 2020 in Japan and Europe, offer an expandable paper capacity of up to 6 paper trays for flexible paper handling. The company also promises consistent performance as well as ease of installation into remanufactured or newly manufactured cartridges.

About Apex
Apex Microelectronics, headquartered in Zhuhai, China, claims to be the largest manufacturer and systematic solution provider of printer cartridge chips and printer controller SoC in the aftermarket. Apex offers inkjet and toner cartridge chips and cost-saving solutions for worldwide remanufacturers and distributors. The company welcomes requests for product samples.
---
Related:
Comment:
How does this story, "Apex Releases Replacement Chips for Kyocera" impact you? Please add your comments below.
https://o1.rtcdn.net/uploads/2020/07/Apex-Chips-for-Kyocera.jpg
738
1125
David Gibbons
https://o1.rtcdn.net/uploads/2019/01/RT-logo.png?x-oss-process=image/quality,q_50/resize,m_fill,w_300,h_292
David Gibbons
2020-07-02 14:08:46
2020-07-02 21:28:07
Apex Releases Replacement Chips for Kyocera