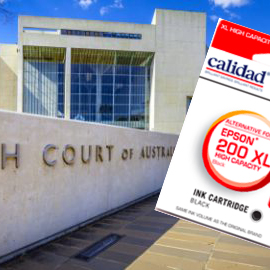 Aftermarket's High Court Appeal – patent exhaustion test
Aftermarket's High Court Appeal
Many lawyers and patent attorneys in Australia are hoping the case between aftermarket printer cartridge supplier, Calidad and OEM, Epson Seiko (Epson) will proceed to the High Court.
According to Dr Mark Summerfield (pictured), who is a registered patent attorney in Australia and New Zealand, it's all about question of law ('implied licence' versus 'exhaustion of rights') that has essentially been untouched since it was considered by a UK court, and 'inherited' in Australia, about a century ago.
"It appears from the Federal Court file, that Calidad has filed an application for Special Leave to appeal to the High Court," Summerfield says. "As a consequence, it looks like it has also applied to have the orders of the Federal Court (requiring it to pay costs and damages) stayed (i.e. suspended) pending the outcome of the High Court application."
'Show Me the Money'
In response, Epson has doubtless said, in effect, that if the court is going to allow Calidad to hang on to its money for now, then Epson wants some assurance that, in the event Calidad's appeal is unsuccessful, it will actually be able to pay what it now owes (plus any additional costs from the High Court appeal).
Summerfield says there are three ways this could go:
the court might accept that Calidad is a healthy company, with sufficient liquid assets to carry on business, run a High Court appeal, and still be in a position to pay what it owes in the event that it loses;
the court might order Calidad to provide a bank guarantee (or some equivalent assurance); or
the court might refuse Calidad's application for a stay, forcing it to pay costs and damages as ordered, in advance of any High Court appeal.
"My guess would be that the most likely outcome is the second of these options," Summerfield told RT Media. He added that none of this has anything to do with whether or not the appeal proceeds. "That is a matter for the High Court," he added. "For example, even if Calidad were forced to pay Epson now, its appeal could still go ahead. If Calidad was then successful, then Epson would have to pay the money back, plus whatever else the High Court might order."
If Calidad doesn't have the money, then it might be forced to abandon the appeal simply because it cannot afford to proceed. "I once had a client squeezed into exactly this situation," Summerfield says. "So, Epson's strategy of opposing the application for a stay is not at all surprising to me."
Calidad was not exercising a right to repair. Calidad, which sells remanufactured inkjet cartridges imported from Ninestar, lost its appeal before three judges of the Federal Court of Australia late July, 2019. Calidad had argued that the remanufactured Epson cartridges were the product of a legitimate right to repair or refurbish a patent-protected article. The Court found this argument unconvincing, principally because the cartridges acquired by Ninestar were not worn or broken. Rather, they had reached the end of their useful life as a consequence of their intended use. You can read more.
Calidad was established by Managing Director Robin Kenyon in 1975. Its products are available in over 2,000 dealers across Australia including large stationery retail stores. Its products are also distributed in more than 20 countries across Europe, the Middle East, Africa and the Americas. RT Media is awaiting a response from Calidad and Ninestar.
You can read more about the earlier stages of the case written by Dr Summerfield.
Are you interested in the aftermarket's High Court appeal? If so, please leave a comment.
https://o1.rtcdn.net/uploads/2019/08/High-court-Calidad-SQUARE.jpg
270
270
David Gibbons
https://o1.rtcdn.net/uploads/2020/07/RT-logo-old-big-old-jiazi-3.png
David Gibbons
2019-08-20 21:43:33
2019-08-20 21:43:33
Aftermarket's High Court Appeal – patent exhaustion test