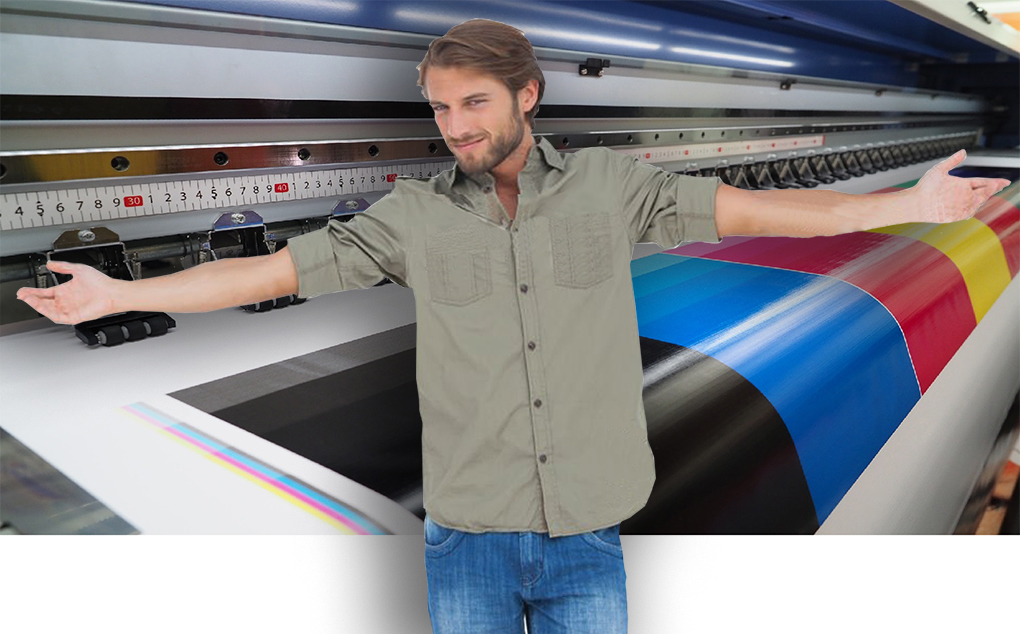 How Many Really Know About Wide Format Ink Applications?
How Many Really Know About Wide Format Ink Applications?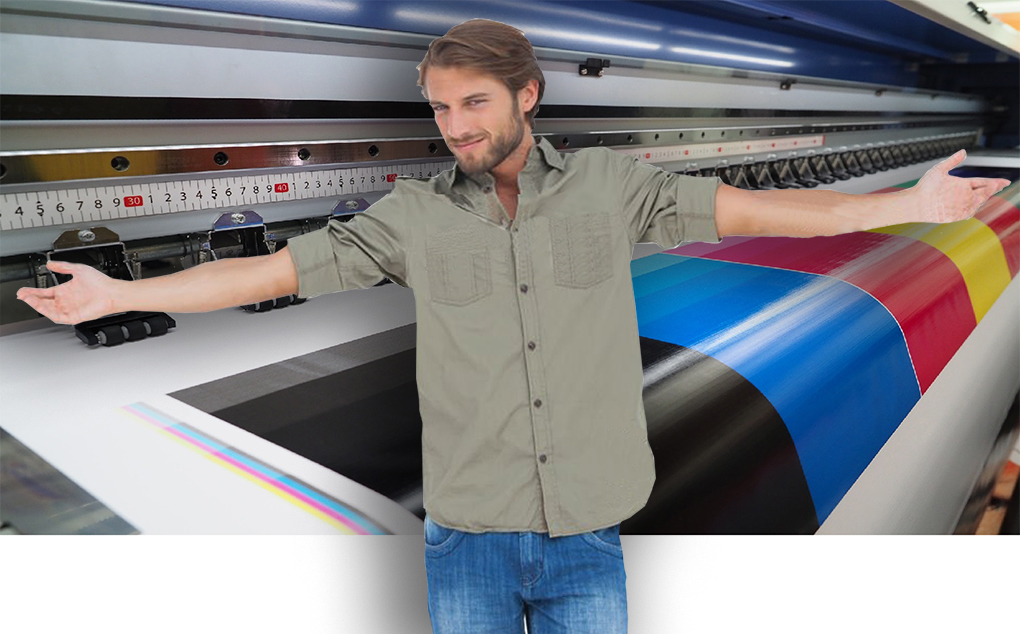 With the development of wide-format inkjet printing technology in the past five years, inks have become a key part of many other applications and fields.
Porcelain
Inks that have been grounded down to 100-200 nm can now totally replace glaze in traditional porcelain printing. Such inks can now be printed onto the tiles. Under 800-to-1200-degree heating, floor or wall tiles we have seen and used commonly in the past can now be printed using such inks.
Textiles
Though digital printing only accounts for 2% of the overall printing market, annual digital printing volume is as high as 1.5 billion square meters, and the required ink is about 15 million liters a year.
Digital printing inks can be subcategorized into:
Reactive dye ink: which can be printed with bright colors onto cotton, linen, silk, and nylon. However, post-processing is complicated. The fastness is good on cotton and linen fabrics, but not so much on silk and nylon fabrics.
Acid dye ink: it can be printed on silk and nylon, with bright colors. The fastness is good on silk and nylon, but the price of these inks is high and the post-processing is also complicated.
Sublimation dye ink: can only be printed onto polyesters (polyester fiber). When printing, the user must print the ink onto paper first and then attaches the polyester cloth to the paper. The fabric with the printed paper attached has to be placed into a heat transfer machine for transfer printing and color development to take place. Compared to other digital printing, thermal transfer printing does not generate wastewater. It is the most popular printing technique, accounting for 60% of all digital textile printing.
Direct printing textiles pigment ink (DTG ink): using pigments as colorants and adding polyurethane resin to ink, DTG inks can be printed on all fabrics, especially on cotton. More importantly, it will not generate wastewater and is easy to access. The disadvantage is that the ink price is very high. In addition, fastness and color brightness is poorer in quality when compared with other technologies, but ink manufacturers are improving this technique.
DTF ink: can be printed on all fabrics, especially cotton. Like DTG ink, it also uses pigments as colorants and adds polyurethane resin to the ink. However, the ink is printed on a coated PET film. Before the ink is dry, a thermoplastic material such as TPU is sprinkled and heat-treated to a thermal transfer film. Then it is out into an ironing machine attached to the fabric and transfer takes place at 150 degrees for 3 minutes. It also generates no wastewater and is easy to access. Unlike DTG inks, DTF has good fastness and color brightness. However, the ink price is also high. Given PET film costs and the disadvantages of transferred cloth (such as hard and airtight), the market share is still in its infancy.

Packaging Materials
Labels: Due to the special requirements of the label industry requiring small print runs, greater variety and short delivery times, only UV curable inks can be used in the inkjet printing field with a printing speed of 200 meters per minute, far behind the traditional 300-400 meters per minute.
Corrugated boxes: are subject to high printing cost pressures, so they are mostly printed using water-based dye ink in the inkjet printing field. The inks are low priced, enjoy high color brightness and are environmentally friendly. Some also use UV curable inks to print the corrugated boxes, which deliver higher color brightness, are water-proof and lightfast but are more expensive.
Soft material packaging requires fast speed and fast-drying during the printing process so only UV-curable inks are competent if inkjet inks are to be used.
Advertising materials
In response to the special requirements of the advertising industry, inkjet printing has almost replaced traditional printing. The demand for smaller quantities, more variety and shorter delivery times have pushed the inkjet industry to deliver cost-effective results with the new technologies. Among them, water-based dyes or water-based pigment inks are used to print on the surface of the material with water-based coatings. Eco-solvent inks are used to print on the surface of the material with an oil-based coating. If there is no coating on the surface of the material, UV-curable ink will be used.
Flags & Banners
The current solution in the inkjet printing industry is to directly print sublimation inks onto coated, polyester fabrics and then pass the coloring machine at 180 degrees to complete the color development. It is a mature solution and almost replaces the traditional methods for the printing of banners.
Leather
Inkjet printing is basically used on leather where small print runs, individuality and complex flower shapes are required. On leather using a white background, inkjet inks with Eco solvent ink can be used. On leather where there is a background color (such as brown), inkjets with soft UV-curable inks are used. The latest technology is to use waterbased pigment inks with polyurethane resin added, which is the most environmentally friendly leather solution available at present. The costs are not high and this sector is becoming much stronger.
Glossy Stickers
To print a glossy sticker for surfaces on any item, you only need to print the UV-curable ink on the release film which is coated with pressure-sensitive glue (film A), and then attach the protective paper (film B). The user peels off the A film first, places the sticker on the item, and then presses back and forth on the pattern with their fingers, and finally tears off the B film to complete the transfer.
Other materials
UV-curable inks are used to print on glass, metal, wood, and plastics because they can deliver a high level of color brightness and an excellent anti-rubbing fastness. If combined with varnish printing, the color is even more glossy, and the rubbing fastness provides a better product.
It is reasonable to believe that more wide-format applications will become more convenient and popular in the future, driven by the development of inkjet printing technology. ■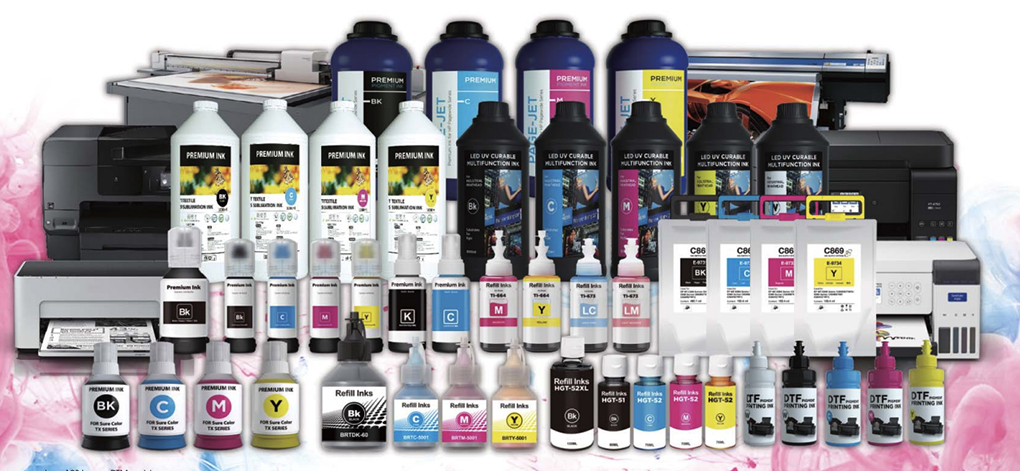 ---
* The content for this article was kindly provided by Trendvision, a professional ink manufacturing company based in Guangdong, China. The company is committed to continuous improvement and innovation while maintaining high production capacity and stringent management standards. Its ink solutions are compatible with different series of desktop printers and various wide-format printers.
If you are interested to connect with Trendvison, please contact Hester.Han@RTMworld.com or make an appointment with the company on the Find-A-Supplier Platform Trendvision Technology ( Zhuhai) Co., Ltd Introduction
** This article "How Many Really Know About Wide Format Ink Applications?" appeared on pages 20-22 of RT ImagingWorld magazine which can be downloaded for free.
---
Related:
Comment:
Please add your comments below about this feature, "How Many Really Know About Wide Format Ink Applications?"
https://o1.rtcdn.net/uploads/2022/06/wide-format-printing-2.jpg
634
1020
David Gibbons
https://o1.rtcdn.net/uploads/2020/07/RT-logo-old-big-old-jiazi-3.png
David Gibbons
2022-06-09 10:58:30
2022-06-09 13:26:53
How Many Really Know About Wide Format Ink Applications?