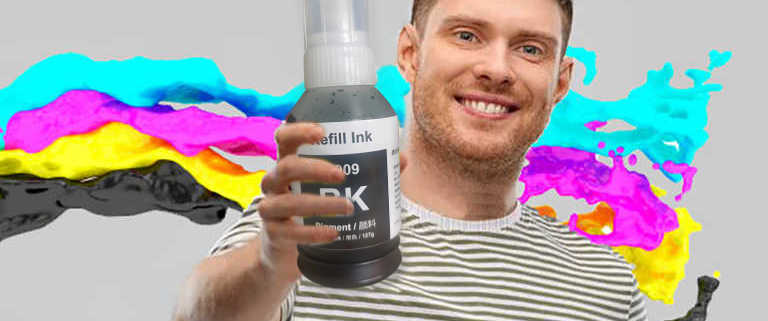 Trendvision Confident it Holds the Trump Card for Inkjet Inks
Trendvision Confident it Holds the Trump Card for Inkjet Inks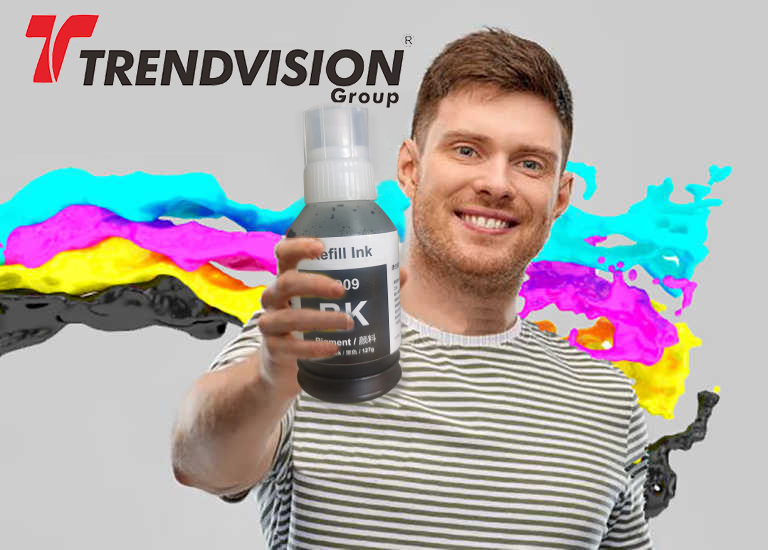 With so many companies boasting they deliver the best quality compatible inks at the most competitive prices, how can buyers know who to buy from?
Trendvision Electronics Technology (Zhuhai) Co., Ltd, better known as Trendvision claims to hold the "trump card" when it comes to inkjet ink supplies.
Their team says anyone visiting the raw material production line, the production plant, the R&D department and the warehouse will know it.
The team at Trendvision is not just satisfied with a smooth, stable supply of ink production every month. In the face of strong industry competition, they have found a different way to maintain high customer loyalty. Customers who come back, again and again, wanting more.
Brand
Brand and quality are important factors if you want to stand out to end-users in the wide variety of channels they use. Trendvision has carefully developed a customization experience because each buyer has different needs. The company has launched a "One-Stop" solution making it easy for buyers to find everything and anything they need, the way they want it.
In the era of "personalization", Trendvision has developed a careful and comprehensive customization service. It includes not only ink production, but other aspects of its services.
The Trendvision's "trump card" strategy is to help buyers "build their own brands and products" and to promote them in the channels where end-users are searching.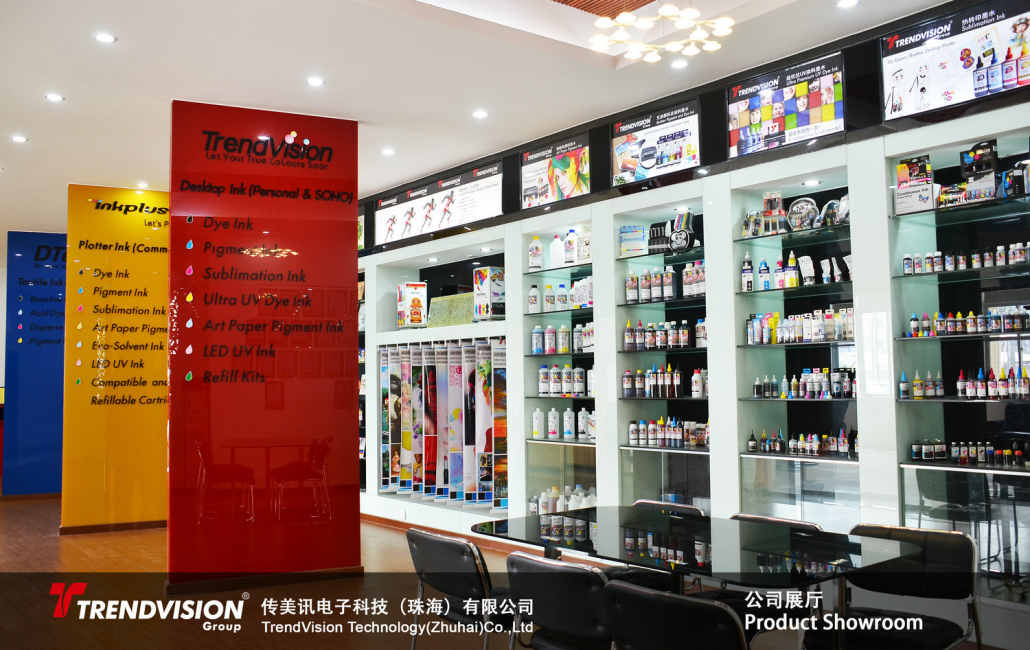 Starting with ink production, Trendvision can adjust products to suit the specific needs of its customers according to different machines and climates. This provides differentiation from anything else available in the market. On top of that, Trendvision is able to customize the product packaging for its customers too. This can include the bottle and/or a special cap design, as well as the packaging stickers. In this way, Trendvision customizes the products according to the buyer's needs and creates an exclusive brand.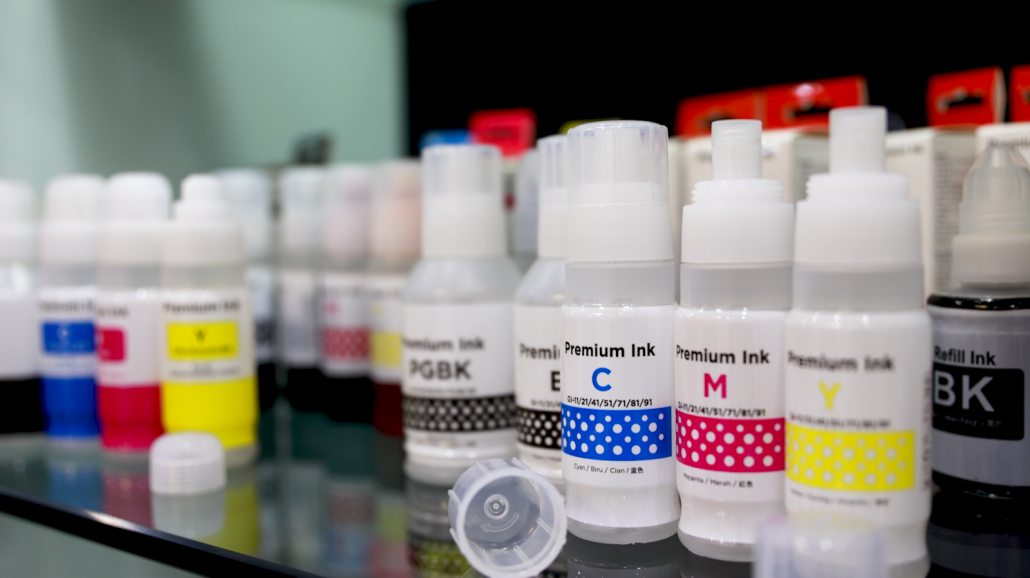 According to Mr Zhang, the technical director of Trendvision, they have custom-designed more than 200 different products for their customers. Detailed anti-counterfeit logo design and specially patented ink bottles are part of the "one-stop" solution Trendvision offers. According to Zhang, Trendvision is the only "Inkjet Intellectual Property Demonstration
Enterprise" in Guangdong Province, and the reason why they have been able to gain long-term followings from loyal customers along with affirmation from new customers.
Long-term customers are provided with a complimentary printing service as a reward for their loyalty in choosing Trendvision.
Highly stable
Stable product quality is a key demand of customers. So, how does Trendvision ensure the stability of its products?
Let's start with the dispersant.
The main role of dispersant is to make the pigment stable, and according to Zhang, we know that Trendvision is one of the few manufacturers to produce its own. Imported dispersant has two main limitations:
One is mass production, for users who have a detailed demand for ink, the maintenance of stability will not be able to maintain a consistent state.
The other is the impact the pandemic has had on shipping, resulting in short supply.
Giving much consideration to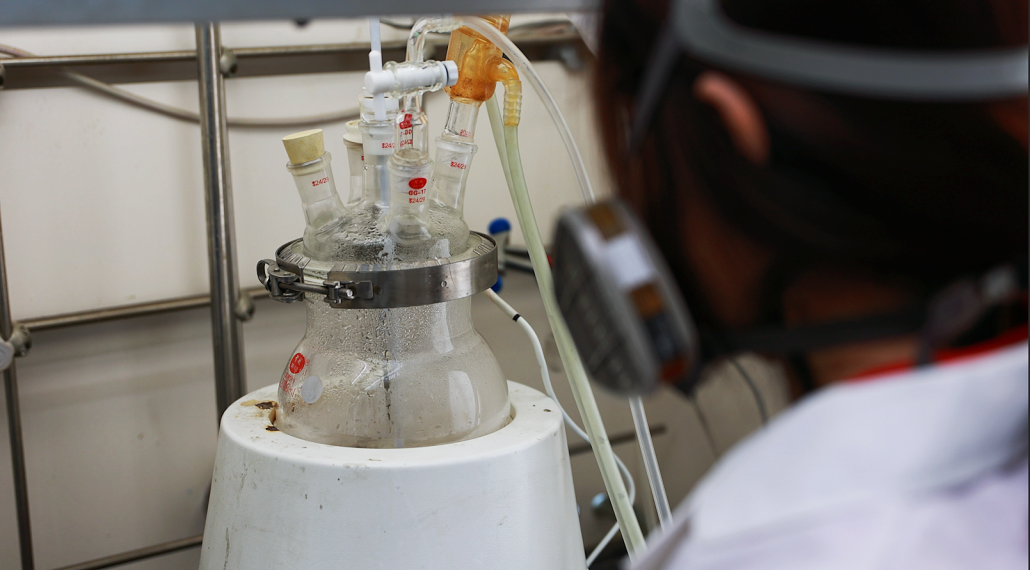 these issues as well as ensuring production efficiency and the pursuit of product stability, Trendvision chose to produce its own dispersant.
Further, high-quality ink is built on a pure and stable colorant paste base. This is critical if you are to produce high-quality sublimation ink and pigment inks. A stable colorant paste is a key point for the dispersant.
At present, Chinese-based inkjet ink manufacturers use dispersants used from abroad.  Most Chinese manufacturers do not make their own. These imported dispersants come from the traditional printing industry and are not specifically designed for the inkjet system. As such, it is, difficult to get stable colorant pastes.
Trendvision breaks through the foreign technical barriers with solid, basic research, taking up to 3 years to develop dispersants specifically for inkjet so as to achieve stable and high-quality inkjet pigment ink and sublimation ink.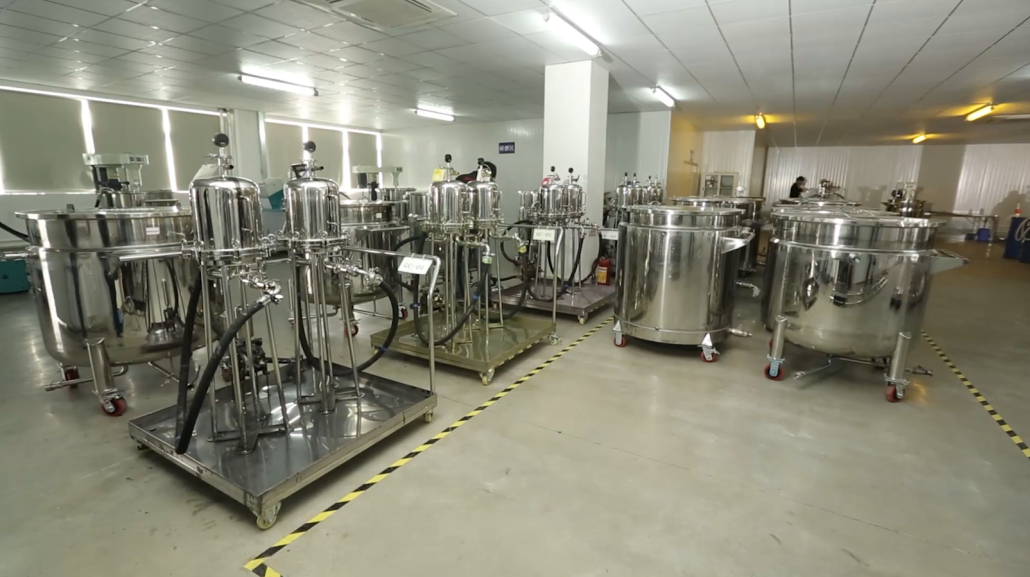 A visit to the factory reveals the backup inventory of each batch of products to facilitate the tracing of customer complaint products so that timely debugging and improvements can be made.
In addition, as one of the few domestic manufacturers using imported German machines, the grinding efficiency and quality of colorant powders have been greatly improved. Through the quenching and requirement of product excellence, customers can rest easy with the assurance long-term and stable cooperation can be maintained. Zhang told us long-term cooperation with Trendvision for many buyers is now up to 14 years.
As a leading company in the ink industry, how does Trendvison ensure stable production and delivery?
Automated production
 The development of "automated" production in the industry has been in full swing in recent years. This is also true for Trendvision which has made it a "big deal" to invest in emerging technologies. In terms of ink production, two sets of automated feeding systems have been designed and implemented, significantly improving the accuracy of product ratios. This maintains stable product output quality and greatly saves debugging time. During our visit, we found that not only the production line but also the packaging lines have adopted automated production technologies. 15 lines lay a highly efficient foundation for mass production.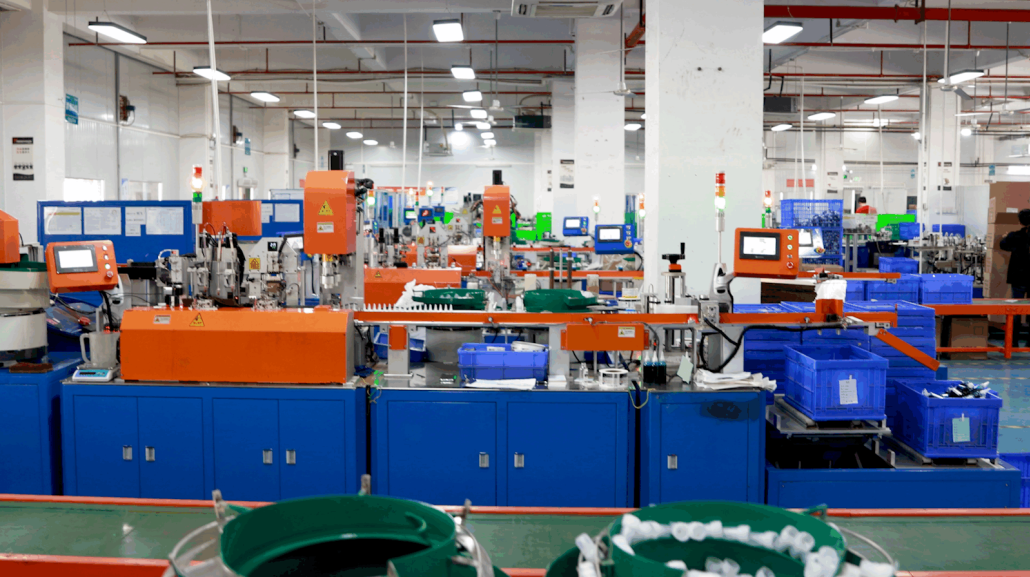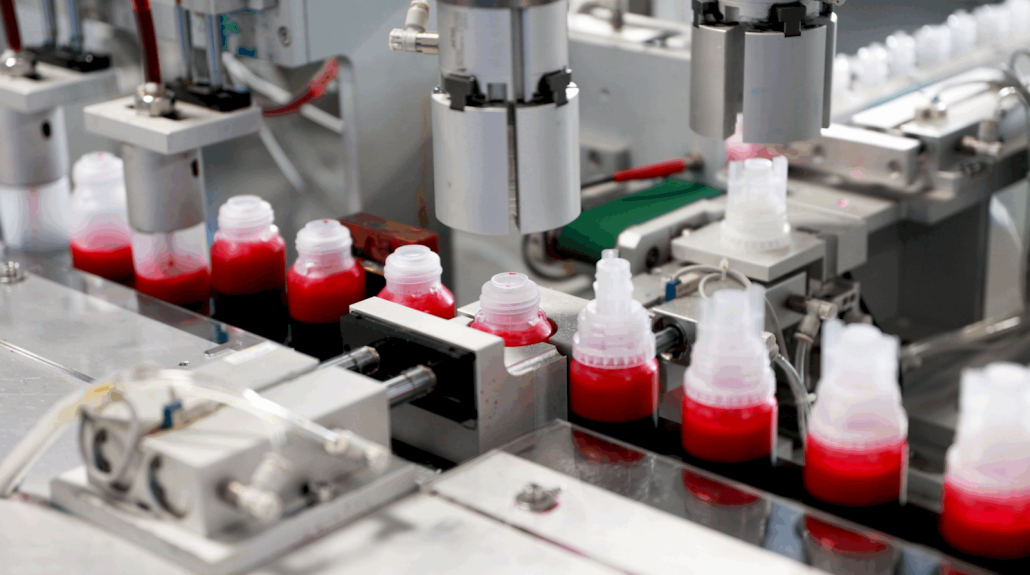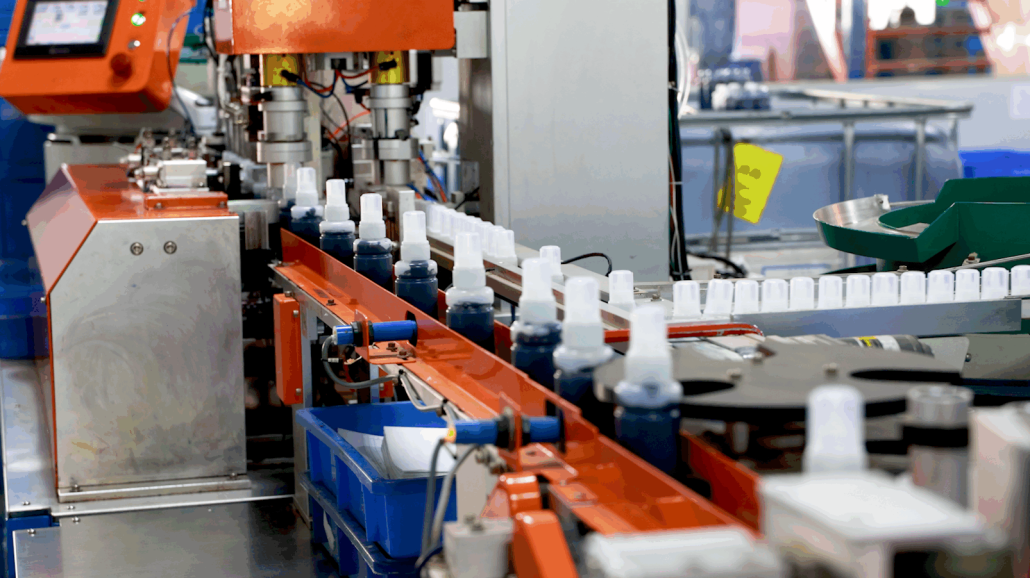 In telling us the history of Trendvision's development, Zhang mentioned that all results are choices. At that time, among two kinds of products, desktop inkjet ink and wide format digital ink, It chose to focus on desktop inkjet ink, thus creating its current position as a leading company in the field.
The accumulation of desktop inkjet inks has given them the "confidence" to invest in different products and services. Today, the results have been reflected in the monthly orders. At this stage, it is exploring the needs of more desktop inkjet ink customers while also investing more in the field of wide-format digital ink to seek breakthroughs.
Of course, ensuring consistently high standards of products and services, constantly expanding the possibilities of corporate services, and improving higher quality services and products for more customers will always be the goal of the company's ongoing development.
If you are interested to connect with Trendvison, please contact Hester.Han@RTMworld.com or make an appointment with the company on Find-A-Supplier Platform Trendvision Technology ( Zhuhai) Co., Ltd Introduction
---
Related:
Comment:
Please leave your comments below for this feature, "Trendvision Confident it Holds the Trump Card for Inkjet Inks."
https://o1.rtcdn.net/uploads/2022/05/传美讯.jpg
550
768
Hester Han
https://o1.rtcdn.net/uploads/2020/07/RT-logo-old-big-old-jiazi-3.png
Hester Han
2022-05-09 11:05:15
2022-05-12 11:55:14
Trendvision Confident it Holds the Trump Card for Inkjet Inks