HP Rejects Reman Cartridges in Reman President's Printer
HP Rejects Reman Cartridges in Reman President's Printer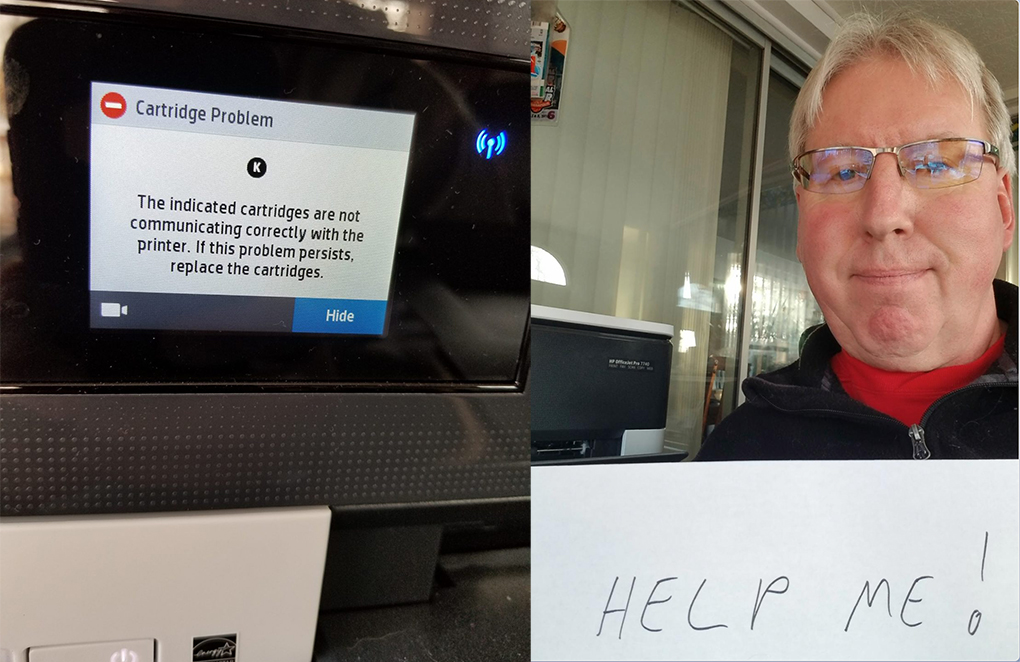 Remanufacturing has been at the center of Joe Kripli's career, so when the time came to buy a new printer and its supplies, Kripli (pictured) knew what to look for. Kripli is the current president of the Automotive Parts Remanufacturers Association.  His organization is part of the Remanufacturing Association Alliance (RAA), along with the Int'l Imaging Technology Council.  In this capacity, Joe has been working with Int'l ITC Executive Director Tricia Judge for years.
On the February 3d RAA meeting, Joe shared what he coined as the "day from HP hell."  It had occurred the week prior, and involved his new HP Office Jet Pro 7740.  He had recently purchased the printer online from Office Depot.  It replaced a HP OfficeJet Pro 8710.  "I had cartridges for the old printer that I wanted to use.  But that model wasn't available because of the supply chain issues," Kripli said. "So I thought, why not buy one that uses the same cartridges?  I was trying to be logical." So he bought the older model.
After he depleted the supply of ink that came with the printer, Kripli searched for remanufactured cartridges online and bought a set of them from Ink Farm for $62.99 XL.  The yellow starter cartridge ran out first, and Kripli installed the yellow remanufactured version without an issue.
Then the day from HP hell began… At 4:30 p.m., Joe was preparing a UPS shipment that needed to be at UPS before it closed at 6 p.m.  That's when his cyan starter cartridge ran out.  He replaced it with a remanufactured one.  The printer displayed an error message: "Cartridge problem. One or more cartridges are missing or damaged."  The printer would not recognize the cyan cartridge.  Kripli did what all of us do.  He shook the old cartridge and tried to get it to work.  He tried the reman cyan cartridge again, but had no luck.
The clock was ticking, and his frustration level soared. "This is happening because I am trying to print a UPS label," he said. "It should only need black ink for this job."  There was black ink remaining in the printer, but it still wouldn't print without an authenticated cyan cartridge.
Kripli ran to his neighbor's house, thinking he could use her printer.  "She yelled through the door that she had just tested positive for COVID," he said. "I was out of options."
Kripli's wife raced to the nearest Walmart, about five miles away, and paid $46.88 for a genuine OEM HP cyan cartridge.  The printer was restored to functionality and the package was delivered to UPS' custody.
The Falling of the Chips: Firmware Causing Printer Interruptions
HP's greed and total disregard for the happiness of its customers has led it to employ drop-dead firmware updates. These "suggested" software updates tell the chip to turn off the printer when it detects anything other than an original HP cartridge.
Modern chip technology is a miracle that allows consumers to enjoy a host of features from their machines. Manufacturers use it to monitor their products' performance and make improvements in subsequent generations.
However, chip technology can also be abused. When chips are used to monitor supply usage in printers, for example, they can become an impediment to product performance. In 1999, the first "killer" chip was introduced. Ever since, they have been used auspiciously to "authenticate" cartridges.  But that authentication process is truly a way to keep non-OEM supplies from working well…or at all.
Recent chip supply issues have laid bare the truth of the OEM's deception about chips being essential to printer performance.   In Europe, the chip shortage has led Canon to introduce a host of cartridges without chips.  They explained that the supplies will work just fine without the chips, even if the machine doesn't recognize the cartridge.  It still functions just fine.
Kripli, consumers and the aftermarket are now confronting a very blatant attack from HP with a new round of firmware that is as inscrutable as it is destructive. It is either a time bomb, waiting until the printer is in service for a time. Or it automatically changes the firmware so it disables all aftermarket chips. Either way, it is insidious, as the competitive cartridge works for a while, but then is disabled. And the firmware affects a host of popular printers.
HP's own internal documents (and packaging) alert the consumer that this scenario could happen. "Dynamic security enabled printer. Only intended to be used with cartridges using an HP original chip. Cartridges using a non-HP chip may not work, and those that work today may not work in the future."
These blatant anti-competitive statements could serve as notice to the consumer, as in "buyer beware." HP could argue this information gave the consumer the head's up that aftermarket cartridges might not work, and therefore any subsequent failures are to be expected, or perhaps not even actionable if the consumer becomes inconvenienced.
One thing is certain: it is deceptive. The so-called "notice" is tiny, and the vast majority of consumers will buy without knowing about the potential for printer interruption. And once the firmware update is done, it can't be undone. There is no way to uninstall this firmware.
Consumers were outraged, like Kripli, and they contacted lawyers.  Several class-action suits over the chips and the firmware updates have been filed.  One complaint calls the firmware "malware."
The future is reasonably certain. There will be more litigation and more movement by OEMs into the use of firmware as a competitive weapon. HP, once heralded by the aftermarket for its non-interference with remanufacturing, has a new generation of hungry managers and engineers at the helm.
It wasn't Over for Joe…
 Kripli's printer problems were just starting.  Two weeks later, his black starter cartridge was depleted. Kripli installed one of the cartridges he had already purchased for his previous printer.  The printer displayed a new error message, "Cartridge problem.  The indicated cartridge is not communicating correctly with the printer.  If this problem persists, please replace the cartridge."
Frustration rising, he then reached into his supply of cartridges that he had purchased for use in his previous printer, and found an original HP ink cartridge.  The printer rejected this one as well and indicated that it was an older generation cartridge.
Kripli's wife returned to Walmart to get a new cartridge…again.  Kripli is no longer a fan of HP. He now has four full 952XL cartridges that he can't use: one cyan and three black cartridges, including the original HP cartridge he purchased. "So I found a deal and stocked up.  Some deal," he said.  "So now I can't buy them ahead of time?  Come on!  Really?"
He also now strongly questions HP's commitment to the environment, especially after having to throw away four full cartridges.  "It's also ten miles roundtrip to Walmart," he added.  "That's wasted gas and energy."
Joe Kripli has devoted decades to environmental causes in the automotive industry, and he knows greenwashing and poor customer service when he sees it.  Sadly, he's stuck with that printer, for now.  And he's still grappling with it.  Just an hour ago, his printer rejected another cartridge.
---
Related:
Comment:
Please add your comments below about this story, "HP Rejects Reman Cartridges in Reman President's Printer."
https://o1.rtcdn.net/uploads/2022/02/Joe-Kripli.jpg
662
1020
Tricia Judge
https://o1.rtcdn.net/uploads/2020/07/RT-logo-old-big-old-jiazi-3.png
Tricia Judge
2022-02-17 18:48:27
2022-02-17 18:57:15
HP Rejects Reman Cartridges in Reman President's Printer