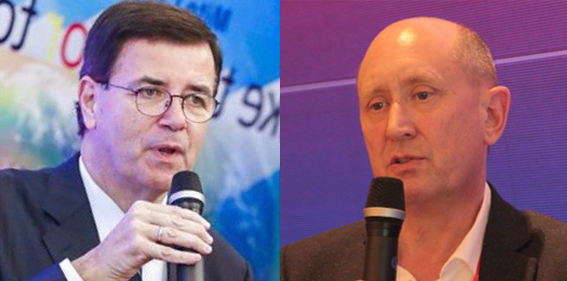 The Independent Resellers Lot – an interview with Ian Elliott
The Independent Resellers Lot – an interview with Ian Elliott
RT Media's David Gibbons talks to E&S Solutions' Ian Elliott about the challenges facing distributors of office products in the USA.

Ian, the market for office products and equipment is very different today to what it was 10 years ago. In fact, if anything the pace of change has even accelerated over the last couple of years. How are resellers being impacted?

David, you're right, the way business is conducted today is very different and one of the main reasons for this results from almost everyone having access to almost unlimited sources of information. Not too long ago, privileged people with access to information used to be able to charge others for it but, today, access to information is basically free, with fewer and fewer willing to pay. However, the challenge has now become the ability to filter through all this content and to extract what's relevant, reliable, and useful.
This is not easy to do and it's not possible without the use of technology and a comprehensive understanding of how to use that technology. Most resellers don't have these skills which trap them in the "analog" world and means there's a critical deficiency underlying their weak business outlook. Unfortunately, for those unwilling to emerge from this "analog" world, they must be prepared to face something in the order of a 40% revenue decline over the next 4-years.

Ian, that's a devastating outlook for any business to deal with so what are the main challenges facing resellers as they fight to maintain their revenue in a slowly shrinking market?

The challenges are numerous, but essentially, they boil down to their ability to reduce customer churn and increase market share. Remember, there's no way to increase the top line in a shrinking market other than to increase market share.
Reducing churn and increasing acquisition go hand-in-hand and depend on a compelling value proposition. A compelling value proposition in the digital world is very different from a compelling value proposition in the old analog world.
For analog resellers there's a frightening exposure to Amazon and other online competitors. Frankly, continuing to try and compete while relying solely on a transactional business model will, in most cases, almost certainly fail.
To better understand the severity of the problem, we usually model an analog resellers outlook with a net customer churn of 6% per year (10% churn and 4% new customer acquisition). However, churn rates for resellers who don't adapt are likely to continue to increase while their customer acquisition rates will continue to fall. If anything, this means the 40% revenue decrease may turn out to be a best-case scenario.

Okay, Ian. By "churn" you mean the percentage of customers who drop out or stop using services.
 Yes, David – this is exactly what churn is. Every business owner should know his number but many, especially those of smaller businesses, don't.
Okay, so reducing churn and increasing acquisition is obviously what's necessary for growing a business. You've mentioned the need for technology and it's difficult to imagine a successful business not having a decent online presence and that technology must underlie that presence. Part of this must mean deploying a website that adds value. Really? Surely, it's not as simple as that is it?

No David, it isn't!
Many resellers have attempted to establish an online presence, but these attempts have almost always failed. Unfortunately, there are very few resellers in our industry that have a grasp of what's involved to successfully build an online presence. Most websites are very poor and fail to attract traffic or add value to the user experience.
And, David, this is the crux of the problem. I'd say close to 100% of resellers intuitively understand they need to have a website that performs for their business but, almost 100% also have no idea of how to go about achieving that goal. Because they don't know how to, they're unable to get off the starting line. They don't have the skills to know what to do and they can't authenticate the proposals of others that may claim they do.
Furthermore, the best website in the world with the best content, the best catalog of products, the best prices, and the best user experience will never be found unless relevant traffic is carefully developed. This takes time, there are no silver bullets, and long-term goals must be established which must then be carefully monitored for progress.

Ian, going back to Amazon for a moment, much has been said and written about their impact on the market for the office products and equipment channel and clearly, most resellers have concerns about this threat. It seems these concerns are justified but what strategies should resellers be deploying to overcome them?

Amazon represents an immediate threat to the survival of independent resellers. There's only so long a conventional customer relationship [based solely on transactions] will survive the ever-increasing threat from Amazon and other emerging online companies.
David, think of it this way, if I'm a reseller selling an item for $50, then Amazon can always sell it cheaper and they may not care if they lose money doing so. The fact is, I simply cannot win that price war. Even if I buy a cheaper product to try and stay competitive, that cheaper product is already available elsewhere online and will always be available at a lower price than I'm able to sell it at.
This downward spiral is compounded by the risk of making a mistake chasing a lower cost that may result in an inferior product, which can then lead to the loss of a customer. While resellers have access to information about lower-cost products, they don't always have access to authoritative information as to whether that product will meet its customer expectations.
As we discussed earlier, the world has changed. Anybody can go online to spot-buy at the lowest price and, for resellers to combat this, they must embrace technology and wrap their proposals into more of a consultative approach. In so doing they must educate their customers that buying at the lowest unit cost may not necessarily be the lowest cost solution.

Ian, Amazon has traditionally been viewed as a B2C threat which is also where most smaller resellers online initiatives have failed in the past. What about Amazon and B2B?

David, this is a very important question. As we know, Amazon is making a major play into the B2B space and they're making rapid progress, not just because of price, but also because they're leveraging technology to improve the overall customer experience. Resellers with a strong B2B presence who've historically shunned B2C e-commerce propositions and consequently viewed Amazon as less of a threat should quickly re-evaluate.

For independent resellers that continue to deal only in transactions and therefore remain fully exposed to the threat posed by Amazon and other large internet retailers, it's clear you believe the outlook is very poor. Do technology solutions exist that fit the persona of the transactional reseller (as well as the profile of their typical customers) that could help mitigate this threat?

David, providing this kind of solution has been the holy grail of our industry for many years now and, while products and services do exist that try and solve some of the problems, unfortunately, most appear to have been developed by providers that don't really understand the problems the resellers face.
As a result, they fail. They fail because they don't work effectively because they focus on individual problems rather than the array of problems resellers face, they fail because resellers don't know how to use them, they fail because they're too expensive, and they fail because they're generally not designed with the best interests of the reseller in mind.
I'm here talking to you about this problem because I think I understand it from the resellers perspective, from the technology perspective, and from the cost perspective. So, yes, I do think this problem is solvable but, time is running out and they must act quickly. They must be prepared to learn new skills and they must be prepared to accept it takes time because, as I've already said, there are no silver bullet, overnight solutions. It takes an excellent product, and it takes a strong partnership between a technology provider and a reseller to make it work.

We know the OEMs and larger dealers in the managed print space have deployed "service" oriented programs that can help mitigate some of the threats facing transactional dealers but, we also know it's very difficult to convert a "transactional" business to a "service" oriented business and, also, that many of the "service-oriented" offerings are simply not suitable for the typical profile of an independent resellers customers. If we accept this to be true (knowing you can't force a square peg into a round hole) how can the dilemma of the weakness of the "transaction-based value proposition" be overcome?

Yes, David. This is a big challenge. While managed services, including print, documents, and IT, have all been quite successful in certain segments of the economy, these services are not usually well-suited to smaller businesses.
Although this may be a simplification, I try to quantify the market with the explanation that, of the 20M+ businesses in America, less than 5% of them are likely to be receptive to the current service-oriented sales pitch and that 90% of the 1M that are have already adopted various elements of a service-based value proposition.
The other 95% [19M] are unsuited to the current service-oriented pitch because the providers' cost of acquisition and the customers' cost of implementation are too high. So, as a result, 95% of the potential market [in terms of the number of businesses] is 90% undeveloped.
The key is for the transactional resellers to be positioned to offer a more service-oriented proposition to this large undeveloped market that will then help them protect their customer base. However, this proposition must overcome the cost of acquisition and cost of implementation problems while also fitting within their skillset to successfully sell. Only if this can be accomplished will resellers place themselves in a better position to protect their business from the threat of Amazon and other emerging online companies.
https://o1.rtcdn.net/uploads/2019/09/Gibbons-Elliott-Interview.jpg
281
567
Ian Elliott
https://o1.rtcdn.net/uploads/2020/07/RT-logo-old-big-old-jiazi-3.png
Ian Elliott
2018-08-03 21:42:13
2019-09-29 20:09:15
The Independent Resellers Lot – an interview with Ian Elliott