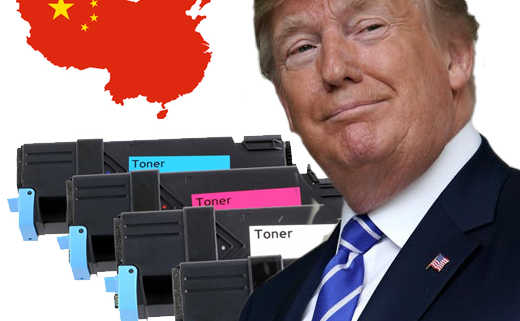 Trump's Tariffs Target Cartridges and Components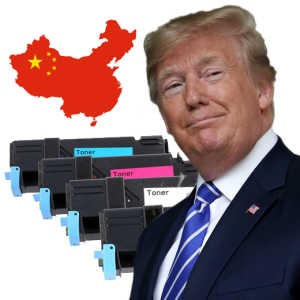 Trump's Tariffs Target Cartridges Again
On August 1, 2019, President Trump announced that the United States would impose a 10% tariff on US$300 billion worth of Chinese-made products on September 1 and suggested that the tariff rate could be raised to 25 percent.
Extending the so-called Section 301 tariffs to this additional US$300 billion worth of goods imposes tariffs on all goods from China that come into the United States.
At present, USTR is reviewing the list of products included in the $300 billion figure (called "List 4) and could decide to modify the list before the new tariffs take effect next month.
Before this new round of tariffs, the United States had imposed three previous rounds of Section 301 tariffs on Chinese imports.
In a June 2019 article for RT Media's ImagingWorld Magazine, in describing the Section 301 tariffs, I explained that these three earlier rounds collectively imposed 25% ad valorem duties on all Chinese-origin ink and toner cartridge and their components with two exceptions:
The Section 301 tariffs do not apply to HTS 8443.99.50 (Other, i.e., parts and accessories of "universal," multi-function, or three-in-one machines).  Thus, if the same cartridge can be used in a machine that performs at least two functions from among printing, faxing, and copying (or if it can be used in at least two of a printer, fax machine, and copier), it is not subject to the Section 301 tariffs.  Components for such cartridges are also exempt from the Section 301 tariffs.
An individual component of a printer-only cartridge is not subject to the Section 301 tariffs because it is not an "assembly."  [This is because HTS 8443.99.25 was not subject to the previous Section 301 tariffs.]
In its present form, List 4 includes both HTS 8443.99.50 and to HTS 8443.99.25, the only two HTS categories covering ink and toner cartridges and components that were not covered by the three previous rounds of tariffs.  In short, if List 4 is not modified before the new tariffs become effective on September 1, all ink and toner cartridges and components imported into the United States from China will be subject to a Section 301 tariff of 10% ad valorem, a figure that could rise to 25%.
[Editor: ad valorem refers to the estimated value of the goods or transaction concerned.]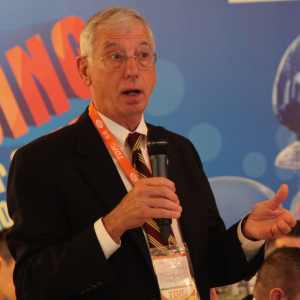 Merritt Blakeslee (pictured) has written and lectured extensively on this topic, particularly in RT Media Summits in the Americas and China and in RT Imaging World publications.
If you are interested in learning more about Trump's tariffs target cartridges you can contact Merritt as follows:
THE BLAKESLEE LAW FIRM INTERNATIONAL TRADE LAW
Address: 1250 Connecticut Ave., N.W., Suite 850, Washington, D.C. 20036-2657
Phone:  +1(202) 419-1535
Mobile Cell: +1 (703) 869-3573
Email:  MRB@Blakeslee-Law.com
Blakeslee has practised in the fields of international law and international trade regulation in the USA since 1991. His Washington DC-based Blakeslee Law Firm focuses on international trade and specifically on disputes lying at the intersection between international trade and intellectual property law. His principal practice areas include Section 337 investigations at the U.S. International Trade Commission; Customs counselling, enforcement, and litigation; and anti-counterfeiting and trademark protection. He has represented clients in thirteen Section 337 investigations, including investigations brought by Canon and Lexmark. He counsels clients on how to operate legally in the difficult legal environment of the printer consumables aftermarket. He has written and lectured extensively on this topic, particularly in RT Media imaging summits and publications.
How do Trump's tariffs affect you? Tell us in your comments below.
https://o1.rtcdn.net/uploads/2019/08/Trump-Tariffs-on-Printer-Cartridges.jpg
520
520
Merritt Blakeslee
https://o1.rtcdn.net/uploads/2020/07/RT-logo-old-big-old-jiazi-3.png
Merritt Blakeslee
2019-08-04 17:23:28
2019-08-07 12:13:21
Trump's Tariffs Target Cartridges and Components