New Canon Dongle Gear Solution Released at RemaxWorld
A new workaround solution for the Canon dongle gear patent promises to help any manufacturer of new-build cartridges from being sued by the OEM.
China-based laser printer cartridge manufacturer Zhuhai Fanneng Printing Consumables Co., Ltd (Fanneng) has revealed its solution to RT Media and claims it is the answer to the legal crisis that has gripped the aftermarket for many years.
Fanneng's founder Liu Xiaomin  (pictured) said, "The company developed the dongle gear workaround solution to help any OPC and new build cartridges from infringing dongle gear patents."
According to Liu, the solution will be ready for showing at the RemaxWorld Expo in Zhuhai, China in October 2020.
Liu is an avid inventor. Previously he invented patented technology for the automatic counter resetting gear in the Brother TN660, TN450, TN770 and TN1035 printer series. He also was the inventor of the patented technology for waste toner used in compatible HP/Canon 12A and 88A toner cartridges.
Liu uses his UCAN/iCAN brand to promote saving energy. "You can. I can. We all can save energy," he said. "there are so many opportunities to do this in our printing consumables indistry. Products like CISS is such an example.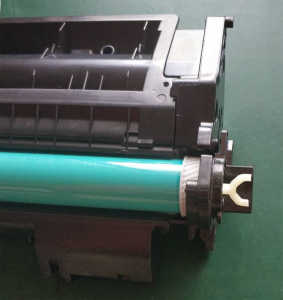 Liu explained there are about 100 patented technical workaround solutions now available to that claim they do not infringe Canon's dongle gear patents. "There are some problems with these solutions as they need to match certain specific new cartridges in order to function well. The output costs for some solutions are very high, and yet others have extremely complicated gears and which makes manufacturing difficult." According to Liu, some technical specifications are so complex it is difficult for the solution to actually satisfy the job requirement. All these problems can add up making the final patented technical solution barely suitable for use in the cartridges.
Liu claims his solution is quite simple, avoids all the complexity of other solutions and really does work every time. Liu welcomes industry discussion to advance the development of cartridge technologies.
Fanneng is a laser printer cartridge manufacturer founded in May 2004. The company claims it continuously invests in improving the manufacturing process in terms of energy-saving and environment protection. With 15 years of development, it further claims it has successfully produced ultra-long-life high-quality cartridges which are more convenient in use, much safer, more environment-friendly, and much cheaper. The company hopes to realize its brand vision through the successful awareness of this new cartridge solution.
Liu can be contacted by phone at (+86)138-2309-0698
---
Related:
Comment:
Please add your comments about this story, "New Canon Dongle Gear Solution Released at RemaxWorld" below.
https://o1.rtcdn.net/uploads/2020/06/invention.jpg
807
1020
David Gibbons
https://o1.rtcdn.net/uploads/2019/01/RT-logo.png?x-oss-process=image/quality,q_50/resize,m_fill,w_300,h_292
David Gibbons
2020-06-29 16:20:51
2020-06-29 16:24:18
New Canon Dongle Gear Solution Released at RemaxWorld