The three most important markets in Latin America for imaging supplies are still Brazil, Mexico and Argentina, with the latter going through some economic difficulties that may be temporarily distorting some of their consumption values. So says Gustavo Molinatti who hails from Buenos Aires, Argentina. "Colombia and Peru complete the top five markets in the region," he adds.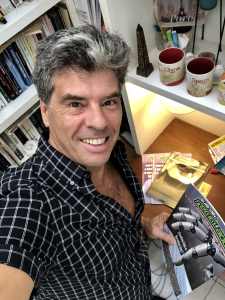 Molinatti should know. He has been publishing the industry journal, Guía del Reciclador since November, 2002 and ran 25 events in eight cities in different countries of Latin America during that time to bolster the maturing industry. "I began to investigate the growth of the aftermarket industry in Latin America in the middle of 2002, and this magazine was the first in Spanish with free distribution throughout Latin America," he explains. Two years later, in 2004, he launched a dedicated, Portuguese edition exclusively for Brazil.
Molinatti reflects on the amount of time, travel and finance he needed to invest to make it all work. "It's been an amazing 17 years," Molinatti says. It obviously fills him with a sense of pride given the legacy he has established across Latin America. "If I have to choose only one achievement, I believe it was pulling together the LATAM aftermarket industry through an independent and reliable media of information and training." According to Molinatti, the magazine was the communication channel, but the 25 trade shows and conferences held throughout the region allowed him face-to-face networking and interaction across the full spectrum of Latin companies, from the smallest to the largest. "At the time, we were the first and only ones to create a meeting point and to encourage the fragmented industry that still had no reference point." These events not only provided a place to conduct business but also facilitated technical and commercial training.
Molinatti was born in San Isidro, a town to the north of Buenos Aires, in Argentina. He believes he was fortunate to have grown up and completed his schooling and university studies in "such a privileged place." He reminisces. "I have a curious mixture of blood, with paternal roots from northern Italy and maternal roots from Russia and Romania." He holds a degree in architecture from the University of Buenos Aires, which is a profession he continues to enjoy and practice. "As an architect, I conducted ​​historical research for the University of Buenos Aires and for the United Nations.
Facing the Challenges
From his point of view, the biggest challenge facing the industry is how to increase business in higher and more profitable segments (small-medium-business or SMB and beyond). Molinatti has observed the aftermarket usually does business in lower market segments governed by price and lack of commitment to quality. "In order for growth to be possible," he suggests, "the industry must mature by increasing its standards of service and product quality." He says players must compete as equals with those companies that possess greater infrastructure and experience in these business areas. "This is possibly the biggest challenge globally alongside other threats such as technological barriers and IP demands. As we all know, the aftermarket has always demonstrated the ability to adapt and overcome them."
Molinatti surprises me with the statement, "Customers are not interested in buying cartridges. They just want to print!"  I ask him to explain further.  He says the end user is simply looking for an efficient solution at a reasonable price. "If, as an industry, we only focus on how to sell more cartridges, we will definitely be heading in the wrong direction." He claims that for the imaging supplies industry to grow and thrive, its players need to adapt quickly to the changing market conditions by adding strategies that will allow them to prosper healthily.
When I ask him how, he says Latin American companies need to create alliances that will allow them to change and improve their business model from the traditional, transactional model to a contractual model that adds benefits and offers services. "We need to provide information and training, and promote commercial partnerships with suppliers if we are going to have a future."
It is for this reason he has welcomed an alliance between Guía del Reciclador and RT Media.
State of the Market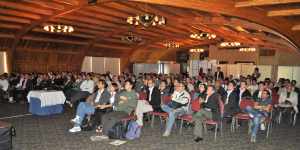 Latin America is often seen as a large, unique region. Some believe it is like one giant nation made up of provinces or states (rather than countries). "The truth is LATAM is a huge continent with many countries. They all have market differences," Molinatti reiterates. "It would be a mistake to think because you know one, you know them all. It's simply not the case."
He points out that the misperception comes from having the Spanish language in common (which is not entirely true given Brazil and many other small countries in the Caribbean). The OEM market share varies from country to country.
He reminds me that Brazil, Mexico and Argentina are the three most important markets with Colombia and Peru completing the top five markets.
When you consider the entire continent, HP continues to lead—even more so now having purchased Samsung's printing business—exceeding 50 percent market share. According to Molinatti, when you add Canon, Epson, Xerox and Brother, that makes up more than 85 percent of the OEM market. As for the aftermarket's market share, Molinatti says there are no official regional figures but many consultants state it has 30 percent of the monochromatic market and less than five percent of color.
As in other places, the expansion of inkjet in the office environment has been powered by new page-wide technology and the advent of super tanks. This has changed printing in the office and Molinatti believes it is offering new opportunities to aftermarket companies with a rebirth in inkjet.
In adjacent markets, the steady adoption of MPS reflects the transition path towards a contractual business model. There are also some interesting growth opportunities in higher market segments. In order to succeed, Molinatti says the industry must identify the tools, services, products and strategic alliances that may allow them to increase their SMB market share.
Static Control Components, Future Graphics and UniNet Imaging are the three distributors that have had a strong relationship with the entire LATAM aftermarket over the last 15 years. Molinatti has noticed that each has organized their own local and regional distribution network and built loyal customers by delivering quality supplies, customer support, training and media support. "There are many other distributors that have a successful track record, but without any doubt, those three companies are the ones that had the major relevance in this period."
Alliance with RT Media
The work done by Guía del Reciclador in Latin America has always been isolated from other magazines and was developed at a local or regional scale, supporting specific needs and only received commercial support from distributors related to the region. According to Molinatti, teaming up with RT Media could deliver unprecedented results for the aftermarket LATAM industry, by shortening distances, integrating the different global market parties, expanding the products and services portfolio and helping in the communication. "It's an opportunity for each party, supplier and distributor to identify and cooperate on current and future common interests." The focus of both media has always been to highlight achievements and educate, inform and nurture the industry particularly as it embraces maturity, change and new business models. "This union will achieve this mission much more efficiently and effectively than what RT Media and Guía del Reciclador could individually achieve."
Following many years of independent work, Molinatti says he is excited to team up with RT Media. "It will allow me to focus even more on the aftermarket companies and continue promoting that 'meeting point' for the industry. Unifying the work that each has been successfully doing during many years and taking advantage of our market knowledge will build us faster and stronger results."
RT Media and Guía del Reciclador will cooperate in weekly eNewsletters, a quarterly Spanish magazine and trade events in various cities around Latin America commencing in 2019.
https://o1.rtcdn.net/uploads/2019/05/Gustavo-Molinatti.jpeg
3024
3024
David Gibbons
https://o1.rtcdn.net/uploads/2020/07/RT-logo-old-big-old-jiazi-3.png
David Gibbons
2019-04-08 18:04:17
2019-05-10 22:41:19
Targeting Latin America