COVID-19: Accelerating Print Industry Transformation
COVID-19: Accelerating Print Industry Transformation
Study details
Quocirca received 114 completed responses, 26 percent from OEMs, 54 percent from channel organizations and 18 percent from independent software vendors (ISVs). The rest of the respondents fell into the 'other' category. For the purposes of this report, where splits have been reported, they are focused on OEMs, channel partners and ISVs. Overall, 72 percent of respondents were from organizations with fewer than 1,000 employees (65 percent in the first survey). Fifty-two percent of respondents were from European organizations (against 44 percent), 16 percent from the US (27 percent) and 32 percent from other regions (29 percent). Quocirca plans to repeat the survey again, either in whole or in parts with additional questions, so changing sentiments can be tracked and priorities among print industry leaders better understood.
Key findings
Expectations of significant market disruption continue. Sixty-six percent of print industry executives state that the crisis has had a significant impact on their business, with a further four percent indicating a critical impact. However, 15 percent see the crisis as holding opportunities for them. Eighty-four percent agree that COVID-19 will cause significant ongoing market disruption.
Office print volumes continue to fall, but demand has increased in the healthcare and government sectors. Overall, 68 percent are seeing/expect a significant decline in print volumes, with a further 27 percent seeing a marginal decline. However, 54 percent of respondents are seeing increased demand from the healthcare sector, while 63 percent are seeing a decline in demand from business and professional service customers (66 percent in the first survey).
A catalyst for change. Office print industry players recognize that they need to rapidly adapt to survive and thrive. Sixty-six percent state that they will need to change their operating model going forward (up from 57 percent). Fifty-eight percent (up from 47 percent) plan to introduce new products and/or services to market.
The majority have not made permanent terminations. Overall, 68 percent have not laid off any employees, with only seven percent having laid off more than 50 percent. Maintaining employee numbers is weakest in the channel, where 8 percent have laid off more than 50 percent of their staff. However, many organizations will have furloughed staff, making use of government initiatives. Further terminations could well follow later.
Channel respondents are struggling and need more support from suppliers. Sixty-one percent state that they now need financial support from suppliers, an increase from 39 percent in the first survey. The need for supply chain updates seems to be declining, with 45 percent stating this as an issue now, compared to 55 percent in the first survey.
Most expect business recovery to be slow. The findings as to when respondents expect to get back to a normal working environment are strongly aligned between the two surveys. Twenty-one percent of respondents are cautiously optimistic that business could return to normal in less than three months. However, 35 percent expect it to take six to twelve months. Twenty-three percent expect it to take longer or do not believe that there will a "business as usual."
Cloud and collaboration opportunities abound. Both surveys indicate an increase in customer interest for collaboration and cloud-based digital workfl ow tools. However, 30 percent expect interest in MPS to decrease. Marked increases are evident for device as a service (DaaS) and secure printing solutions.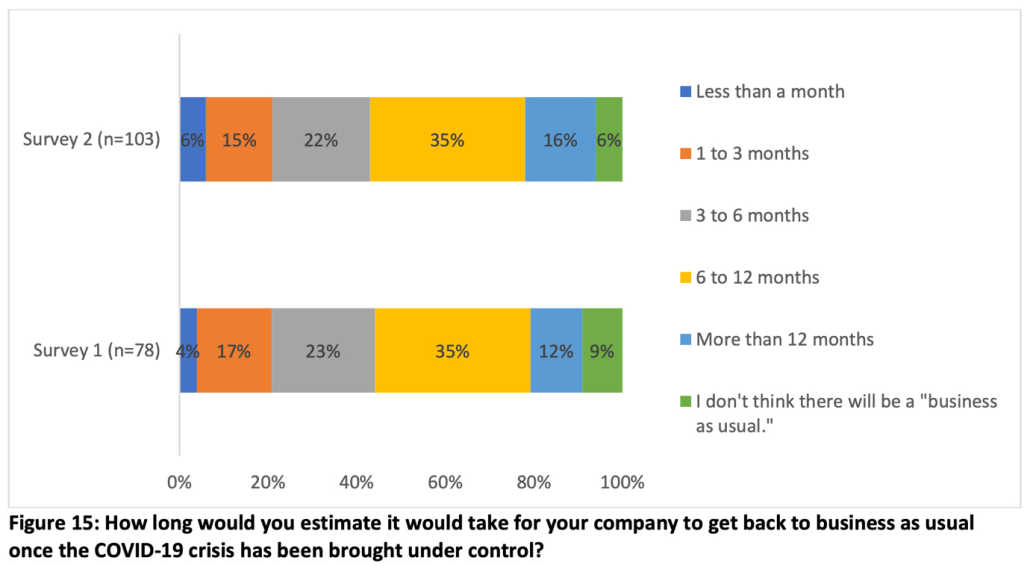 Mixed outlook for future recovery
No one is currently able to predict when he pandemic will be brought under control and if, and when, the print industry will swing back to its pre-crisis level. Overall, there is a high degree of agreement between the first and second runs of the survey. However, there is a small growth in those expecting to get back to business as usual in under a month (six percent against four percent).
A minority are cautiously optimistic, with 21 percent expecting it to take less than three months to recover – unchanged from the previous study (figure 15). The majority, though, have a gloomier outlook, with almost 60 percent expecting it to take more than six months to recover. This, of course, will vary by country and business size and how confi dent a business is about their ability to bounce back. There may also be some degree of confidence due to the expected benefits of government stimulus plans.
The fact that half of the respondents believe it will take over six months reflects the continued uncertainty that print vendors and their channel partners are facing.
What is certain is that print manufacturers will feel the impact of the pandemic throughout their entire operations. COVID-19 will not only jeopardize supply chains and business demand for printing but will also shake up the innovation cycle of the whole industry.
Undoubtedly, a new era will be heralded when it comes to working patterns, with the increased need for flexible working that bridges the gap between home and traditional office workspaces. The office will be essentially reinvented, and print vendors will need to scramble to remain relevant in the post-COVID-19 workplace. To respond to opportunities, office print vendors and their partners will need to pivot their businesses and, in many cases, forge new relationships to help fill gaps in their portfolio.
New services and functions will be required. Hosting these in the cloud will make them more flexible and applicable to emergency use during such a crisis period. Enhanced communications and collaboration systems will become a necessity. More automated workflows with better information capture and straight-through processing will be sought by customers. Artificial intelligence will enable vendors and customers to better deal with maintaining a working environment. There is plenty of scopes for the print market to create new opportunities in the unfolding world during and after the current crisis.
Technology and service partnerships were already becoming the cornerstone of an effective response to accelerating digital transformation and will only become more imperative as the shape of the new business normal becomes apparent. Those businesses that retool their environments and working practices for tomorrow will avoid extinction and even thrive after the pandemic is over.
*This article, "COVID-19: Accelerating Print Industry Transformation" is also published in our hardcopy magazine. Click to download the whole PDF for free.
---
Related:
Comment:Please add your comments about this article, "COVID-19: Accelerating Print Industry Transformation", below.
https://o1.rtcdn.net/uploads/2020/07/covid-19-louella-fernandes.jpg
571
867
Louella Fernandes
https://o1.rtcdn.net/uploads/2020/07/RT-logo-old-big-old-jiazi-3.png
Louella Fernandes
2020-07-10 10:54:51
2020-08-02 16:12:38
COVID-19: Accelerating Print Industry Transformation