The Future's Not Easy, but Not Impossible
A little over 20 years ago, Rosanna Recchia (Right) started Veneta Rosario S.A. in Santa Fe, Argentina. She was a biochemist, a lover of quality and the environment. She was not alone. "My friend Mabel, an accountant, helped me get started."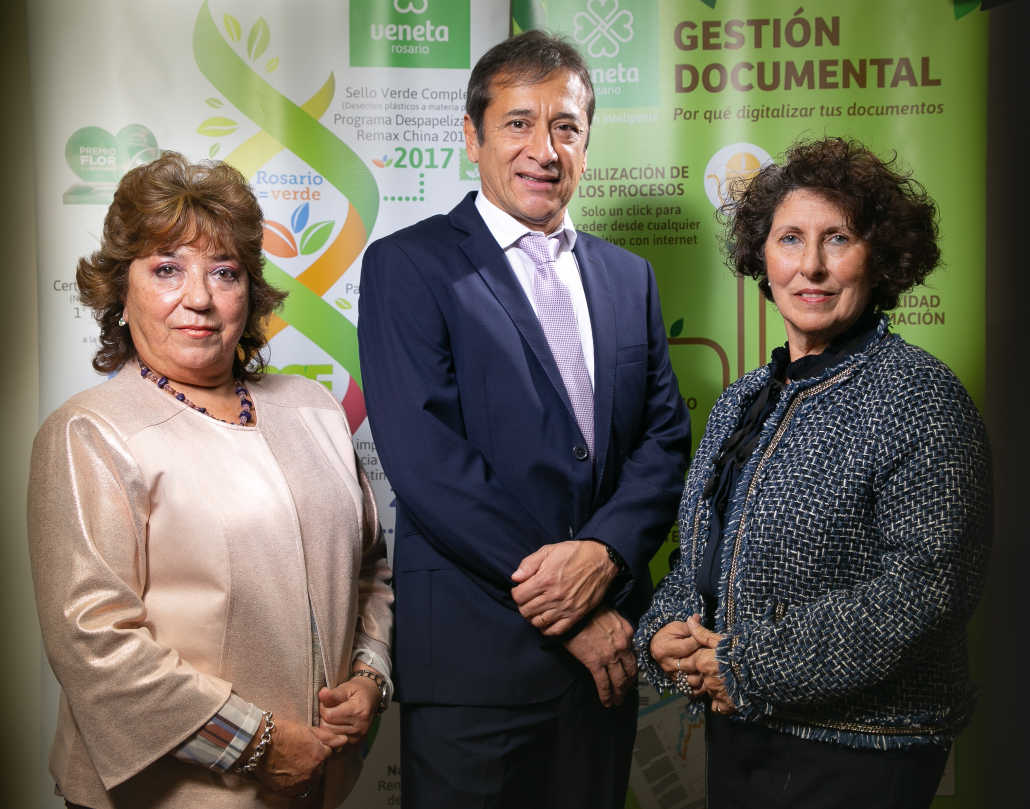 "Remanufacturing was a bad word at the time," she remembers, "because it was the time of boom for the inkjet and laser printing technology. We went ahead anyway and Veneta was born with the ecology, quality and economy gene encoded in its DNA." Recchia wanted to steer and position Veneta as a company caring for the environment, providing quality for the customer and guaranteeing transparency and professionalism in management while offering innovative solutions. That's some vision, but the two ladies were committed to it.
In 1999, they were trained by an Italian company to remanufacture laser, inkjet and ribbon printer cartridges. "This was helping us to 'tick' the environment and quality goals," Recchia says. "We remanufactured good quality cartridges and were the first company in our field to establish ISO 9001 production standards. "It cost us a lot because we were new in the market and… we were women!" she adds. "We wanted to establish women in business and also help people with disabilities or socially vulnerable with a job."
Recchia says in spite of experiencing economically difficult years in the country, the Veneta product was well accepted because it was of good quality and at a lower price than the OEM. The "Venetas" (Mabel and Rosanna) grew and built a remanufactured plant where up to 5,000 cartridges per month were remanufactured.
By 2014 the market shift toward the Chinese-made compatible cartridges was becoming obvious. "Little by little our business model began to change. Our were doing less production and were migrating towards the rental of the equipment and the cost per copy, which today is our core business."
They claim that, while visiting RemaxWorld in Zhuhai in 2017, they discovered the gigantic aftermarket was constantly improving and open to the world. "From that moment we also bought alternative quality cartridges," Recchia says. They found an additional partner back in Argentina. This time it was a male, Fernando Rodríguez, and he was made CEO of the company responsible for the operations. "This allowed us, the ladies, to focus upon making Veneta Rosario very well known."
Providing Services, Meeting Challenges
Today, the Veneta Rosario brand is a well established Managed Printing Service, in terms of providing a full service with equipment, variable data printing centers, remanufacturing of monochromatic and color laser cartridges and, in alliance with a local supplier, document management. Recchia says they have not lost their passion for the environment and work with their customers to collect their used cartridges to have them reprocessed and reused in other products.
In order to thrive in the market, Recchia says they have to be constantly tuned to market trends. "We must keep up the process of transforming and training ourselves to face the latest advances in our field," she says. "At the heart of it is the strengthening of the relationship with the clients and offering a more personalised and attractive shopping experience for them."
Another challenge is deciding what to do with all the waste cartridges. "We want to be a 100 percent sustainable company in environmental, social and financial matters while incorporating new technologies." In Recchia's view, remanufacturing will continue as a niche market because there are a small number of her customers who really desire an environmental solution. At the same time, the company will continue to apply the circular economy by reusing the waste collected, into other products.
Along these lines, Recchia says there is an opportunity in the recovery and remanufacturing of printers and copiers. "This also helps to lower the costs to compete in cost-per-copy," she says. "By offering a differentiated service, we reduce the amount of waste material, we reduce the emission of CO² to the atmosphere and we reduce the metal and cardboard packaging." She adds that it also helps to minimize electronic waste. At the same time, the remanufactured devices are also the very models in which aftermarket supplies can be best used (both new build compatibles as well as remanufactured).
Finding Great Opportunities
Other challenges come in the form of partnerships. "Many of the Chinese suppliers do not maintain consistent quality," she reports. "Apart from a few exceptions, this is becoming a struggle for us. We are constantly having to test." Recchia says the company needs to establish better relationships with good foreign companies wanting a strong partner in Argentina. This will require a lot of due diligence on both sides.
Of course, there are many other challenges apart from the slow death of remanufacturing. The trend for people to print less and angry consumers who try poor quality compatible cartridges sold by others, are just two. Albert Einstein said, "in the midst of every crisis, lies great opportunity." Recchia adds, "The future is not easy, but it's not impossible either." She says we have to put the millions of neurons we have, to work. "We will find great opportunities indeed."
https://o1.rtcdn.net/uploads/2019/12/VENETA_2019_-34.jpg
2562
3263
Gustavo Molinatti
https://o1.rtcdn.net/uploads/2020/07/RT-logo-old-big-old-jiazi-3.png
Gustavo Molinatti
2019-12-02 14:03:38
2019-12-02 14:03:38
The Future's Not Easy, but Not Impossible