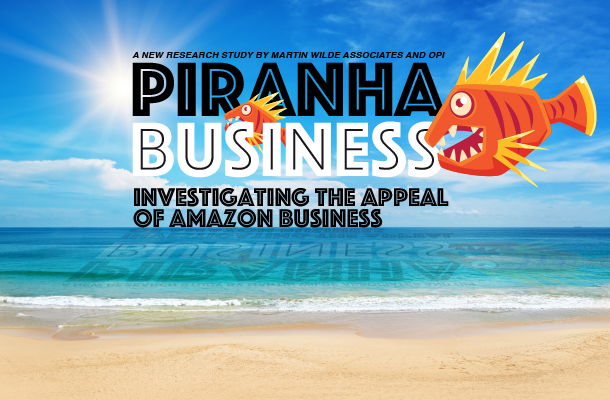 Piranha Business: Investigating the Appeal of Amazon Business
Back in the summer of 2014, Martin Wilde Associates (MWA) and OPI published "Swimming With Piranha", a market research report investigating the use of Amazon for office products (OP) purchasing by B2B buyers in the US and the UK. This ground-breaking report published significant findings about the true extent of Amazon's penetration into the B2B OP market and why these end-users chose to purchase from the company.
However, in the spring of 2015, Amazon launched Amazon Business, a B2B portal offering "hundreds of millions" of products, business-only pricing on select items, quantity discounts, corporate credit, free two-day shipping on eligible items and orders above $49, and multi-user business account administration allowing integration with third-party procurement solutions. By November 2016 Amazon Business was already reported to have reached sales of $1.9 billion and to be achieving growth of 20% month-on-month.
If Amazon was a challenge to established B2B OP suppliers, Amazon Business is already proving to be an even more significant threat in all types of B2B customer markets. The fact that Amazon is looking to roll out this model in other countries only increases the need for OP suppliers across the world to gain an up-to-date understanding of the strengths, weaknesses and opportunities being posed by Amazon Business.
Accordingly, MWA and OPI are now launching "Piranha Business", a new research study featuring the results of 400 in-depth interviews with B2B buyers (across company size categories from micro to corporate) in the USA who have purchased any type of business supplies from Amazon Business in the last 12 months.
These 400 Amazon Business customers will be asked a series of 20 key questions about why – and how – they purchase business supplies from the company, including:
What is the demographic profile of Amazon Business customers?
What business supplies product categories do they buy overall, and what product categories do they buy from Amazon Business?
What share of their overall business supplies do they now buy from Amazon Business, and is this increasing?
Where did respondents previously buy the business supplies product categories that they now buy from Amazon Business?
Which other types of office products supplier do respondents still use?
When did respondents first start to buy business supplies from Amazon Business? Had they previously used Amazon or AmazonSupply?
Why have respondents chosen to buy from Amazon Business, and what are the perceived advantages and disadvantages of doing so?
How important is price to respondents, what kind of pricing do they want and what is their perception of the ongoing competitiveness of Amazon Business's pricing?
What do respondents think about the quality of Amazon Business's customer and after-sales service?
How important are commercial visits by suppliers to respondents?
How frequently do respondents place an order with Amazon Business and what is their average order value?
How do respondents place an order with Amazon Business and how effective is the supplier's ability to integrate with their e-procurement system?
What kind of delivery service do respondents require from Amazon Business? How important is 'free delivery' and how often do they qualify for it?
Are respondents happy to buy from third party suppliers via Amazon Business and to receive their order in several separate consignments?
How important to respondents is the use of a local supplier, and do they see buying from Amazon Business as having any social impact?
What is respondents' perception of the value of the 'exclusive discounts' and promotions that Amazon Business offers?
What is respondents' perception of the 'Multi User Accounts' system and 'Business Analytics' offered by Amazon Business?
What are their usage and perceptions of the Amazon Basics brand against manufacturer brands and other own brands? Are there any product categories in which they would not like to buy this brand?
How do respondents search for product and how easy is it for them to find required products on the Amazon Business site?
What is the respondents' anticipated future use of Amazon Business? Would they ever go back to using a conventional OP supplier and what would persuade them to do so?
The final report – which will also include a summary of the key research findings and conclusions – will be published in June/July 2017.
A significant discount is available on the price of the report: if your order is received before 14 April 2017 the price is only $3,250. After that, the full price of $3,750 is applicable.
Download Piranha Business Brochure
Order your copy of Piranha Business
https://o1.rtcdn.net/uploads/2017/04/OPI-Report-2.jpg
400
610
https://o1.rtcdn.net/uploads/2020/07/RT-logo-old-big-old-jiazi-3.png
2017-04-12 06:15:43
2017-11-10 01:51:43
Piranha Business: Investigating the Appeal of Amazon Business