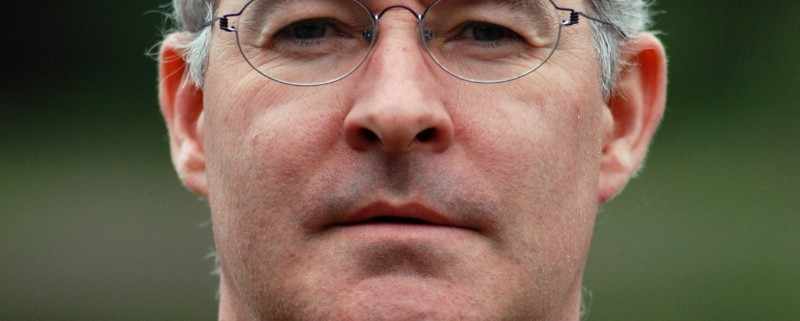 Lacey Helps RT to Open Up Markets in Africa
Lacey Helps RT to Open Up Africa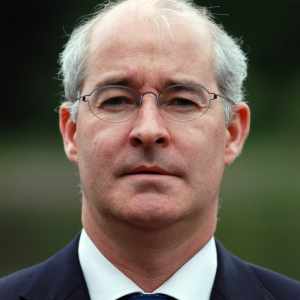 A 30-year pioneer of the office equipment and supplies industry is supporting RT to open up emerging African markets.
Stuart Lacey (pictured) is based in South Africa and is keen to introduce key global suppliers to the big buyers across the continent. "RT is one of the rare companies who can see the opportunities and is not frightened to adventure into these territories to help support the growth and provide the framework and support needed for others to discover these markets," Lacey said.
Europe Connection
According to Lacey, he has been in the office supplies industry for exactly thirty years.  "On leaving Uganda in January 1990 I joined PPC Copiers in London offering copier suppliers.  Soon after that, I moved with my family to Paris to manage PPCs international markets." It was while he was there that he became aware of the enormous opportunity and growing demand for parts and supplies for the remanufacturing of printer cartridges. "Although PPC was one of the first companies to offer OPC drums—for those that can remember it was the Stanley drum—the disappointing range of products offered could not meet the markets specific requirements," he reminisces. He resigned and was fortunate enough to join Jan De Kesel at CopyFill to start CF Supplies in Belgium. He says growth was off the charts (OPCs were selling for $25.00) and it was almost impossible to keep up with the demand.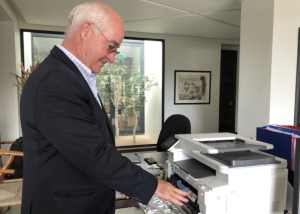 Static Control
Lacey was persuaded by a very persistent Steve Weedon to join Static Control Components (SCC), initially managing key accounts across Europe, then specific countries and regions and eventually taking on the international markets. "Before joining, Steve and I shook hands on one matter that was very important to me," says Lacey.  "He agreed, eventually, that I could get back to Africa when the time was right."
Lacey originally moved to Kenya when he was twenty, initially working for the Kenyan Vice President and managing his ranch and 500 head of cattle.  He was then invited to the Masai Mara to manage and build safari camps and was finally sent to Zaire (now Democratic Republic of the Congo) to build a luxurious mountain lodge in the Virungu National Park.  "I spent more than a year clearing the jungle and building/managing the Djomba Camp and was lucky enough to visit the mountain gorillas hundreds of times. It was one of the most amazing but challenging times of my life." He also remembers the tragedy of losing one of his aircraft killing all eleven passengers on board. "I was supposed to be on that plane but I donated my usual seat to a missionary who needed to get to Nairobi urgently." It was a shock that still vibrates through me even today. Upon returning to Nairobi he was asked by Lonrho, then one of the largest conglomerates in Africa, to take a position in Kampala, Uganda.  The war was coming to an end and the company needed somebody there to help recuperate their numerous buildings (including the Ugandan Times) and run their trucking operations and workshops.  "Every night there was automatic gunfire and I used to watch the tracers drinking a glass of whiskey thinking – this is great!)  His wife's family only let her travel to Uganda six months later where she was robbed at the airport and the windows in their house were shot out. "She was not impressed," Lacey says. "Then just a year later we were gassed in our house. Enough was enough – she could take it no more."
Lacey says he wept on the flight back to the UK knowing Africa was the one continent where he felt truly at home. he went to work at PPC Supplies in Londo, thanks to a contact there known to Lacey's father and eventually joined SCC.
"Working with SCC was beyond all my expectations," he says.He found the company to be aggressive, technically oriented and hungry to forge into all new territories. "They had all the technical know-how and guts to drive this new industry. My feet never touched the ground and we drove the markets as hard and as fast as we could—always with the backing of the most amazing group of people I ever had the privilege of working with."
Those heady days, where mistakes were permitted, matured Lacey and SCC into being service-orientated where an understanding of individual accounts and markets became paramount. "You needed to be much closer to your customers," Lacey says. "After thirteen years with the company, Steve Weedon honoured his original handshake and I was offered a position to open the South African operations." He remembers arriving in South Africa and it felt like coming home. "I was home and just wanted to get out there and help the whole territory discover this amazing opportunity."
Over the next ten years, Lacey set up a network of connections and developed the whole of Africa and the Middle East. I had an incredible team of individuals who were the most professional and hardworking individuals I ever had the privilege of working with. We conquered the markets."
Over the 23 years he spent with SCC, he opened and managed offices and distribution in Turkey, Dubai, India, Kenya, Nigeria and South Africa.
Lacey advises Africa is a difficult and complex territory. It many places it is just opening up for the first time. Businesses are looking for strategic partners from outside of their borders and outside of Africa as well. But he adds it can be achieved with persistence, commitment and local know-how. "Unfortunately, there are very few companies in our industry who still have the drive and determination to support these unique markets.  Many have tried and many have failed, but there are still those who are willing to sacrifice an enormous amount of time and energy in supporting these developing territories and the amazing customer base that strives every day to grow their markets."
Lacey Helps Open Up Africa
Lacey has started DeLace Pty Ltd. It's his own company and he is partnering with Coenie Greyling, his former technical director. Greyling used to be the manager of the largest remanufacturing company in Africa and is the official STMC trainer for Africa and the Middle East.
"Other key members of the 'old' team will hopefully join y team as well," Lacey says with optimism. He is already working hand in hand with Yamani Araci of Integra in Turkey.  Araci has an impeccable reputation, exceptional knowledge and experience in the Middle East and North African markets. Rebecca Naidoo has also joined the new business to help manage and coordinate the start-up. "Coenie, Yamani and I have spent many years trekking the length and breadth of these territories.  Today, I do not think there is a better team in this whole industry who understands the requirements, demands and challenges that face our customers and who are better suited to find the solutions they require for growth."
"If others no longer have the drive or the resources to continue to support the customers directly, or the time to nurture the relationships that are so essential, it is their loss and our gain," Lacey says. He is in a fortunate position in that he has no shortage of suppliers wanting to work with him and the market knows him very well because of the years he has invested to know their needs.
RT Partner
Lacey has also agreed to become one of RT's global partners to bring VIP events to regional centres. These RT VIP Expos will target key suppliers and big buyers to meet up for an intense one-day expo in three different cities each year. "I am delighted to join partners like Gustavo Molinatti in Latin America, Mark Dawson in Europe, Tricia Judge in North America, and Dhruv Mahajan in India. I and my team will be coordinating the first VIP Expos in Africa, later in the year," concludes Lacey.
If you want to be a part of Lacey Helps RT to Open Up Africa you can contact Stuart Lacey at stuart@delace.co.za
https://o1.rtcdn.net/uploads/2020/02/Stuart-Lacey.jpg
800
800
David Gibbons
https://o1.rtcdn.net/uploads/2020/07/RT-logo-old-big-old-jiazi-3.png
David Gibbons
2020-02-14 13:53:06
2020-02-19 12:06:45
Lacey Helps RT to Open Up Markets in Africa