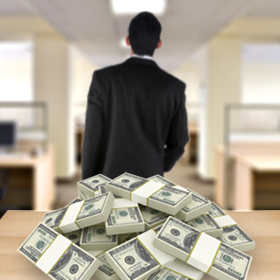 The industry is Leaving Money On the Table -RemaxWorld Report
"You are leaving money on the table," industry analyst John Shane (pictured) declared on Day 2 at the RemaxWorld Summit. It was a theme discussed throughout the 3-day expo that set business leaders thinking about the $80 billion printing consumables market which now has its epicentre in Zhuhai, China.
The pursuit by the aftermarket to capture market share, a strategy also being hotly fought by the printer OEMs themselves, has seen prices crash over the last decade in what many see as a "race to the bottom" – a death-defying dive that risks everything to somehow emerge as a winner at the end of the day.
The leading industry expert on marking materials from Keypoint Intelligence told a record-attending Summit (1,638 individuals) at the RemaxWorld Expo in Zhuhai, China that research now reveals that the same product selling on e-commerce sites will always sell better if the price is higher. It was a message echoed during the televised Meet the CEOs panel session.
Shane said, "I enjoyed the entire experience."  Not having seen the expo for many years he was astounded at how professionally it has cemented itself as the world's largest office equipment (printing and copier devices) and consumables event, having held that title since 2012.
"The show covered five football fields, wall-to-wall with exhibits," said RT Media Chairman Tony Lee. "There has never been an event for this industry of this magnitude—ever."
A total of 15,243 visitors packed into a modern, world-class, 30,000 sqm exhibition over three days at the industry's largest-ever held event.
A number of representatives from OEMs told Director of Business and Event Organiser, David Gibbons, "We have never attended this event before here in China. We did not know what to expect, but the quality of the displays and professionalism of the event has been beyond belief." Another said, "You really have to see it to believe it. It's a multi-million dollar extravaganza."
Hundreds have written to Gibbons in the days following the event exclaiming how this year's event saw more business traffic than previous years. Dhruv Mahajan (India) was working on the Fast Image Products booth. He said, "The people are not just looking, they are also wanting to buy products. It's very evident this year."
One of the more than 100 that took time to write, said, "It seemed to me attending that the aisles were quite full and also that the exhibitors had spent more money on their booths so even more is even better for next year."
"Well done to you and all at RT Media," another added.
The 461 exhibits were just a slight increase in the number that had broken previous records. Despite the high level of consolidation in the industry, which saw a slight reduction in the number of exhibits offering raw products, components and finished goods (both remanufactured and new-built compatibles), there were new exhibitors offering a wide range of printing and copier devices.
The number of people pre-registering to attend the expo was up 28% this year with many of them contacting staff at RT Media seeking to know more information about the range of new printer options available on show. China has experienced a rebirth in the manufacturing of printers for use in the office among other uses.
"The way we print is changing," Gibbons said. "So this show reflects the changes within the print and copier imaging industry.
Darren Turner from the UK came looking for the new range of 62 exhibitors who had handheld, label, dot matrix, thermal, wide format, 3D, blueprint and laser printers on show. "The range is quite incredible and I have plenty of work to do now matching up all these options with my customers and their needs."
Peter Mitopolous from Australia had his fingernails printed, just so he could show his wife and daughter back at home what they were missing.
Apart from fingernail printing and pancake making (see pics) there was a wide range of printers that fill niche printing needs in the office.
Some Quick Facts
461 exhibits covering 30,000 sqm

77.3% of exhibits were for consumables;
10.2% of the exhibits were for office equipment, printers and copiers;
10.1% of exhibits were offering intelligent office solutions;
2.4% of exhibits had other related products and services.

In relation to the exhibitor country of origin:

83.0% of exhibits were from mainland China; and
17.0% of exhibits were international

The number of visitors: 15,243

36.8% were international visitors;
from 109 countries

The number of Summit attendees: 1,638
Entertainment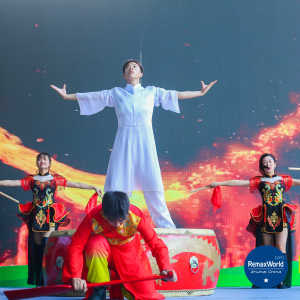 Hundreds were attracted and wowed yet again this year with spectacular dancing and light shows at the opening and awards ceremonies.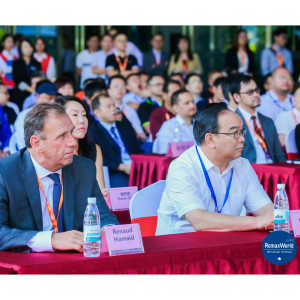 Special guests included Renaud Hamaide, the Chairman of exhibition giant ComeXposium, based in Paris, France. Both ComeXposium and RT Media have forged a strategic alliance that will prosper both parties in the years ahead. Speaking of the strategic venture, Hamaide said, "When you get married you are always excited. As with marriage, we are very excited too. The opportunities are exciting."
The Awards
16 judges from Asia, Europe, North America, Latin America, the Middle East, Africa and Australasia worked their way through more than 1200 nominations to identify the 12 winners in this year's Annual Industry Awards ceremony. Americans won the most prestigious awards this year at the Annual RT Imaging Industry Awards.
Mike Josiah was presented with the prestigious Diamond Pioneering Award for his work in providing more than 400 monthly technical journals since 1993.
LD Products won the coveted Quality Leader Award for achieving the lowest industry defect rates, as determined by rigorous independent testing on its premium-quality, new-build cartridge range.
The ISC picked up the Anti-Counterfeiting Award and Static Control won the Best Supplier Award.  "I've heard lots of positive things from those who travelled to the show to meet with our team on our corporate booth," Static Control's Shannon Parrish wrote. "I wanted to tell you that Joy He and your team are true gems. … Thank you and congratulations on a great show!"
German-based Delacamp was recognised for its passionate fight for a better environment driven by printer cartridge remanufacturing.
A number of Chinese companies, including CET, Mito, G&G and Apex were honoured for their leadership excellence. Small companies were honoured too. Zhongshan Tiantong Printer Consumables Co developed, patented and is manufacturing compatible, zero-waste printer cartridges that can reuse their own waste toner and can safely be refilled twice by consumers.
The Summit was moved from its traditional "day before the expo" into the expo itself and was held on Day 2 (Friday, October 18). "Audiences had dwindled from a peak of 250 in 2014 down to 150 in recent years," Gibbons said. In 2018, a debate between remanufactured and newbuilt cartridges was recorded and played as a live event on Facebook attracting 1,500 viewers. This meant there was a potential to reach much bigger audiences. "Our loyal sponsors urged us to make big changes including making the event free for visitors and holding it on the floor of the expo."
Graham Galliford from the USA is convinced the new format summit worked well. "It can often be difficult for potential attendees to commit to a whole day at a separate event. Not every session is of interest to each attendee. Being able to select from the menu of sessions that interest them most is therefore in my mind a good way to go."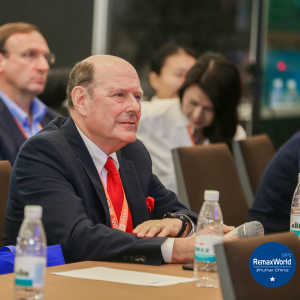 Each session was packed with more than 150 people, and with new people appearing at each session, the count reached 1,638 attendees altogether.
This year the Meet the CEO session was also recorded and televised which saw seven leaders from the USA, Europe, China, Mexico, Australia and the UK speak frankly about the future of the industry.
Videos
Watch this short video with highlights from the event.
You can also watch the inTouch TV news bulletin about the 2019 event.
Respond
Do you agree that the industry is leaving money on the table? Leave your comments below.
Were you at the event in Zhuhai, China? Thousands of photos were taken and posted online including these staff picks:














https://o1.rtcdn.net/uploads/2019/10/industry-leaving-money-on-the-table.jpg
280
280
David Gibbons
https://o1.rtcdn.net/uploads/2020/07/RT-logo-old-big-old-jiazi-3.png
David Gibbons
2019-10-31 10:44:37
2019-10-31 15:38:12
Industry is Leaving Money On the Table -RemaxWorld Report