(Zhuhai, China, December 19, 2017) At the RT World Imaging Virtual Conference held January 10-11, 2018, Delacamp AG president Volker Kappius will discuss the evolution of toner cartridge architecture and how this affects the remanufacturing process.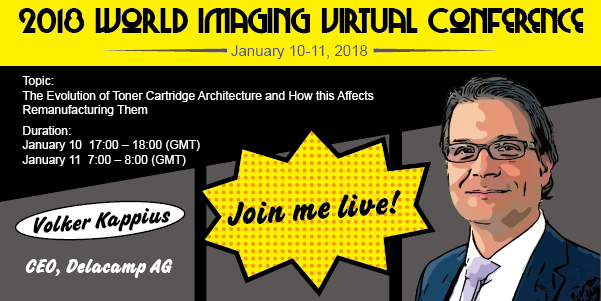 Cartridge technology evolved from a monochrome cartridge using conventional toner to a highly specific system with patented interactions, designed-to-fail components, chemically produced toners and troublesome programmable microchips.
What tricks have OEMs incorporated into the modern-day cartridge? How is the aftermarket tackling these challenges? In his speech at the virtual conference, Kappius will provide an overview about the "battles" between the OEMs and aftermarket. He will also outline the monumental evolution of color laser printing.
Delacamp AG is a leading distributor of components, spare parts and consumables for the laser imaging remanufacturing industry in the EMEA region.
Volker Kappius studied Business Administration, focusing on Marketing, International Management and Organizational Psychology at the University of Hamburg. He also completed a postgraduate degree in Business Ethics. Volker joined Delacamp AG in 2005 and is now CEO of the company.
Other industry experts from the USA, Japan and China will also gather on January 10-11, 2018, at the World Imaging Virtual Conference. They will share their insights with a global audience online about the technical and legal trends surrounding toners, chips and printer cartridges.
Tickets are now available with group discounts. Get them here: http://wivc2018.myevents.cn/getTicketInfo

Please visit the official website to check the agenda for more details: https://www.rtmworld.com/2d/2018-wivc/
For sponsorship, please contact:
Graham J. Galliford
graham@gallifordconsulting.com
+1-805-644-6404
Victoria Zhao
Victoria.Zhao@RTMworld.com
+86-756-3919263
For any queries about the virtual conference, please contact:
Cecile Zheng
Cecile.Zheng@RTMworld.com
+86-756-3919273
About RT Media
Recycling Times Media Corporation (RT Media) educates, informs and provides networking and business opportunities for the 2D and 3D printing industries. RT Media's international team comprises of talent from Australia, America, Germany, Spain, Mexico, Hong Kong and China.
RT Media organizes the RemaxWorld Expo, the world's largest print consumables trade show event, held each year in Zhuhai, China—the world capital for the manufacturing of print consumables. RT Media also organizes the RT Imaging Summit & Expo—Americas and the RT Imaging Summit & Expo—EMEA. RT Media publishes regular inTouch TV News bulletins and monthly editions of the Recycling Times magazine for the global industry. These editions have been translated into Chinese, English, Spanish, Russian and Arabic languages.
In the 3D printing arena, RT Media organizes the popular iPrint 3D Expo. Additionally, RT Media was the first to publish a monthly Chinese magazine, focusing on the 3D printing industry, called 3D Printing World.
Media Contact:
Cecile Zheng
Tel: +86 756 3919273
E-mail: Cecile.Zheng@RTMworld.com
www.RTMworld.com/2D
https://o1.rtcdn.net/uploads/2017/12/未标题-1-2.jpg
284
500
https://o1.rtcdn.net/uploads/2020/07/RT-logo-old-big-old-jiazi-3.png
2017-12-21 09:37:46
2017-12-21 09:37:46
Delacamp CEO Volker Kappius to Reveal the Evolution of Toner Cartridge Architecture