China Imaging Supplies Manufacturers Resume Work
China Imaging Supplies Manufacturers Resume Work
Following the shutdown and disruption to businesses and factories across the entirety of China due to the deadly coronavirus there are signs manufacturers are getting back to work.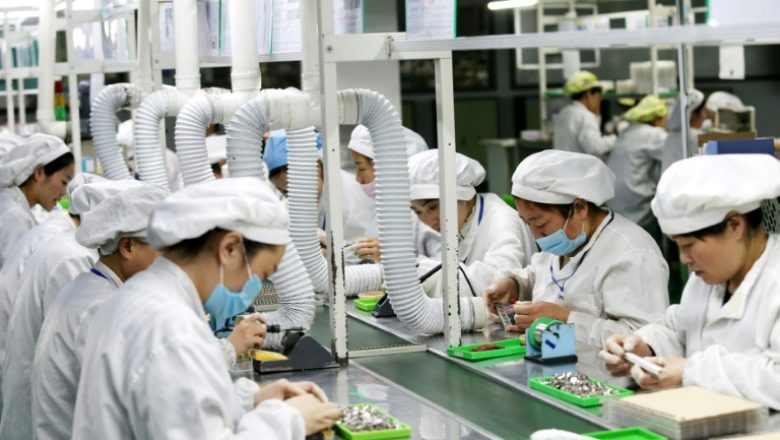 All businesses have been closed and all individuals have been mandated to stay quarantined at home across the country for more than 30 days. The impact to both individuals as well as companies, corporations and government is expected to cost China hundreds of billions of dollars but some economists predict it may only have a short term effect. It all depends on government support and action and the ability for business to resume quickly.
The unexpected outbreak has also caused some anxiety in the printing supplies industry both within and outside of China. Whatever impacts a large economy—like the US or China being the two largest global economies—will have a ripple effect right across the globe. Manufacturers in China are concerned about losing their international customers while buyers outside of China anxiously await the passage of supplies from their China partners.
With a 49-day national fight against the coronavirus, the disease is being quickly brought under control. Companies and factories in some districts are able to apply to the government for a permit to restart their businesses.
The staff of RT are working from home offices and are monitoring the return to work process. A survey of 129 Chinese company in the imaging equipment and supplies industry has been taken on the pace each is making to restart their businesses and factories.
According to the feedback received up to the end of February 18, 2020, 55 companies and/or factories have met government requirements and have restarted operations. Three (3) companies report they have partially restarted and another four (4) companies are available via email and WeChat to connect with their customers. The rest are still closed but this is changing on a daily basis.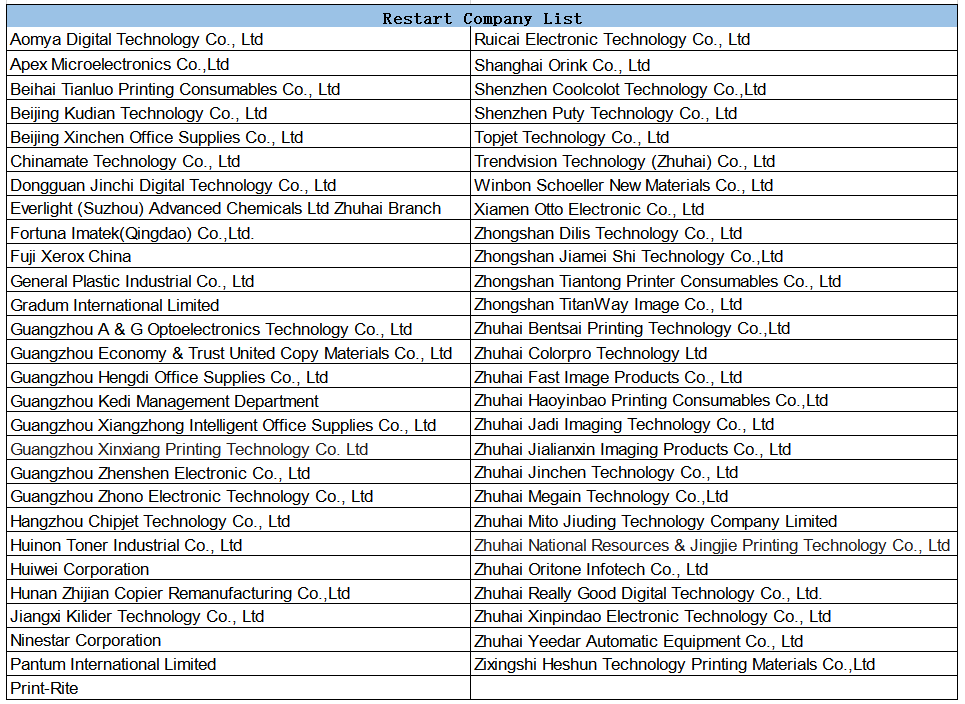 Among the 54 companies, eight (8) companies claim shipments continue to be affected by the lack of raw materials for mass production. However, it is not affecting all manufacturers. A&G, for example, the Chinese OPC drum supplier, told RT their production and shipments are not affected. Others also claim to be in full operation:
No company is reporting any price fluctuations to date.
There is every reason to believe more companies will resume their businesses and factory operations in the near future as the war against the coronavirus continues to be won. The government is being very strict about permitting companies restarting and each is expected to be able to comply with stringent requirements to ensure the virus cannot strike again.
Related Readings:
The Coronavirus – Day 48 Update on Trade and Business
How is the coronavirus impacting your business? Are you one of the China imaging supplies manufacturers that will resume work? Maybe you have already stareted. Please add your comments below.
https://o1.rtcdn.net/uploads/2020/02/Construction_Part5.jpg
1100
2583
Maggie Wang
https://o1.rtcdn.net/uploads/2020/07/RT-logo-old-big-old-jiazi-3.png
Maggie Wang
2020-02-18 20:46:19
2020-02-20 18:11:02
China Imaging Supplies Manufacturers Resume Work