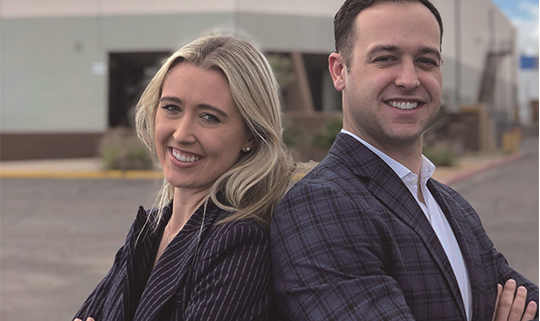 Phoenix Rising —Annie and Kevin Willert on fire about LMI's next growth chapter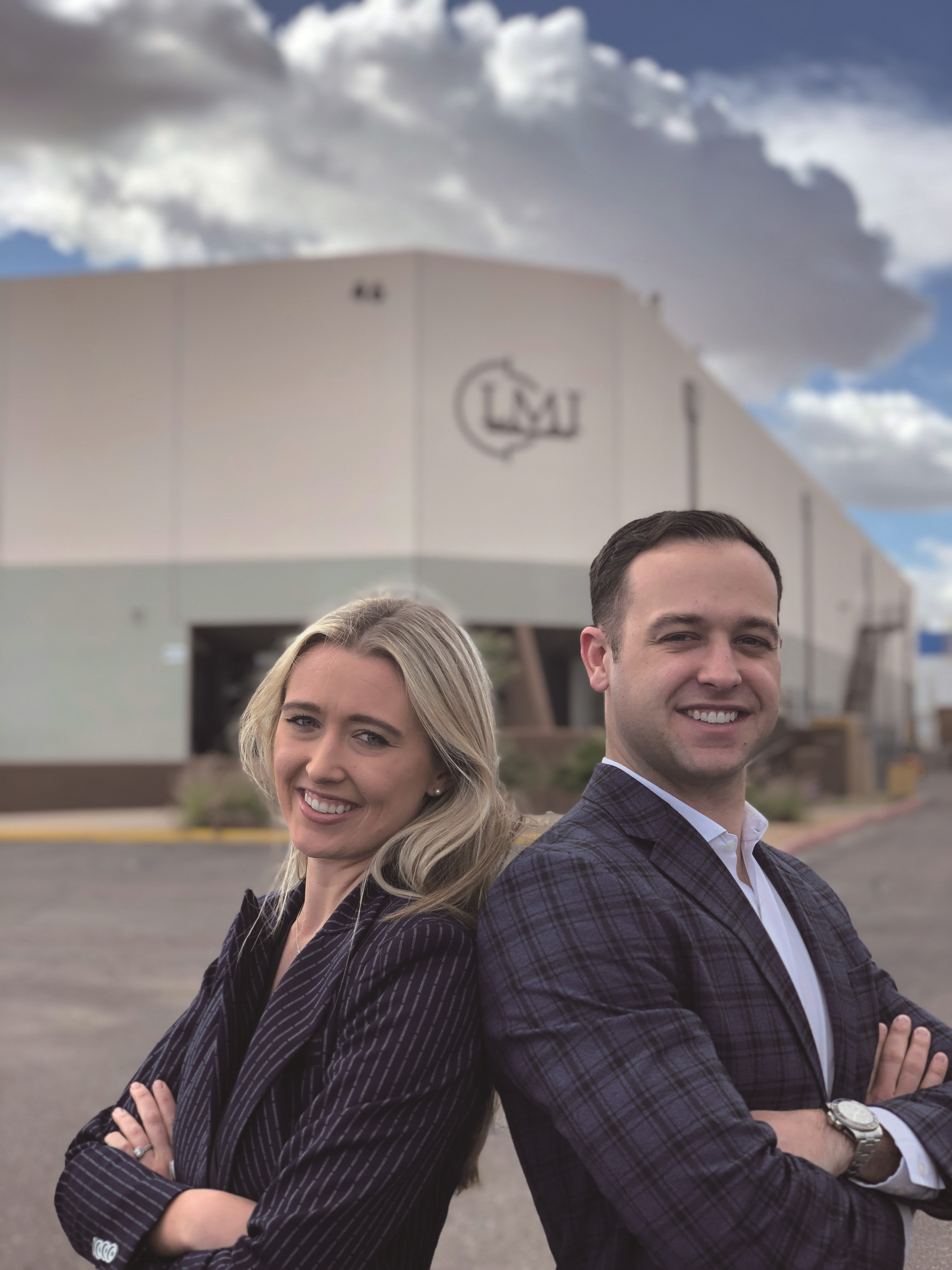 The phoenix, the mythical bird for which the Arizona capitol city was named, was said to enjoy a 500-year life span before it died in a show of flame and combustion. Then out of those flames, it rises and obtains a new life.
For Phoenix-based LMI Solutions, an analogy to the mythical bird is apropos. An industry leader in the managed print services (MPS) community and top-tier remanufacturer, LMI has flown high, especially in the post-recession era.
However, LMI Solutions has recently survived a tumultuous couple of years, which even included a fire in its production facility in 2017. In August of this year, LMI's rebirth began when it partnered with Turnspire Capital Partners LLC. And on the precipice of the new year, you can expect its warehouses to be fully stocked and MPS innovations to help hundreds of dealers save thousands.
LMI's management team is comprised of the Willert industry leading family. Patriarch Gary Willert has been at the helm since he acquired the company in 1997, and is highly regarded for his entrepreneurial spirit and business success record. He transformed the company from a mid-level remanufacturing concern to the industry's second largest, with more than US$100 million in annual sales.
He also recognized the value of selling imaging printers and supplies through MPS, and has thousands of dealers of all sizes employing this business model. LMI is headquartered in Phoenix, Arizona, and operates a remanufacturing facility in Guanajuato, Mexico, as well as seven distribution centers throughout North America.
Gary has been actively involved over the years in industry leadership as well. LMI is an Int'l ITC Member and has members on the STMC Committee. Moreover, LMI Solutions have received awards and accolades too numerous to list individually.
However, the latest, earned in October 2018, was the Customer Choice Award, awarded at RT Media's Global Industry Awards for Outstanding Achievers in Zhuhai, China. In a year that saw it suffer a disruptive fire at its primary production facility and interview and secure a new financial partner, LMI Solutions was still singled out by its customers over all others in the industry around the world.
Gary is joined at the helm by his daughter Annie and sons Kevin and Matt. But don't call this a "mom-and-pop" operation. Indeed, all three siblings were raised in the industry. But each brings a unique skill set and solid academic excellence to help raise LMI. And now they each have had, and still have, an important role to play in their plans for reinvention.
Inspired by Turnspire
On August 22, 2018 Turnspire announced it had made "a significant investment" in LMI.
Citing the fact that LMI was a "critical supplier" to the MPS market, "which include equipment dealers across the United States and Canada, who value the company for its product development capabilities and product quality," the Turnspire press release stated.
Although they did everything possible to keep production going, the fire in May caused a drain on LMI's already-tight financial situation. The Willerts were concerned for the future of LMI, as was the industry. "After the fire, we knew we needed to find private-equity funding," Kevin said. "We knew we had an incredible story. And the amount of interest was incredible."
According to Kevin, he believed that the industry is riper than ever, and LMI's prospects were great. The private equity community agreed with him. "A dozen different groups demonstrated interest," he said. "It was shocking how many knew about us."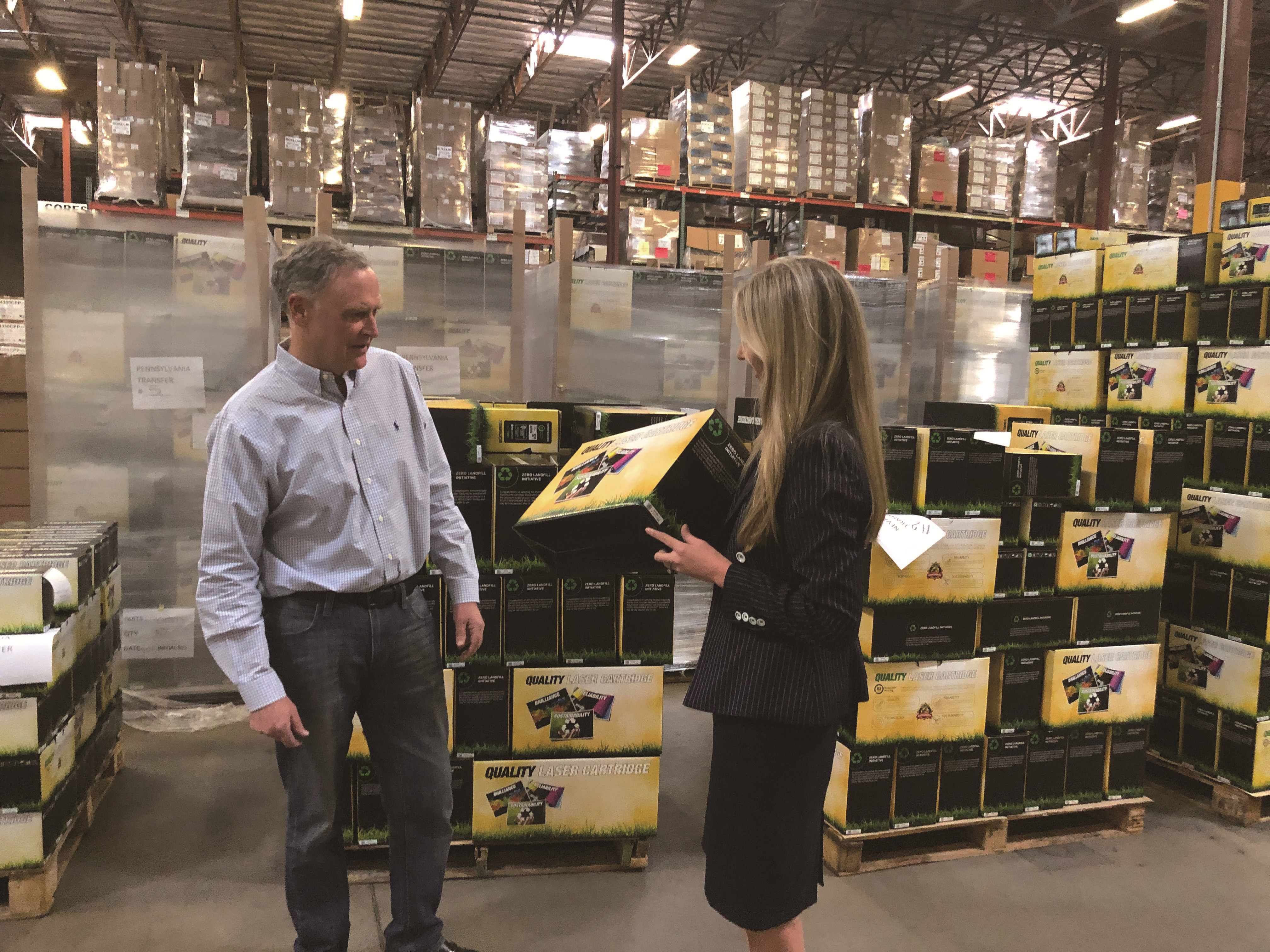 Cartridge quality is priority number one. At LMI, Annie Willert (right), the head of sales, CEO Gary Willert (left) and the head of quality meet almost daily.
When it came time to pick a partner, they had several to choose from. One stood out for its proximity in vision to that of LMI: Turnspire. "They were aggressive and dedicated to this industry, Kevin said. "They are entrepreneurial like Gary, and liked his vision for reinventing ourselves."
"Turnspire is very manufacturing oriented," Gary said. "They bring helpful ideas that we've been able to implement. Not many investors bring dollars and expertise."
LMI will continue to be led by Gary Willert, who is retaining a significant ownership stake. Turnspire Managing Partner Ilya Koffman said, "We are delighted to partner with Gary Willert and the Willert family on the LMI investment. LMI is a perfect fit with our strategy of investing in market-leading industrial companies that can benefit from our hands-on operationally-focused approach. Gary and the management team have built an incredible company that has become the go-to supplier for MPS dealers, and an engine to drive their growth."
"We are excited to embark on the next chapter of our growth story together with Turnspire," said Gary Willert. "We now have a financial partner with whom share the same vision, the same drive to excel and the same values."
The "Engine" of Growth: Nucleus software
In many ways, MPS is still the Wild West. It's incredibly difficult to identify costs, and interoperability between programs is nonexistent. And with so many printers and cartridges, let alone each user's variations in page coverage, MPS can still be difficult to undertake with confidence. "Even after 15 years, MPS is still in its infancy," Gary said. "It's easy to lose control of a MPS environment."
LMI is about to change all of that. As one of MPS' pioneers, LMI has had the opportunity to confront all of the issues that make MPS difficult to manage.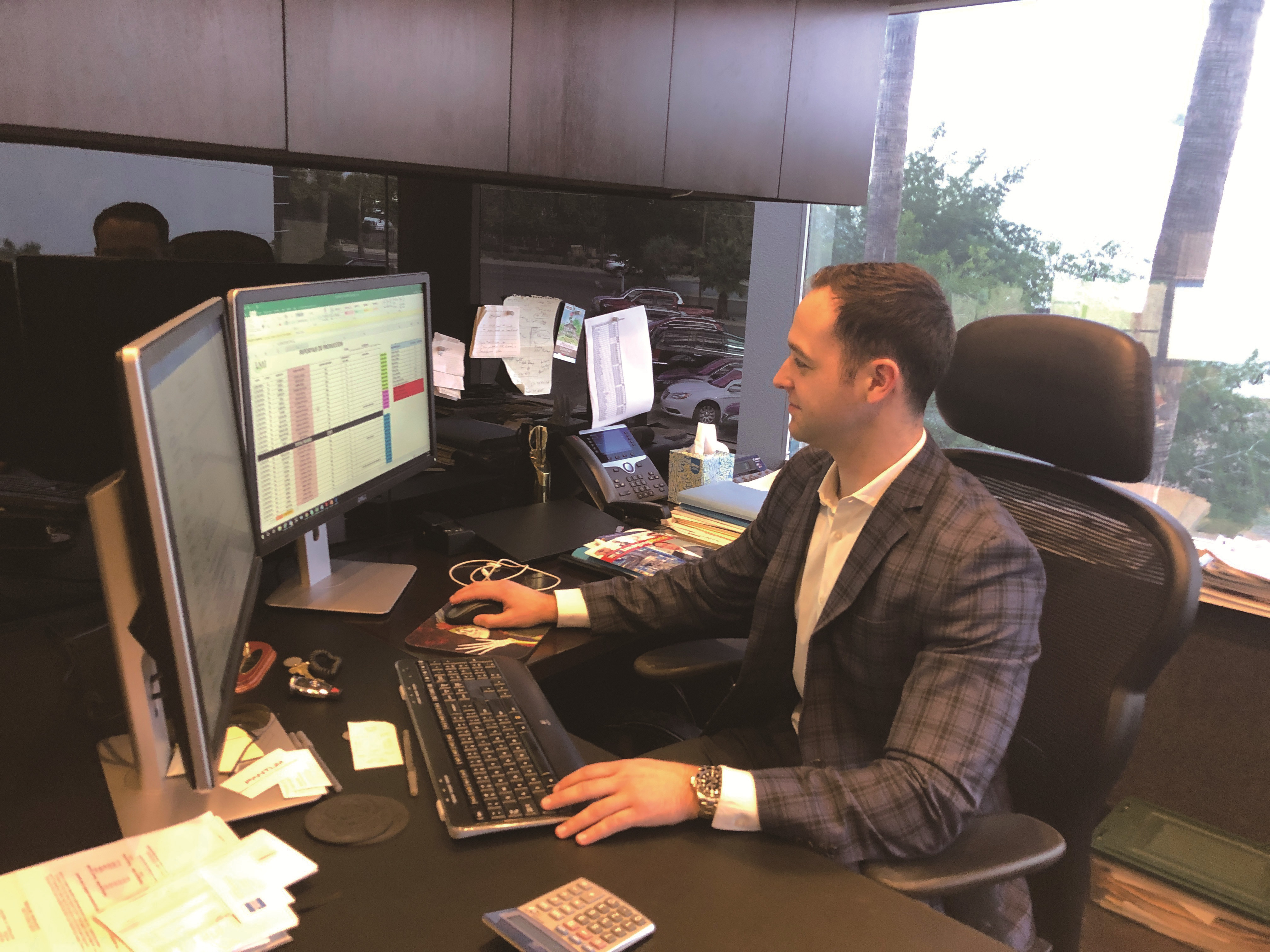 Kevin Willert, director of strategic initiatives and vice president of finance and planning, was instrumental in initiating the Turnspire partnership.
"Nucleus fixes the variables and risks related to the manual processes many dealers currently have in place to manage their MPS fleet," said Annie. "Not only does it help our dealers differentiate in the market, but it  draws unique insights from the data collected, resulting in controlled and increased margins for our dealers. We accomplish this by helping dealers understand which devices are costing them the most and where we can help them increase toner effectiveness and replenishment efficiencies or control service costs. The solutions may vary from dealer to dealer, but the aim to increase profits and customer satisfaction remains the same."
LMI has achieved this by creating a software application that helps dealers make more sense of their customer and device data that's often disparate and incorrect. Nucleus is able to leverage this massive database and learn over time to provide a more automated and controlled MPS operation.
"We have a software platform that is so unique. We have hired strategic people who know all the data collection programs and have consulted industry leading dealers on best practices," Annie said. "That is why the performance and quality of the Nucleus data is second to none."
"It will provide automated workflow solutions, so that the dealer will not need a person to manually supervise devices and then place supply orders through the data collection agent. And the QR code will give technicians the complete service history on any device," Annie said. "Nucleus enables dealers to achieve a proactive MPS environment instead of current reactive processes many dealers follow."
And Gary remains bullish on the MPS marketplace. "We're still on a land grab," he said. "Nucleus software will help us bring in new dealers, and help our current dealers be more profitable."
LMI is taking Nucleus to their thousand-plus dealers and is gunning for the competition in their zeal to raise LMI to new heights of growth. "We are going after number one," Kevin said, "We are not going after the end user. We are going after dealers, making them more profitable not only through our software, but also our enhanced remanufactured products and their increased performance."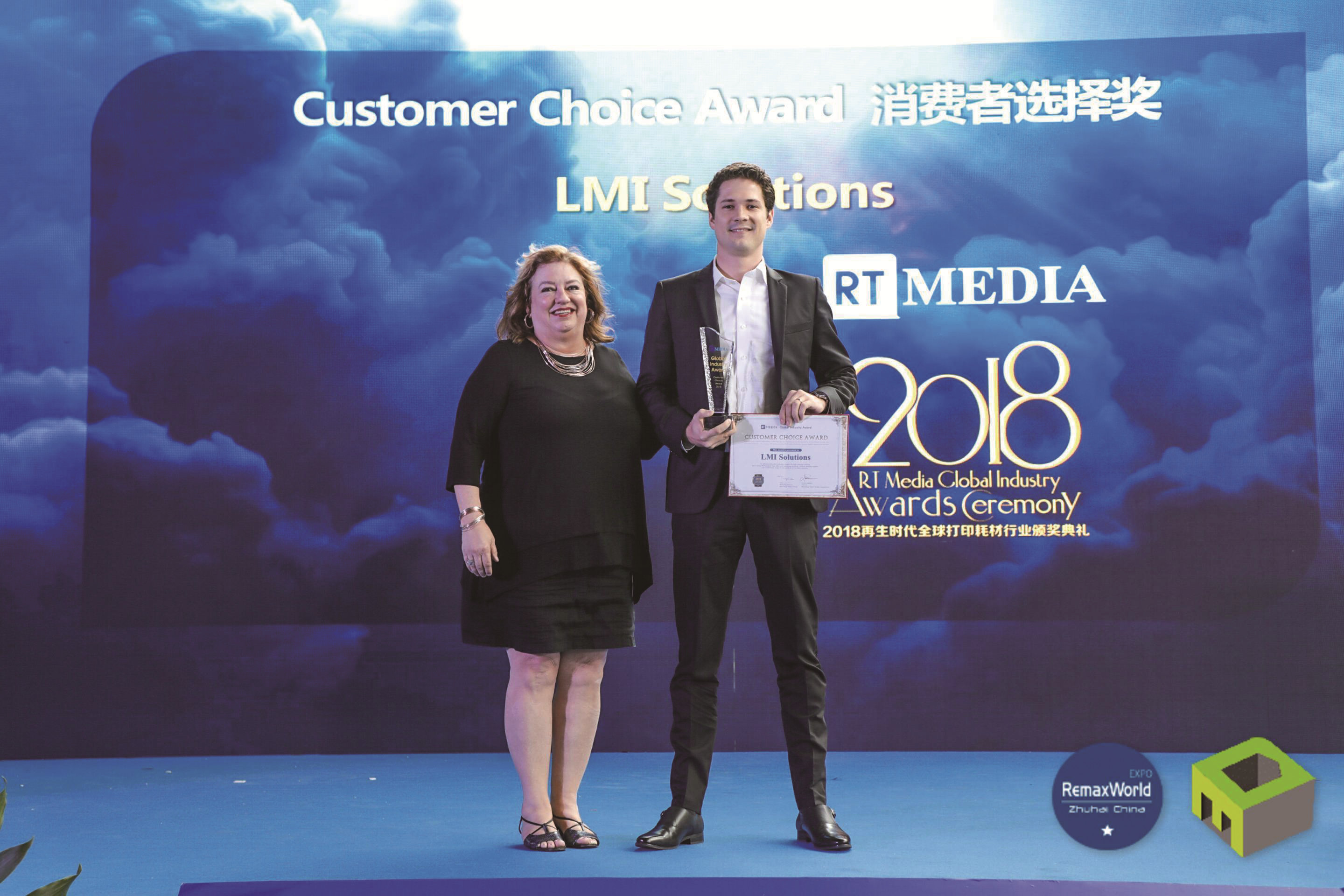 In a year that it suffered a fire at its primary production facility, LMI Solutions still was awarded the "Customer Choice" Award in Zhuhai. Hugo Ponsonnet received the award on behalf of LMI.
Returning to its Roots: Cartridge Quality
Quality may seem like an afterthought in LMI's exciting, high-tech software environment, but it isn't. It's LMI's priority number one.  "No one is paying attention to quality anymore," Gary said. "That's why we're picking up business left and right."
"It's tempting to go to China and cut your costs by 75%," Kevin said.
"But you have to make an investment in your MPS," Gary continues. "So the cartridge has to perform, therefore quality is critical."
LMI's quality control experts have been in the business for decades and know that cutting corners loses customers.  Juan Camargo, senior vice president of manufacturing, has been in the industry since 1992, is an expert on quality control, and product enhancement. He spearheaded the company's successful efforts to extend cartridge yield without sacrificing graphics. Camargo is assisted in his quest for quality by other recognized names in cartridge quality, Victor Garcia and Gerardo Martinez,
LMI is one of the only remaining cartridge remanufacturers that actively recall defective cartridges. "Consolidation is creating large dealers and super dealers," Annie said. "They need the best partner for supplies more than ever. We pay to get the defect back and analyze it."
Annie added, "New-built cartridge dealers aren't doing that. We are the only one that is. The dealer puts his name on the line. Telling him to throw a bad cartridge away doesn't solve his problem, or ours."
At LMI, the head of sales, the head of quality and the CEO meet almost daily. "We have to, because some of our MPS dealers provide for the OEM," Annie said. "We have to."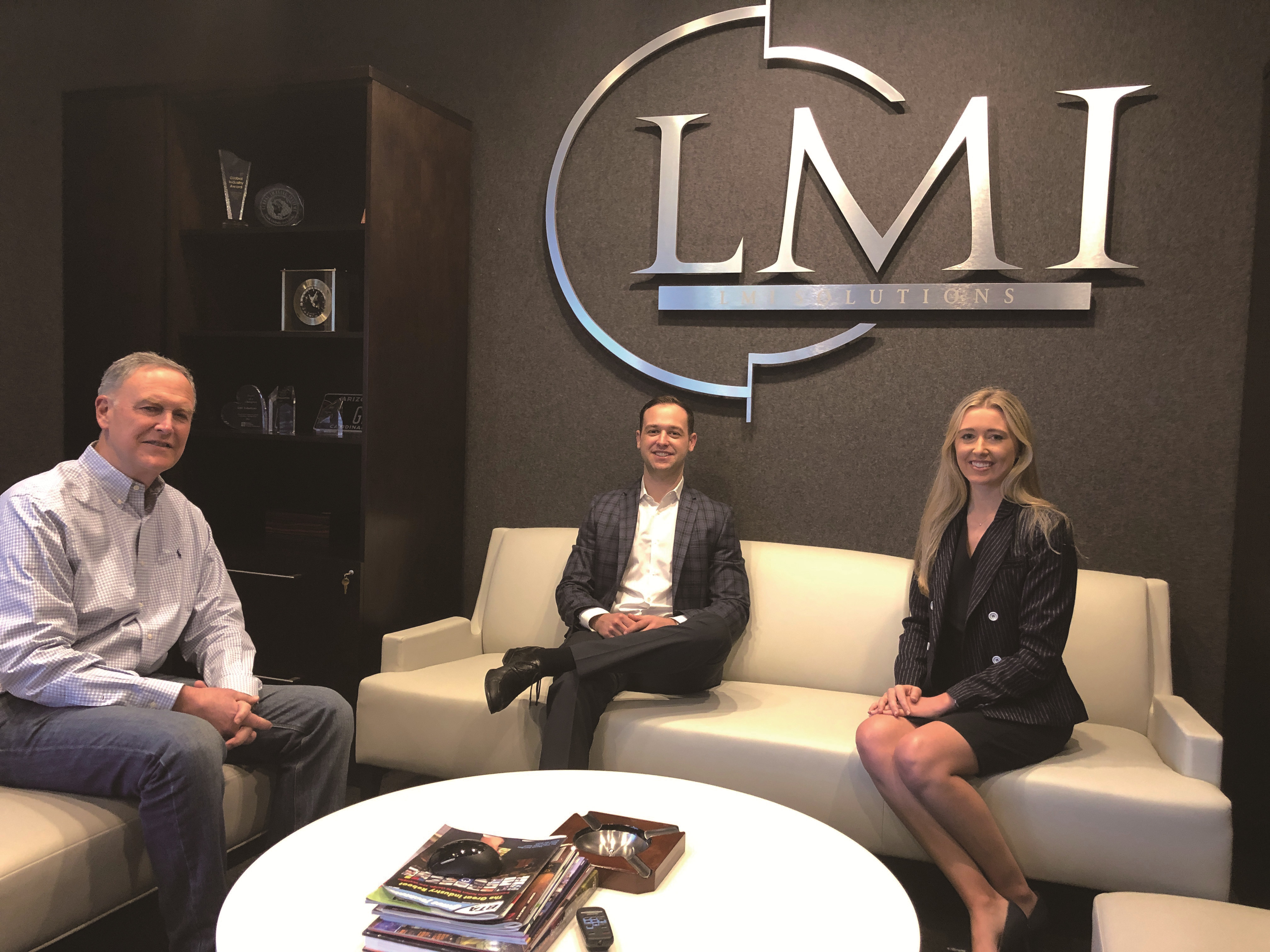 LMI's management team is comprised of the Willert nuclear family: CEO and patriarch Gary Willert (left), and Vice Presidents and siblings Kevin (middle) and Annie Willert (right).
A Family Powerhouse
Annie Willert is the vice president of sales and marketing for LMI Solutions. Annie brings a solid understanding of the operational side of things having managed the customer service team prior to moving over to sales. A strong advocate of MPS, coupled with her in-depth experience at LMI, brings added insight to her sales leadership position.
An industry up-and-comer, Annie serves on the board of directors of the Managed Print Services Association (MPSA) and was recognized as one of CRN Magazine's Women of the Channel 2018.  CRN editors select the honorees based on their professional accomplishments, demonstrated expertise and ongoing dedication to the IT channel.
Kevin Willert holds various senior roles within LMI including director of strategic initiatives and vice president of finance and planning. Like Annie, Kevin grew up learning about business from LMI Solutions, and took to it enthusiastically.  Kevin Willert's business acumen played a strong part in LMI's selection of a financial partner to turn it around.
Matt Willert is the vice president of strategic accounts for LMI Solutions. He started his career supporting the sales team while running LMI's printer division and overall operations.
All three Willert children graduated from Arizona State University. Kevin and Annie attended the business school there, and graduated with honors.
Hugo Ponsonnet, while not a Willert, is another team member tapped to join LMI after graduating from Arizona State University. Originally from Lyon, France, Ponsonnet is director of operations, and is in charge of the US and Canadian Operations for LMI.
Gary Willert remains the chief executive officer and is responsible for all of LMI's North American and international business operations. Through organic growth and acquisitions of Parts Now and Global Printer Services, Gary expanded the company's product offerings from just remanufactured printer cartridges to printer parts, remanufactured printers, as well as growth programs and services for more than 5,000 customers.
Gary may have groomed his family to become the next generation of leadership at LMI, but he's not going anywhere. He's ready to participate in the next chapter at LMI.  "Our house is in order, "he said. "We have a good marriage with Turnspire, an exciting new program to launch and cartridge quality is consistent as ever." He's also onboard as the phoenix rises.
https://o1.rtcdn.net/uploads/2019/07/LMI-2.jpg
360
540
Tricia Judge
https://o1.rtcdn.net/uploads/2020/07/RT-logo-old-big-old-jiazi-3.png
Tricia Judge
2019-01-03 17:23:09
2019-07-10 10:39:21
Phoenix Rising —Annie and Kevin Willert on fire about LMI's next growth chapter