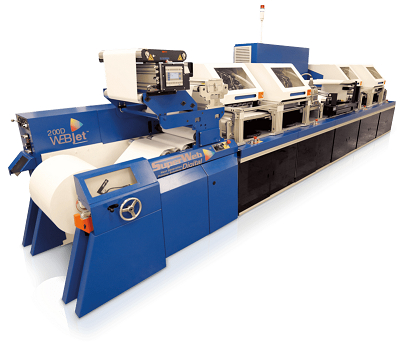 Originally published at printer-benchmark.
Konica Minolta to re-sell WEBJet continuous-feed inkjet presses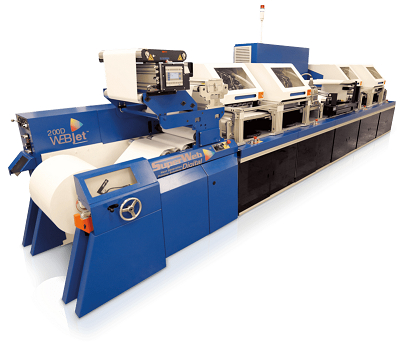 Recently, Konica Minolta Business Solutions U.S.A., Inc. (Konica Minolta) announced the launch of two continuous feed inkjet presses, the WEBJet 200D and WEBJet 100D continuous feed inkjet presses.
These machines are not manufactured by Konica Minolta, but by SuperWeb – and they are fitted not with Konica Minolta inkjet printheads – such as those that enable Konica's own continuous-feed and packaging ranges – but with ones made by MemJet who also provide printheads to Canon.
With lower acquisition and running costs, the WEBjet 200D and 100D presses with standard roll-stand and stacking configurations offer midsize printers a way to expand into new business sectors, to reduce operating costs and to improve profitability.
WEBJet presses deliver extremely high resolution, high speed and high productivity to the transaction, direct mail, publishing and in-plant business sectors. The WEBJet line will complement Konica Minolta's existing cut sheet toner and inkjet products, and provide customers with a proven technology that has best-in-class features in a relatively compact design. Complete with roll stand and stacker, the WEBjet is a front-to-end solution for growing businesses.
Through machine engineering born out of years of offset lithography experience, the WEBJet gives medium-size companies a simple and affordable way to step up to high-quality, variable data color. With a volume capacity of up to 20 million duplex color letter size pages per month, the WEBJet is the right choice for shifting page volume from offset to digital, or moving color toner volume to a more affordable platform. A single operator can manage the WEBJet's large volume continuous feed — matching or exceeding the productivity of multiple cut-sheet digital machines and operators.
https://o1.rtcdn.net/uploads/2018/10/1089.jpg
343
404
Christine Zhang
https://o1.rtcdn.net/uploads/2019/01/RT-logo.png?x-oss-process=image/quality,q_50/resize,m_fill,w_300,h_292
Christine Zhang
2018-10-08 02:10:59
2019-05-13 17:16:35
Konica Minolta launched two continuous feed inkjet presses