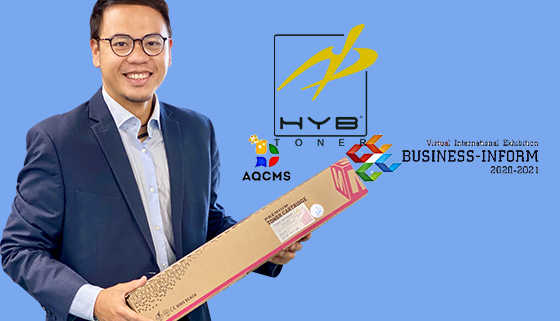 HYB Toner Formulas Stand Out in Quality Printing Contest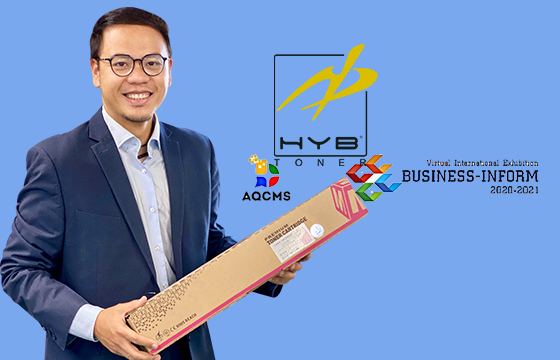 According to HYB, its formulas TG-48 and TG-68, as well as newly built cartridges HYB-TK-3190-48, and HYB-TK-3190-68 (HYB) were evaluated and selected to be one of the Top 5 Nominees of the International Open Quality Printing Contest. The contest was participated by 36 Russian brands and 17 International brands.
Information Agency "Business-Inform" and the Russian Association AQCMS have published the results of the First Stage of the International Open Quality Printing Contest (2021-01) and congratulated the nominees. Click to refer to the Newsletter published by Information Agency "Business-Inform" and the Russian Association AQCMS.
Apart from the regular toner formulas listed in manufacturers' catalog, HYB has been working with its Japanese partner for the development of exclusive toner formulas to meet the requirement of customers who have not been satisfied from most of the aftermarket products. There are already successful stories of HYB's exclusive formulas all over the world.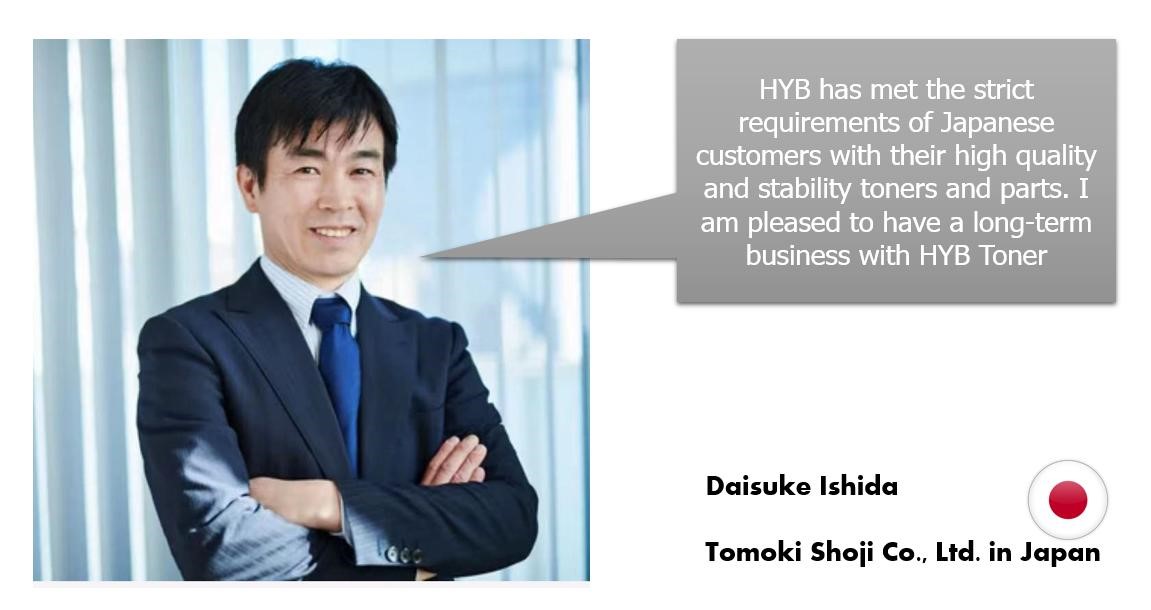 Mr. Daisuke Ishida (pictured) from Tomoki Shoji Co., Ltd., for instance, expressed his satisfaction and positive feedbacks from his customers in Japan. Tomoki Shoji Co., Ltd. was the first company in Japan to receive exclusive formula for Ricoh Pro copiers. The formula was developed by HYB and its Japanese partner with application in Ricoh Pro C651EX, C751EX, C751, Pro 7100, Pro C7100s, Pro C7100sx, Pro C7100x, Pro C7110, Pro C7110s, Pro C7110sx, Pro C7200e, Pro C7210sx, Pro C7210x, Pro C751EX;
It is said that formulas TG-48 and TG-68 were designed for several multi-functional printers and TASKalfa copiers of Kyocera Mita (Refer to full product list and application). "The toners have been launched to the market for over 2 years and gained a great success in more than 30 countries," said Kim Lee, sales director of HYB.
HYB claims that both formulas are manufactured by its Japanese partner, with all the raw materials production and process control being done in Japan. "The toners have been supporting customers to get OEM-equivalent quality," said Kim. Since the time of R & D, TG-48 and TG-68 have been tested to inspect their long-term influence on the O.E.M spare parts' lifetime. "By making long-period observation of the tested printers, none of the life declines has happened to the drum, fuser units or other relevant components," Kim added.


HYB claimed that it has also carried out the testing of TG-48 and TG-68, OEM TK-3190 toner and one well-known aftermarket formula from Japan in the 62PPM Kyocera ECOSYS P3060DN machines previously. "HYB's professional laboratory and the technicians were responsible for serving high volume testing for their copier and printer toner along with chemical analysis," said Kim. In addition to the OEM toner, three aftermarket toner formulas have been tested in ECOSYS P3060DN for over 20K pages respectively evaluating on compatibility, reverse compatibility with the OEM toner, density, observation of print defects, waste toner rate etc.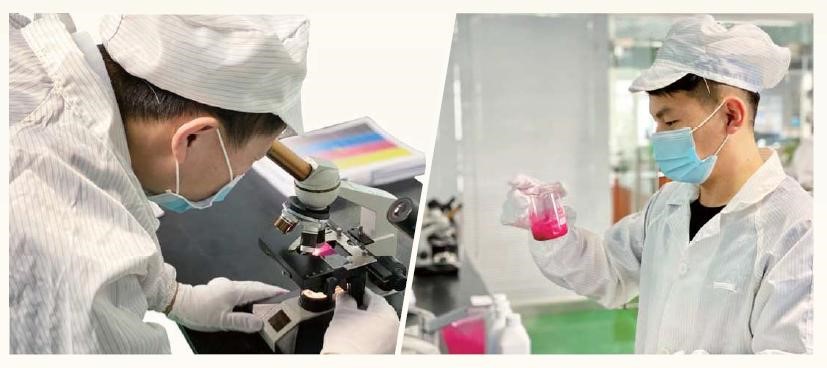 The result shows that TG-68 has stable quality and the best performance (the one performs extremely similar when compared with the O.E.M. toner) among the 3 aftermarket toners. During 10K-15K it produced similar print-out with less waste toner than the OEM. TG-48's density is between 1.32-1.34, which is averagely 0.02 less than the OEM toner with consistently lower accumulation of waste toner. The rival's toner is lighter in density and with a lower transfer rate in print-out compared with TG-48 and TG-68 toner.
SEM images of OEM TK-3190, TG-48&TG-68



HYB claims that its manufacturing partner implemented strict control on quality and output of production, to assure products are manufactured under HYB's requirement. As the premium formulas are targeted at high-end users and dealers, TG-48's particle size is controlled to be approx. 8.10μm and TG-68 is controlled to be less than 7.80μm (almost the same as the OEM toner).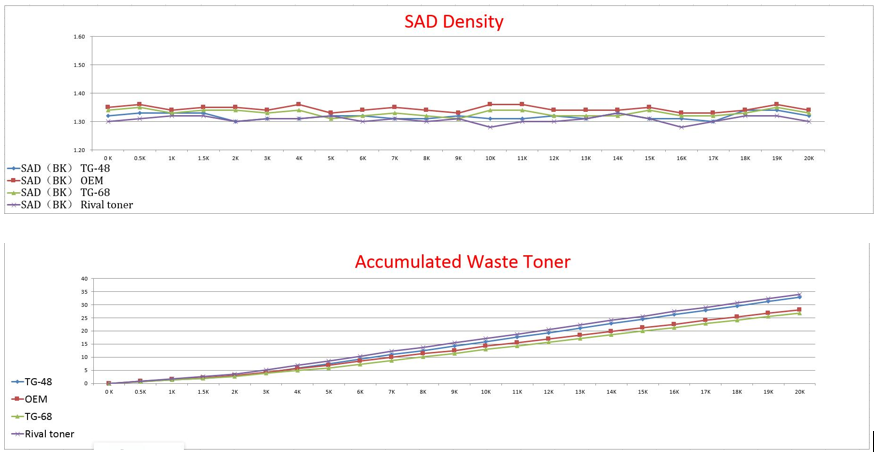 According to the research done with most of the compatible cartridges, the particle size of the price-oriented toner is between 11.0-12.8μm. The low standard leads to higher productivity, lower price and bigger output but consequently higher risk of quality issues as well. Nowadays, there are already importers in different markets complained about quality issues such as backgrounding, wave in the print-out and fusing issues from the price-oriented toner. In some worse cases, customers reported replacing their DK units much earlier when they used the OEM toner.
HYB and its Japanese partner developed toner with a targeted market where customers prefer products with good value in premium range. "The International Open Quality Printing Contest (2021-01) is a good chance for Russian customers, dealers and MPS providers to know that there are great quality formulas that are approved by the manufacturer, customers, and professional laboratories to avoid their choice limited in poor quality products," said Kim.
---
Contact Details: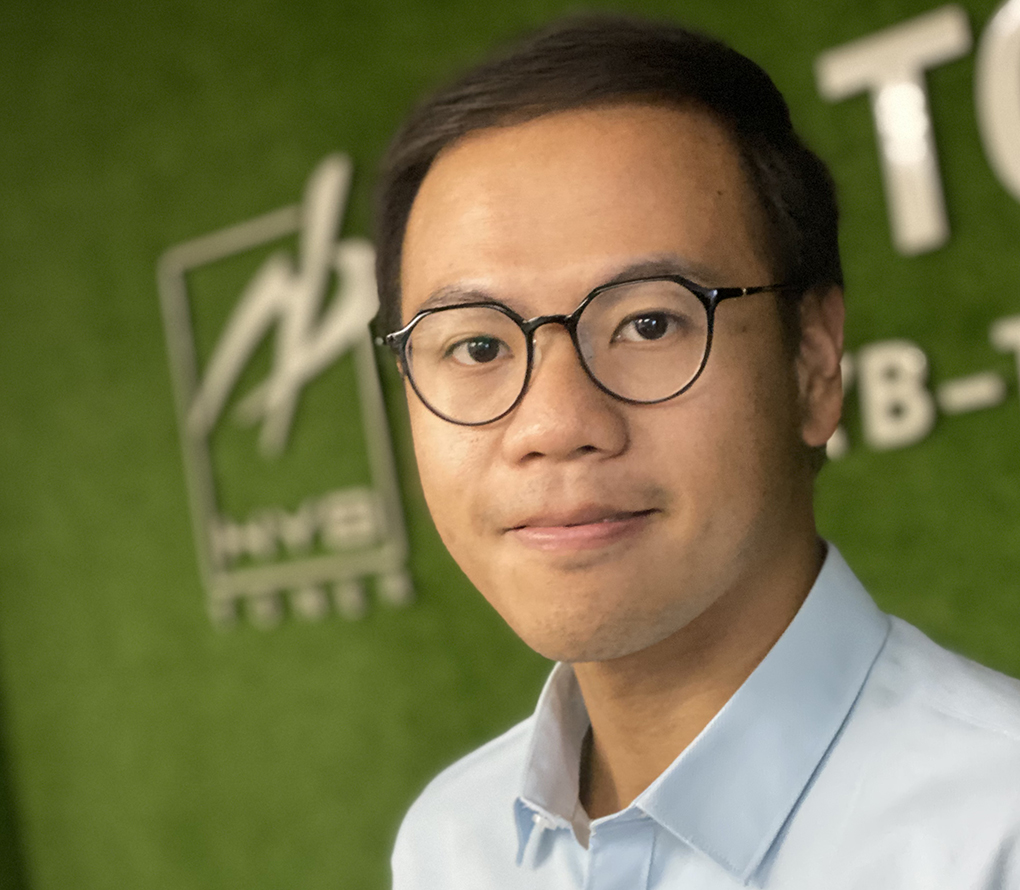 Address: No.6, Ping Xishi Rd, Nanping Industrial Park, Zhuhai City, China.
Tel: +86–756-857-8633
Whats App:+86 139 2690-6062
E-mail:kim@haoyinbao.com (pictured)
Website:  www.copiertonerpro.com
Social Media:
---
Related:
Comment:
Please leave your comments below for the story "HYB Toner Formulas Stand Out in Quality Printing Contest"
https://o1.rtcdn.net/uploads/2021/09/HYB-final-2.jpg
360
560
Maggie Wang
https://o1.rtcdn.net/uploads/2020/07/RT-logo-old-big-old-jiazi-3.png
Maggie Wang
2021-09-08 11:14:16
2021-09-08 11:47:10
HYB Toner Formulas Stand Out in Quality Printing Contest