Having been held successfully for the last 4 years, becoming the largest print consumables trade show in the Americas, the 5rd RT Imaging Expo—Americas will be held on May 24 and 25, 2018 in Cancun, Mexico.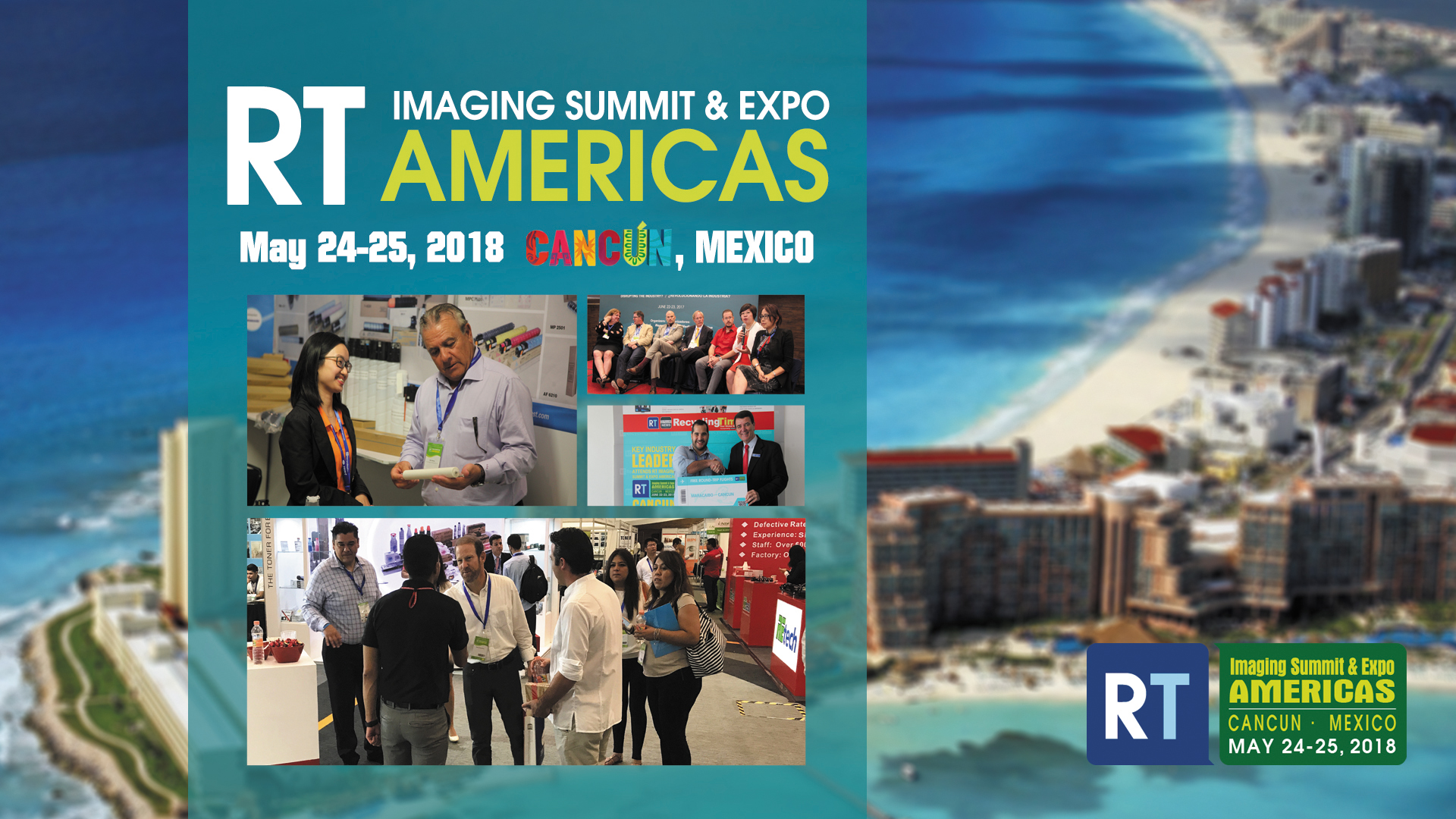 The expo was originally held in Las Vagas andmoved to Cancun in 2016.The event grew rapidly and constitutes to draw large audiences from the USA, Canada as well as across Latin America.
The organizer, RecyclingTimes Media Corporation (RT Media) has opened registration to visitors in both English and Spanish for the 2018 event. With more than 60% of the exhibitors from the international market, the show promises to provide new opportunities for local dealers and resellers to find quality suppliers, learn the latest technologies, expand product portfolios and create new revenue streams.
In addition to the latest products and solutions on offer in the exhibition the thought-provoking summit will help attendees find new ways to keep their customers and to earn more revenue. The variety of activities and networking opportunities will build lasting memories. Visit the official event website regularly for updates or subscribe to the organizer's newsletter to learn about the free flights and hotel nights giveaway, the grand prize lucky draw, the gala dinner and other visitor benefits.
Click here to register now to get free tickets! For more information about the event, please visit www.rtmworld.com/2d/events/rtise-americas-2018/.
About RT Media
Recycling Times Media Corporation (RT Media) educates, informs and provides networking and business opportunities for the 2D and 3D printing industry. The RT Media international team comprises talent from Australia, America, Germany, Spain, Mexico, Hong Kong, and China.
RT Media is the organizer of RemaxWorld Expo, the world's largest print consumables trade show event held each year in Zhuhai, China—the world capital of print consumables manufacturing. RT Media also organizes the RT Imaging Summit & Expo—Americas, RT Imaging Summit & Expo—Europe and World Toner Conference. RT Media publishes regular inTouch TV News bulletins and monthly editions of the Recycling Times magazine for the global industry-separately with Chinese, English, Spanish, Korean and Russian editions.
In the 3D printing arena, RT Media organizes the world leading professional 3D printing trade shows—Inside 3D Printing Conference and Expo—Shanghai and iPrint 3D Expo. RT Media was also the first to publish a monthly Chinese magazine focusing on the 3D printing industry—3D Printing World.
Media Contact:
Chris Yan
+86 756 3959284
Spanish Contact:
Karina Romera
Karina.romera@rtmworld.com
+52 3336300016