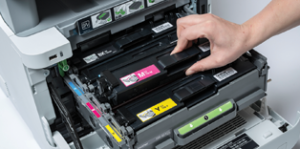 Brother has increased the wholesale selling price of many of its print consumables by as much as 13.5 per cent in Australia.
Dealers are allegedly angry as Brother International (Aust) Pty Ltd has also ditched all their discount structure for bulk purchases to companies like Toner Warehouse and Dynamic Supplies.
"That equates to an increase for retailers of nearly 20 per cent effective this weekend!" one dealer told RT Media who was also advised that Alloys—with distribution centres in Melbourne, Sydney, Brisbane and Adelaide—has been dropped as a distributor.
It is not certain whether retailers like OfficeWorks will absorb these price hikes or will pass them on to consumers.
"This is going to impact ordinary Australians heavily," RT Media was told. "Considering most Australians have not had a salary increase in many years." He added, "Traditionally Brother printers have also been purchased by price-sensitive consumers and smaller businesses that are doing it tough. This will hurt them."
In the midst of many industry rumours, RT Media has been told that the hikes will only benefit Brother's Managed Print division.
"This is an act of hubris on behalf of Brother International (Aust) Pty Ltd and I'll bet Canon and Epson are breaking out the bubbly!"