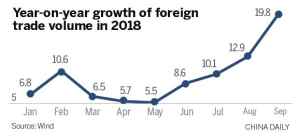 According to China Daily, there has been an increase in trade in the first three quarters despite ongoing disputes with the USA.
Customs data revealed on October 12 trade volume jumped by 9.9 per cent year-on-year to 22.28 trillion yuan (US$3.22 trillion) in the first three quarters, thanks to the country's diversified trade activities with emerging economies and the fast growth of trade by private companies.
Exports jumped 6.5 per cent year-on-year to 11.86 trillion yuan (US$1.7 trillion) while imports grew 14.1 per cent to 10.42 trillion yuan resulting in a trade surplus of 1.44 trillion yuan.
According to the General Administration of Customs (GAC), the impact of China's trade friction with the US on its overall trade situation is controllable.
Foreign shipments of crude oil, refined oil, natural gas and copper between January and September suggesting the demand for manufacturing remains large.