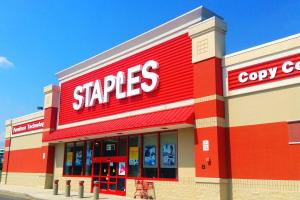 Following months of competition with Genuine Parts Co., Framingham-based Staples has finally won over Essendant Inc. with its "superior proposal".
The Deerfield, Ill.-based supplier of office and industrial products has said it has decided to accept the sweetened bid offered by Staples to acquire it at $12.80 per share, up 11% from its prior offer of $11.30. The cash deal is valued at about $480 million.
"Staples had already controlled 11 percent of Essendant shares after it started buying them up in the spring following the announcement of the S.P. Richards merger. The Essendant acquisition, should it come to fruition, would be the biggest deal for Staples since it was acquired a year ago by private equity firm Sycamore Partners for nearly $7 billion." Cited Jon Chesto from www.bostonglobe.com.
Meanwhile, Essendant also informed Genuine Parts of its intention to terminate the April 2018 agreement to merge with GPC business S.P. Richards. Genuine Parts didn't make any counterproposals, and Essendant, as a result, will be required to pay a termination fee of $12 million.
In April, Essendant and Genuine Parts Company (NYSE: GPC) entered into a merger agreement that will combine Essendant with GPC's S.P. Richards business. Staples made an unsolicited offer to acquire the company for $11.50 per share or more in cash in May. Essendant provided a confidentiality agreement to Staples on May 17, 2018 to enable discussions between the parties.
In the end of July, Staples pressured Essendant, claiming in a Securities and Exchange Commission ("SEC") that a combination of Essendant with Genuine Parts' S.P. Richards exposes shareholders to "secular" challenges.
As of the August 8, 2018, when the business closed, Essendant commenced mailing of its definitive proxy materials to all stockholders of record. At that time, the merger agreement with Genuine Parts Company regarding the S.P. Richards transaction was still in effect, and the Essendant Board of Directors had not changed its recommendation that Essendant's stockholders vote in favor of that transaction.
At the beginning of September, Staples filed a preliminary proxy statement, recommending Shareholders of Essendant to vote against the proposed merger with S.P. Richards. Staples believed Essendant's stock was trading based upon takeover speculation with unrealistic price expectations.
Now, the battle is over. Genuine Parts stated confidence in the future of S.P. Richards. "We believe that the prospects for S.P. Richards remain strong and that there is significant opportunity for S.P. Richards to grow and deepen its relationships with both independent dealers and other customer channels," the company said.