Innovation is what you find on the other side of the horizon; you find it when you can look past what is in front of you. Read what Ray Stasieczko has to say about setting future goals.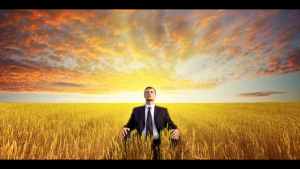 When your goal is to plan a new path forward, remember getting directions from old maps never account for new changes let alone imagined destinations.
Escaping from the prison of complacency is the innovator's journey. To those delivering innovation, the question is this: are you innovating by recreating something, or merely giving something a facelift? Innovation changes the delivery or the means to the customers' current desired outcome, and sometimes innovation causes the outcome itself to become obsolete.
Innovation is not about saving outdated products or outdated sales strategies. Innovation is giving birth to the way things should be, and complacency will always believe what it is; it is more important than what it could be, or should be.
Over the last couple of years, many organizations have found themselves fighting for relevance; they create their visions by looking through the screens of their memories. The reality is you can't walk a new path forward if you constantly allow the old path to get under your feet. It's the leader's dreams and imaginations that allow the unexpected to suddenly appear.
Leaders with imagination can visualize the future, and most importantly they are not frightened by what they see—even if what they see is void of what they know. Imagination is the outline of future directions, and true innovative leaders always write the directions others will follow.
"Leaders looking forward must be able to see over, under, and through the walls of sameness they do this with visions of what could be and ignore the attempt of yesterday's memories to blind them."
Most of us my age grew up in a world that, for the most part, told us not to dream, and told us daydreaming was a waste of time. I, for one, am glad I didn't pay attention to that unimaginative, so-called wisdom.
The truth is: if you can't look past what's in front of you, you will never visualize what's on the other side of the horizon. Think of it this way: reality is a cost, and the value of your reality comes from the investments you make in dreaming. The battle the dreamer finds himself, or herself, in will challenge their fortitude.
They will either stop discussing what they dream or worse, they will talk themselves into not dreaming at all. Visionary individuals never dismiss their imaginations and capitalize on their competitors who are stuck in the complacency of their memories.
So, "Introduce your dreams to your imagination and build something."
The best thing about dreaming is no one can change the channel on your imagination—unless you let them. Next time you find yourself lost in a world of status quo, turn on your imagination network and dream.
Just keep in mind implementation wakes up dreams, and innovation is the result of awakened dreams. All of humanity should not only read—they should dream as well. If you agree with this, re-adjust your diary and find time to imagine what it could be, and remember this.
If you're not there in your mind, you will never get there in person.