Originally published at globenewswire.
Konica Minolta and Memjet Form Strategic Partnership
Konica Minolta Business Solutions U.S.A., Inc. (Konica Minolta) today announced a strategic partnership with Memjet. Combining Memjet's printing technology with the hardware expertise of Konica Minolta has resulted in the creation of digital inkjet print and labeling solutions that deliver the speed, quality and affordable cost of ownership that print and label providers need to succeed in today's changing markets.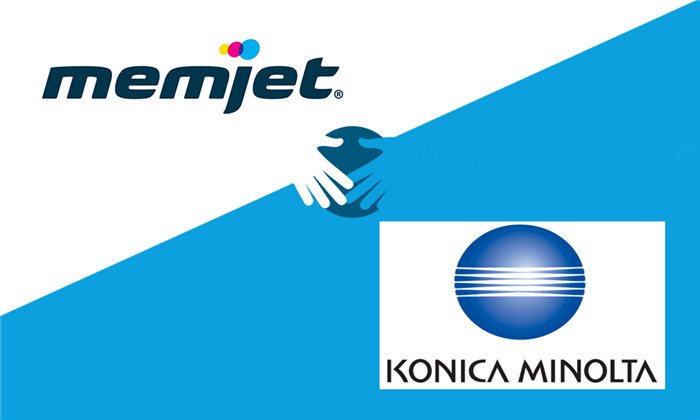 "The responsive nature of digital interactions has reshaped customer expectations," said Kevin Kern, senior vice president of business intelligence services and product planning at Konica Minolta. "Today's consumers expect sophisticated, customized communications each time they interact with a brand — even smaller brands with modest budgets. The collaboration between Konica Minolta and Memjet empowers that type of connection, making economical, high quality, customized printing a reality for print and label providers of all sizes."
At Labelexpo and SGIA, Konica Minolta will showcase these new digital presses for labels and packaging powered by Memjet.
• Digital Packaging Printer PKG-675i
This digital packaging printer prints on a range of corrugated materials, including folding cartons, displays, and traditional cardboard boxes. It is an ideal solution for short-run, customized and personalized packaging solutions.
• Digital Label Press PLS-475i
This high-speed digital label press prints a continuous roll or pre-die-cut media up to 9.5″ wide on a variety of substrates, enabling label providers, brand owners and manufacturers to produce high quality, colorful labels for a variety of products.
At PRINT 18, Konica Minolta will feature these new print and packaging solutions powered by Memjet:
• New WEBJet™ 100D
This new continuous feed inkjet printer delivers high quality, high speed and high volume to the transaction, direct mail, publishing, and in-plant business sectors. The WEBJet line provide customers with a proven technology that has best-in-class features at an extremely attractive acquisition cost. With the highest-measured true resolution in the market and a compact design that comes standard with roll stand and stacker, the WEBJet is built to perform in today's extremely competitive business environment.
• Digital Packaging Printer PKG-675i
This digital packaging printer prints on a range of corrugated materials, including folding cartons, displays, and traditional cardboard boxes. It is an ideal solution for short-run, customized and personalized packaging applications.
"Memjet technology brings the speed, simplicity, and affordability that supports Konica Minolta in the development of digital printing solutions with the capabilities providers need to grow their businesses and achieve greater profitability," says Len Lauer, chief executive officer at Memjet Technology. "It's a valuable partnership for Memjet, Konica Minolta, and for the printing industry as a whole."