Originally published at alimarket.es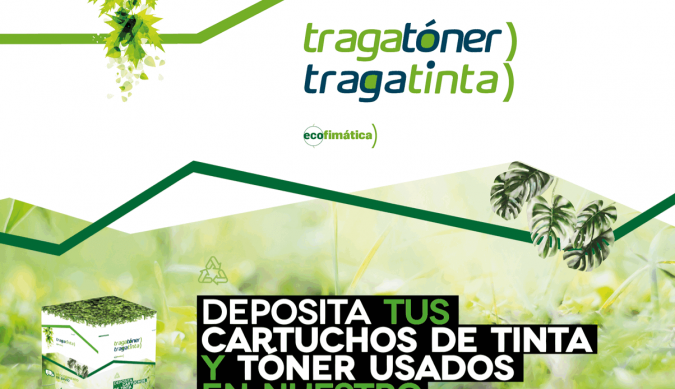 Recyclia has launched the first collecting system in Spain to collect and manage toner and ink cartridges for printers, whose recycling must be financed and managed by manufacturers since August 15. The new system, called Tragatóner and Tragatinta, respectively, make Recyclia an entity with the capacity to recycle all types of electronic waste.
Tragatóner and Tragatinta take advantage of Recyclia's 15 years of experience of the resources and synergies in waste management of office and printing equipment – through the Ecofimática foundation, which represents 90% of the manufacturers in Spain and it has already managed 44,000 tons of waste – and offers two effective and fully operational solutions.
Deployment of 42,000 collection points
In the first year, Recyclia plans to collect 1,000 tons of printing consumables (about 6.6 M units), equivalent of 65% of the kilos placed on the market by manufacturers adhering to Ecofimática. The ink cartridges, coming mostly from domestic, will represent 23%, and the remaining 77% will corresponds to toner cartridges, whose main collection channel will be the distribution channel.
Recyclia will base its strategy on proximity to users, for which it will install, in just one year, 42,000 collection points in large stores, commercial establishments, large companies, public buildings and clean points. It will also create a web page and a mobile application to consult the nearest points and certify the traceability of the containers, from their origin in the distributor or company requesting the collection, to their final processing in the treatment plants.
According to José Pérez, CEO of Recyclia, "an end user can dispose of a printer after 4 or 5 years on average, but replaces a cartridge every 4 or 5 months." Our objective is to offer an effective, operational solution of regulations and to make users be aware of the importance of recycling waste, whose most frequent current destination is the garbage container ".
Currently, in Spain, there are two vacuum printing consumable collection systems: on the one hand, the systems of each manufacturer to recover their own cartridges, and on the other, the managers that collect those that have a resale value for the so-called remanufacturers, who reintroduce them in the market, subtracting sales of the original consumables.